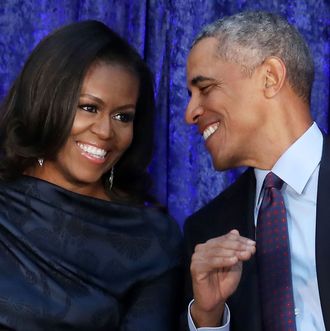 The Obamas.
Photo: Mark Wilson/Getty Images
Almost a year after the announcement last May that the Obamas and Netflix would soon take over our streaming lives, the former First Couple have revealed their first slate of projects for the streaming platform, including documentaries, dramas, and a preschool show that all focus on "celebrating the human spirit through struggles and triumph."
The first, American Factory, is a documentary snagged from Sundance earlier this year. Oscar winners Steven Bognar and Julia Reichert (Seeing Red, A Lion in the House) won Sundance's Directing Award for the film, which follows an Ohio town where a Chinese billionaire opens up a factory and employs 2,000 blue-collar workers, only to witness a conflict arise when "high-tech China clashes with working-class America."
An upcoming series called Bloom is described as "an upstairs/downstairs drama set in the world of fashion in post WWII New York City." Centering around women and people of color and the struggles they face, the show will be written and executive-produced by Thelma & Louise scribe Callie Khouri.
That's not all: The Obamas are also producing a feature-length film based on David W. Blight's 2019 Pulitzer Prize–winning book, Frederick Douglass: Prophet of Freedom, as well as a scripted anthology series called Overlooked, based on the New York Times column about the "remarkable" people whose deaths weren't reported. Listen to Your Vegetables & Eat Your Parents will be a half-hour preschool series from Drunk History's Jeremy Konner that will take families "around the globe on an adventure to tell us the story of our food." There's also a nonfiction series from Moneyball's Michael Lewis called The Fifth Risk, based on his recent book of the same name, and a documentary about disabled teens called Crip Camp.
The Obamas' slate of Netflix shows and movies will reportedly be released over the next several years, so sorry, you can't binge-watch it all just yet.