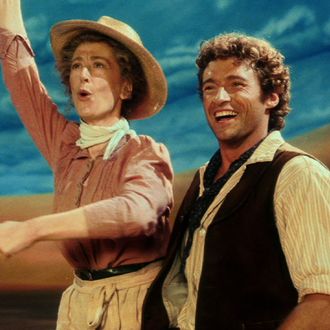 Oh, what a beautiful TV development announcement.
Photo: PBS
Who would've thought that, in 2019, we would never be at a loss for a new take on Oklahoma!? A little more than a week after a dark, sexy revisionist version of the Rodgers and Hammerstein musical premiered on Broadway, Skydance Television has announced plans for a modern-day TV series version of show. The Rodgers & Hammerstein Organization and music firm Concord are working together on the TV project, written by The Blind Side's John Lee Hancock and This Is Us's Bekah Brunstetter. The series probably won't be as edgy as the current stage revival, but will include both the original score "reimagined for a contemporary audience" and new music. This will be the first TV adaptation of the musical, which premiered on Broadway in 1943, though it was made into a movie in 1955.
The original musical, based on Lynn Riggs's play Green Grow the Lilacs, centers on the farm girl Laurey deciding which of her two suitors, the charming cowboy Curly or the creepy Jud, to take to a box social. One imagines the TV version will have to expand the plot just a little to sustain your interest over several episodes. Maybe turn it into a Nashville-style country soap? Or just do a three-episode dream ballet?