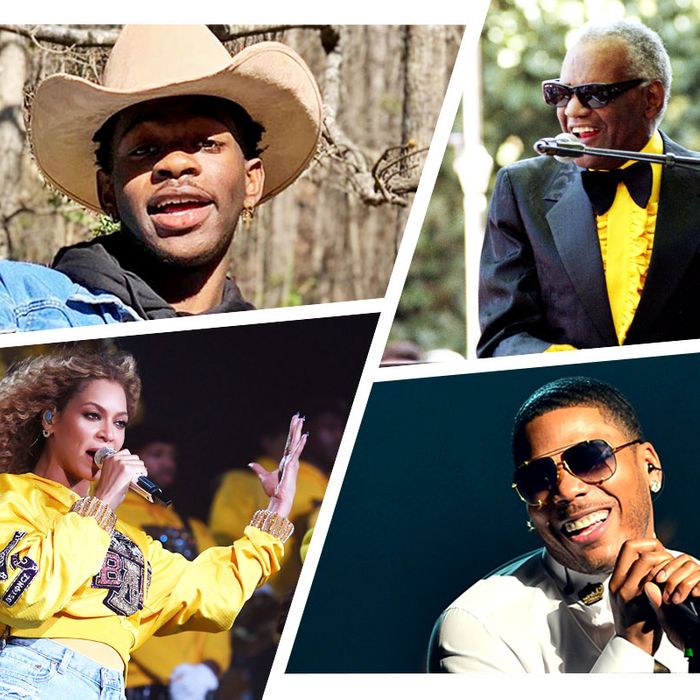 Country gatekeepers acting in the interest of the future of their culture need to think about the scope of what they're defending when they police their borders.
Photo: Getty Images
Billboard giveth, and Billboard taketh away. The 80-year-old chart authority moves in mysterious ways sometimes, but the secrecy of its processes has rarely endured as much outraged criticism as it has this spring after it quietly removed "Old Town Road" — a song about horses and cowboys delivered over booming trap drums and a sample of Nine Inch Nails' Trent Reznor and Atticus Ross playing a banjo like a piano — from the "Hot Country Songs" chart. Prodded for comment, Billboard told Rolling Stone that while "'Old Town Road' incorporates references to country and cowboy imagery, it does not embrace enough elements of today's country music to chart in its current version." What's funny about this response is that it's not entirely clear how Billboard defines "today's country music," in content or composition.
The scope of today's country music has been the subject of some consternation in this decade, as artists in the country Establishment embrace sounds from outside Music City's limits. "Old Town Road" isn't much less country than a lot of what has floated on the country album and single charts in this decade. That the song's performer, supposed-former-Twitter-meme-flipper Lil Nas X, is a young and untested black artist has transformed the plight of "Old Town Road" into social-media cause célèbre, an indictment on the opportunities afforded to white artists but not black ones. A measure of prudence and transparency could've cut into the accusations of racism that have been leveled at the stewards of the charts over the last three weeks, but a walk through the long history of soul and country artists trying out each other's sounds tells a story no press release can fight. It also reveals a problem it'll take more than talks to fix: White artists have always had an easier time entering soul and hip-hop spaces than artists of color do in accessing rock and country spaces, even when the music seems like a no-brainer for cross-marketing.
Rhythm and blues is a trap. It was born in the 1940s, when the migration of black Southerners to metropolitan areas in every corner of the country shifted pop culture and blues, jazz, and swing mixed and morphed into something new. In the early years, R&B was a bridge between the old big-band music and the rock-and-roll upstarts to come and everything they would go on to inspire. But not everyone made it across. As much as "rhythm and blues" used to describe real developments in 20th-century music, it would eventually fall into use as a handy umbrella term for emerging styles in black music, the same way the "race record" charts of the '20s and '30s were a grab bag that pitted blues songs against jazz ones. In this decade, people occasionally attached prefixes like "alt-" to the R&B tag in an attempt to distinguish diffusive, forward-thinking artists like Frank Ocean and Janelle Monáe from drive-time radio normies.
R&B charts showcase black talent, but they also box and isolate it, historically. Elvis's "Hound Dog" and "Don't Be Cruel" straddled R&B and country charts in the '50s, while songs of similar construction by Chuck Berry and Little Richard like "Good Golly, Miss Molly," "Maybellene," and "Sweet Little Sixteen" stuck to the R&B chart. Arizona troubadour Marty Robbins cut a faithful cover of "Maybellene" the same summer as Berry's and scored a country hit. Ray Charles covered country star Don Gibson's "I Can't Stop Loving You" in the orchestral countrypolitan style Nashville favored in the early '60s, for his landmark Modern Sounds in Country and Western Music album, but still couldn't crack the country charts.
Now, "Old Town Road" isn't "I Can't Stop Loving You," and Lil Nas X isn't Ray Charles, but the surface similarities are loud: Again, a black artist's take on country music is barred from competing on charts populated by white artists in a time where white artists selling similar genre hybrids are able to cruise on all the charts that apply. The story of "Old Town Road" is the story of nearly every black artist's attempt at a country hit, particularly that of a black rapper. In the '90s, OutKast's "Rosa Parks" — which, before you raise an eyebrow, contains a section that André 3000 has referred to as a "hoedown" — never got a crack at country airplay. In the early aughts, the Nappy Roots' "Po' Folks," which is honestly more of a blues-rap song than a country-rap one, never broke out of the urban charts. Nelly and Tim McGraw's "Over and Over," frankly more of a country song than a hip-hop one, never showed up on the "Country Airplay" chart. (In the same six-year stretch, Eminem made four appearances on the "Alternative Songs" chart — for "My Name Is," "The Real Slim Shady," "Without Me," and "Lose Yourself" — to OutKast's one for "Hey Ya!")
These omissions seem egregious. But in the era where industry execs were Saint Peter at the gates of popular music, and airplay was a foot in the doorway to nationwide fame, airplay charts were entrusted to radio authorities, who, as such, held the keys to many artists' fates. At the time, it made the most sense to pitch your song to the person most likely to play it. Campaigning to have "Rosa Parks" sit alongside kindred late-'90s hip-hop spirits like Bone Thugs-N-Harmony's "Ghetto Cowboy" (what a time for those two songs to have been in the same rotation) made more logistical sense than pushing for it to go between singles from Come On Over and Wide Open Spaces. (This still doesn't answer the question of what made Eminem more viable for rock radio than OutKast. It certainly isn't composition.) See, music genres and radio formats exist as much to help herd people toward more of what they like as they do to identify differences between musicians' divergent methods of delivering lyrics and playing instruments.
Is this why country artists get to linger on the country charts long after they start to work in different genres? Is it how Taylor Swift songs like "I Knew You Were Trouble" and "Shake It Off" crept up the "Country Airplay" chart without exhibiting any of the characteristics of the genre? Is this how second-generation Nashville star Thomas Rhett lands in the top ten of "Hot Country Songs" every year with songs like "Crash and Burn," "Life Changes," "Craving You," and "Look What God Gave Her," breezy hits that take as many cues from pop-rockers like Maroon 5 as anyone with a Grand Ole Opry membership? Do familiarity and friendship run the country charts? (In hip-hop, now, it's the other way round; tracking trends in modern rap music is ferreting out what unsigned artist everyone is already listening to and how they got there.)
In fairness, Rhett and Swift and the other sharp modern country hybridizers know something many artists outside the pale do not. They're well connected, but they also know that if you dress a not-so-country song with enough organic elements, it's possible to expand your horizons without causing a riot in the main base. Tucked away in the margins of those poppy Thomas Rhett tracks is a shock of pedal steel and a spattering of banjo. This is Shania Twain's impact. At the height of their collaboration, Twain and her ex-husband and producer Mutt Lange played up dualities in her music that gave it steam inside country audiences and far beyond. Processing pieces of "Man! I Feel Like a Woman" so that some of the string instruments could vaguely pass for synths got people who listened to "everything but country" in the late '90s partying to a song full of fiddles and pedal steel; "Man!" was also rootsy enough in its composition to appease fans who got onboard at "Whose Bed Have Your Boots Been Under?" and "Any Man of Mine."
The flexibility of country-music performers on charts dedicated to different genres is, in part, a story of singers and producers getting creative with the rules. It's also a story of Nashville grudgingly giving its own stars a longer leash to play around with country-music conventions. The long tail of the success of "bro country" acts like Florida Georgia Line, which attempted to modernize the genre in this decade (to loud public condemnation) by embracing hip-hop and R&B, is a subtle widening of the palette country stars are allowed to pull from. Florida Georgia Line's quest to add pop, rock, reggae, and EDM songs to their country résumé awarded them the record for the longest-running "Hot Country Songs" chart topper when the Bebe Rexha team-up "Meant to Be" hung at No. 1 two weeks shy of a calendar year. Keen writing and production deserve credit.
Still, the list of artists who succeed in country with music that doesn't quite resemble country, who get to move between multiple genre charts, and who've succeeded on more than one at a time, is mostly a list of white artists. We covered Taylor Swift, Thomas Rhett, and Florida Georgia Line. There's also Georgia superstar Sam Hunt, who perseveres on "Hot Country Songs" with catchy post-genre hits like "Break Up in a Small Town" and "Drinking Too Much," songs that employ production and vocal approaches rooted in hip-hop and R&B. Over the last 20 years, Kid Rock has graced hard rock, pop, hip-hop, adult-contemporary, and country charts, sometimes holding places on two or three at once. Since 2001, Georgia hip-hop vet Bubba Sparxxx trekked from rap to country and back. Cowboy Troy and Colt Ford have scored concurrent hits on rap and country charts, as have their successors Ryan Upchurch, Big Smo, and the Lacs. When these artists mix and match genres, the reflexiveness of their art is mirrored in their chart placements.
Not that these problems with inclusivity are exclusive to the charts, or just country music. Beyoncé's gunfighter ballad "Daddy Lessons" caused a row between her devotees and country fans and bloggers who closed rank; in spite of support from Blake Shelton, Dierks Bentley, Little Big Town's Karen Fairchild, and Nashville radio host Bobby Bones, the song never made it to country charts and was rejected from inclusion in the next year's country Grammy categories. Drake and Kanye West cover multiple genres now, but the furthest either one gets from the hip-hop chart sphere without seeking cross-genre collaborators is dance-club and mix-show charts, because it's smart business for a nightclub to play new Drake and Kanye West songs. (Note also that "One Dance" and "Hotline Bling" were once counted as "Latin Pop Songs," for some reason, as were "Hey Ya!" and Shania's "You're Still the One," for that matter.) If we can't get Beyoncé out of the urban-contemporary bubble when she makes music touching four different genres, what can we do?
One thing we can do today is to shine a light on the many gifted black artists who struggled to create a space for people of color in country and Americana, and their successors, who continue to blaze trails in this decade. Celebrate pioneering singers and players like DeFord Bailey, Linda Martell, Lesley Riddle, Stoney Edwards, and Charley Pride. Visit country outings by soul and blues heavyweights, like Ray's pair of Modern Sounds albums and Tina Turner's underappreciated debut, Tina Turns the Country On! Lift up bluegrass pickers like Rhiannon Giddens and the Carolina Chocolate Drops. Heed great voices like War and Treaty, Yola, and Valerie June. Support emerging mainstream acts like Mickey Guyton and Milton Patton. Keep pushing Darius Rucker, Kane Brown, and Jimmie Allen (among the select few black country stars to reach No. 1) to greater heights. There's a lot of history behind us, there's history happening around us, and there's history yet to be made.
In the case of Lil Nas X and "Old Town Road," the work is being done. The single shot to the top of the Billboard "Hot 100" this month and is poised to stay there, and has since shattered Drake's single-week streaming record with its Billy Ray Cyrus co-signing remix. Rural teens and hip-hop fans love it. It'll be fine. But Billboard needs to be more transparent about its processes. When it isn't, people assume the worst. Billboard's moves don't seem openly nefarious; it's trying to weather precipitous changes in the way people listen to music in this decade, but like a river, bad moves upstream can have catastrophic effects downwind. Country gatekeepers acting in the interest of the future of their culture need to think about the scope of what they're defending when they police their borders. Traditions are valuable, but they're also restrictive. The old logic says women deserve less space on the radio than men. The old ways make talented black country performers like Kane Brown feel like their own base doesn't love them. Leaning on history and tradition without acknowledging that exclusion is a cornerstone of tradition, that the music business was built and codified in a time when opportunities weren't equal, and that even now, careers are stifled under the weight of the many stupidities set in motion in that time isn't good stewardship.
Raging against a chipper, country-adjacent novelty hit at a point in history where pop-culture fans of color are hungering, some earnestly and some ironically, for a connection to the roots music and cowboy culture their ancestors played a part in creating is the kind of mistake people don't easily forget. Take a cue from hip-hop. Disputes over the future of the music have been raging for the last 25 years. But no one is clamoring to have eager young artists kicked from the charts for not representing their personal vision of what rap music ought to sound like. Life is too short. Music is changing, always. Culture only moves forward. We can follow it where it goes, or we can stay behind and eat its dust.