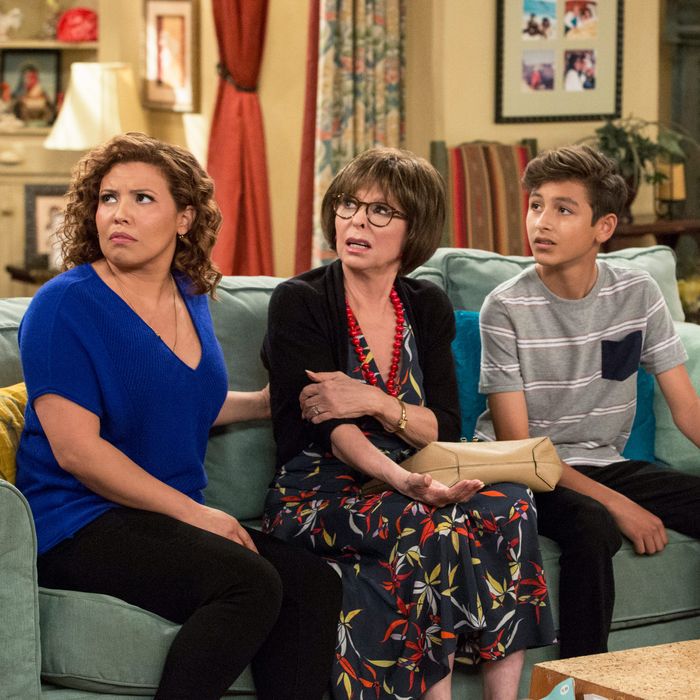 Photo: Mike Yarish/Netflix
The fight to save One Day at a Time has hit some snags, but it's not over quite yet. While the canceled Netflix sitcom remains a long shot to survive, producer Sony Pictures Television has had conversations with multiple outlets about ways to keep the series alive — and has now fielded an official pickup offer from at least one platform. Two people familiar with the matter tell Vulture that the streaming network CBS All Access, whose interest in acquiring One Day was reported a few weeks back, has now submitted an official bid to procure at least one more season of the series from Sony. All Access made its proposal despite being aware Netflix's deal with Sony allows it to veto any move to a streaming network for at least two years after cancellation.
But just because Netflix has the right to kill any such move doesn't mean it must do so. With that it mind, Vulture hears One Day executive producer and living TV legend Norman Lear personally reached out to Netflix chief content officer Ted Sarandos to ask him to help keep the show alive, presumably by waiving the company's veto rights, two sources tell Vulture. As of Tuesday, however, it appears Netflix is unwilling to budge and allow One Day to shift to the much, much smaller CBS All Access. (Reps for Sony, CBS All Access, and Netflix declined comment.) Nonetheless, sources close to the situation say Sony and CBS All Access are still trying to figure out a way forward, though again, any deal would require Netflix's blessing. (And as of Tuesday, Netflix has not offered a definitive "no," though there's zero indication it's inclined to say "yes," either.)
If Netflix does refuse to give up its right to kill a deal from a rival streamer, however, there may still be some options left for Sony and the show's creative team. Netflix's contract with Sony only lets it veto potential streaming buyers; cable and broadcast platforms could still do a deal without Netflix's approval. To that end, Vulture hears the CBS-owned cable network Pop TV has also made inquiries about the possibility of picking up a fourth season of One Day, though any such bid would be a long shot. Because of its smaller footprint, Pop likely couldn't afford to pick up the show from Sony unless it had another partner, either from another country (Schitt's Creek is produced with a Canadian network) or even another cable or broadcast outlet in the U.S. Pop's early discussions with Sony were put on hold once CBS All Access got into the game, but if that deal completely collapses, there's at least a chance Sony could try to figure something out with Pop and another player. Meanwhile, another network with a CBS association — the CW, which is co-owned by CBS Corp. and WarnerMedia's Warner Bros. TV — is also understood to have put out feelers about One Day. Like Pop, it would also not be able to afford the show without some sort of partnership. What's more, CW doesn't currently air half-hour sitcoms, making it hard to see how the show would fit on the network's schedule as-is.
Speaking at a March 28 industry event in Los Angeles about the importance of Latinx representation, One Day co-creator Gloria Calderón Kellett hinted at the conversations with other outlets, saying there were "interested parties" exploring a deal for season four. She also confirmed Netflix's contractual ability to keep the show from other streaming services — which she said lasts three years from the premiere of season three — represented a major stumbling block. "We are hopeful that maybe there can be special dispensations made so that that's not the case, especially given Netflix's tweet about supporting this community and loving the show," she said. "You know, if you love us, set us free, I say."
Kellett also suggested that perhaps some broadcast networks could make a bid for the show once Netflix's much shorter 120-day window of exclusivity expires in mid-June. That timing would also be after networks get through the current upfront cycle. "Right now, networks have all these pilots that are shiny and new," she said, suggesting broadcast nets don't even want to seriously consider a show such as One Day when they have so many in-house newcomers vying for a slot on their schedules. But come summer, if pilot season disappoints, One Day might look even more attractive.
So, where does this leave the future of One Day at a Time? As of right now, still very much in limbo. The CBS All Access proposal is the most serious indication of legitimate interest in keeping the series alive. But as expected, Sony's contract with Netflix remains a significant stumbling block. What's more, even if Netflix agreed to let the series jump to another video-on-demand service, Sony and All Access would still need to agree on the right financial terms. As for other, non-streaming players, those are more likely plays contractually — but perhaps far greater reaches financially. The most likely scenario would involve multiple linear networks, perhaps cable and broadcast, partnering to make the show financially feasible.
Maria Elena Fernandez contributed to this report.