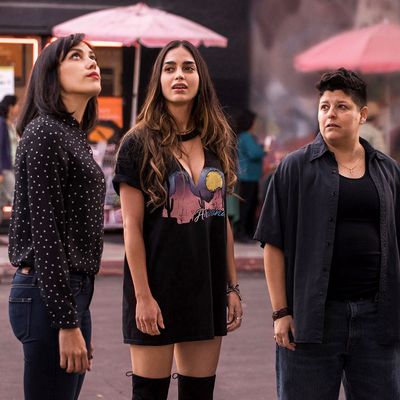 A scene from Starz's
Vida.
Photo: Erica Parise/Starz
If the Latinx community comprises 18 percent of the U.S. population — and 25 percent of 6-to-21-year-olds in the nation are Latinx, according to Pew Research Center — why are Latinx stories so hard to find on television, especially considering the record volume of shows made in the Peak TV era?
That is the question Latinx Hollywood has been asking more and more in recent years, and perhaps most loudly in the wake of the recent cancellation of One Day at a Time, a Netflix critical darling and Norman Lear reboot about a Cuban-American family living in Los Angeles. The departure of the show from the TV landscape leaves only three shows on the air centered on Latinx families that do not delve in criminal or gangster stereotypes: Netflix's On My Block, which launched its second season on Friday; the CW's Jane the Virgin, currently in its final season; and Starz's Vida, which drops its second season on demand on May 23 (and premieres on the cable network May 26). That's three of 495 scripted series produced in 2018. (ABC will premiere Grand Hotel, executive-produced by Eva Longoria, on June 17.)
Last week, One Day at a Time co-showrunner Gloria Calderón Kellett, who loosely based her sitcom on her life as a Cuban-American, and her friend Tanya Saracho, creator and showrunner of Vida, participated in a conversation about Latinx representation on television at the Riveter's L.A. co-working space. The highlights of their hour-long discussion, led by Lindsay Scola, director of strategic communication and social impact at Friends at Work, have been edited and condensed below.
On what the TV landscape is still missing
Gloria Calderón Kellett: There weren't a lot of shows growing up that I could look at. Making [One Day at a Time] was, in many ways, a love letter to my family, but also a gift to 12-year-old me so that she could've been fed in the way that I didn't get to be. We are an enormous part of the fabric of this country. And yet we make 6 percent of the speaking roles on television — and that's including the maid, the doctor, and the person with one line. That's not representative of the culture. For Tanya and I, when we started out, there was a feeling in Hollywood that "it's a favor that you're here." So we fight the fight of letting them know we are good enough. And then we finally get our own shows, those shows excel and get 100 percent on Rotten Tomatoes, we are showing that we can make something that is good, and then it's still not embraced. It's hard, guys. It feels icky.
Tanya Saracho: My show could be next. I don't have a third season. I have to see how Vida performs second season, and it didn't do well the first season. Nobody watched it. I'm sure some of you watched it, and I'm grateful. But for them [Starz executives], nobody watched it. I just hope people watch it because I will be sitting here fighting for my show too. To me, the issue is macro big. We have been invisible. Nothing really changes. They give us a show, but then they take them away. It's like the progress we make is false progress. It's a feeling because everybody keeps saying: "Things are changing, right?" But things haven't changed. I feel like it's too early to say.
On the responsibilities of cultural 'gatekeepers'
Saracho: Right now, there's four [Latinx series] left that aren't cartel narratives. Isn't that so offensive to us? It's not that I don't want them to exist, but yes … and? I don't know how to get the gatekeepers to care about us more than we're being cared about in the country. It's not just Hollywood and television. It's something we're experiencing as Latinx in this country. So how to make them see beyond that?
Kellett: Both of our shows are not just Latinx, but they're queer. They're LGBTQ-positive shows. So, two of the most demonized categories of people in this [Trump] administration are the characters that we try to shed light on in a loving and positive good way.
Saracho: We have this thing, and I get it because I feel like I've done it too, where we're like, That's a Cuban show, that doesn't speak for me. No, that's a Mexican-American show, I'm Mexican. Well, I'm Mexican from Texas, so that's not going to speak for me. It's gotten that specific, and we have to really stand under that umbrella. If not, we're never going to be a movement.
Kellett: We do need to be more vocal about what we want. Social media matters so much more than I thought — social media basically saved our show from season one to season two — so you are more powerful on your laptops than ever before. It can come from a positive place, but we really need them to know how important it is to us. Because I don't think they know. I've gotten so many tweets and emails that say, "I saw the Café Bustelo on top of the refrigerator and I started crying. And I didn't know why!" It's like, I exist, I am here, I take up space, I matter. Basically, what we do is we make culture. We tell stories. And that story affects how people see us, how people view us. So if the story that is being told about our community is mostly drug dealers and cartels, then this administration can very easily let somebody who has never met a Latino person think that that's all we are.
We're not just talking about TV shows and making entertainment. We are talking about telling stories to lift up a community. So when those shows are under attack, we take it more personally. It means a different thing to us. There are shows that are just for fun, to turn off our brains for a minute. But there are also things that are important and impactful. And if we think about what that means to us as consumers — what we choose to support, what we choose to put our eyeballs on and give our attention to and lift up — I think that we have so much more power than we think we do.
Saracho: I was just at an amazing conference called "A Day of Unreasonable Conversation" and America Ferrera did this panel on immigration because they'd just gone to Tijuana with [Ferrera's activism group] Harness. And she said, "Write the immigrant narrative. Dare to write it, but don't just be fetishizing the narrative, or doing immigrant porn with it. Have them have a point of view, a backstory. Put a human being in it because that's the most radical thing you can do." And I think that's what we need. We're usually a purpose. We're there for the leading person to learn a lesson. We need to get out of that category. We're Americans! I mean, I'm not. I don't have citizenship. [Laughs.] I have a green card!
Kellett: I am shameless. I tweet every day. I do it on my show. I don't give a fuck anymore. Because I can't. If I want to have more coming behind me, I cannot be quiet, so I will be annoyingly vocal. We need to talk about it. The truth is there are so many shows. Nobody's watching most things. Nobody watches in real time. It's really, really difficult, so I think we need to let them know as much as possible that we are an important demographic. It is important to market to us. We spend money. These are things that they need to know. And then we need to be that. We need to watch and spend money and show up. The tricky thing I found on One Day at a Time is it took people three seasons to find us. They didn't know we existed because the marketing on a lot of these shows doesn't exist.
Saracho: We did [have marketing] and nobody watched it. But that's because we are the first premium-cable Latinx TV show, so we are the model having to ask people to pay for cable to watch the show. We are training an audience, and we're not used to it.
On the dangers of algorithms
Kellett: It's difficult to make the goal when they're not telling you what it is. That's the concern for content creators because it seems that specific stories are always better. As a consumer, I'm drawn to that type of storytelling, to stories of other, because I love TV. I grew up watching it. It was my babysitter when my parents worked. I like Master of None, I like Insecure. I think that's an important conversation to be having because I don't know what the algorithms are. But following them would not ever be my jam.
Saracho: I'm gonna talk about Netflix now. I'm speaking for myself. The speed in which the landscape is changing is scary, and at the helm is Netflix. I fear that it might devalue television. That's a big statement, I know. But look at the way productions are outsourced now. Selena is being shot in Mexico. [Editor's note: According to Netflix, the series will film in both Mexico and Texas.] That's one of the most American fucking stories. Do we really not know who Selena is? She's a Chicana. She didn't speak Spanish. But they're outsourcing stuff so that it's cheaper, because, after two years, they want the fresh, shiny thing. It's becoming disposable. The quality feels like it's going to be affected. That's my fear. We're in this video game of television, but we don't know what the rules are. We don't know how to get to the next level. I pitched [for the entire second season of Vida to be released on demand early] and we're doing it. I don't know if it will fuck us completely over. I don't really get how they're gonna measure us.
On the misunderstanding that other people can't relate to these stories
Saracho: It's the concentric circles of being an immigrant, or just being an other, and dealing with that. Or just being a family member, just being a shitty sister. Or a wife that lost her spouse. I didn't just make Vida for Latinx, but they do get a special coded gifts and jokes. People are like, what does pocha mean? It's fine. We know. [Laughs.] Pocha's not a word we've ever heard on television. There's something about the power and the alchemy of recognition. Think about it when it happens. You see yourself, and then it's like, I exist! The power of that. And I think these gatekeepers don't understand that cause they've always recognized themselves. They've never had that alchemy happen.