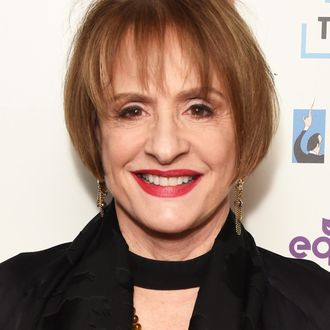 More like Patti LuPhone [is promptly kicked out of the theater].
Photo: David M. Benett/Getty Images
Patti LuPone, two-time Tony-winning enemy of cell phones has arrived online, and she is apparently pretty good at it. After making an official Twitter account over the weekend, LuPone (or at least a consultant firm of many people trying to sound like her) released her first, very good tweet: "Contain me with only 280 characters? Fuck that." It would be a hilarious bit, if after this announcement, she kept the account but never tweeted again, but we hope she keeps up the conversation since she would probably be pretty good at Twitter, considering how unfiltered she likes to be. LuPone recently finished her last performance in London's gender-bent Company (here is an excellent promo video of her answering questions about it), and will soon appear in season two of Pose. If she needs other topics to tweet about, there's always the Sunset Boulevard movie, considering the history there.