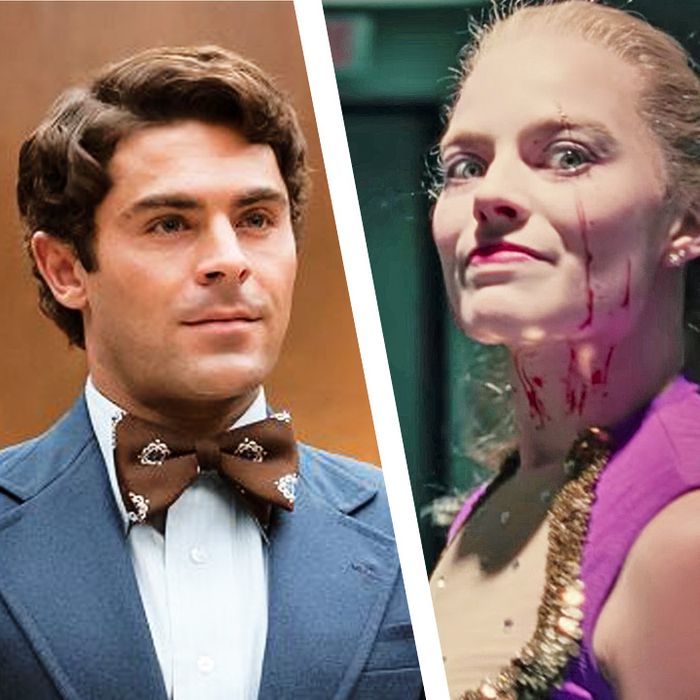 In my relatively short career of attending film festivals as a part of my job, the Sundance premiere of 2017's The Big Sick stands out in my screening hall of memories. It was probably the first time I saw a comedy really kill in the Eccles Theater, and experienced the electric "Wow, this is gonna be a thing" high-altitude head rush that went with that. (To be fair, The Big Sick was properly lauded back at sea level, all the way to an Oscar screenplay nomination. I've seen textbook Sundance Syndrome at work, and its name is Me, Earl and the Dying Girl.) But it was also the first time I remember seeing the power of the post-film photo-slideshow sequence weaponized for maximum audience-slaying effect — delighted chuckles and "Oh, wows" surrounded me as we were treated to old, sometimes unflattering, often touching photos of Kumail Nanjiani, Emily V. Gordon, and their families, whose dramedy we had just seen famous actors play out onscreen.
I remember thinking that credits sequence was fun at the time — perhaps because Nanjiani was also in those photos (he plays himself in the story of his then-girlfriend, now-wife Gordon's sudden, life-threatening illness) and Michael Showalter's direction was so particular and intimate and in no way trying to turn the story into some grand, conquering rom-com. But after that, I couldn't unsee such sequences and their increasing ubiquity and the alarming things they say about contemporary independent filmmaking.
The post-film slideshow of real photos and footage, even in the best of films, is a sign of bad faith in the power of cinema. It's the cinematic equivalent of overachieving middle-schoolers waving their completed homework at the teacher two days before it's due, eager and desperate to prove that they've done the work, laboring under the impression that that is the beginning and the end of the work. "See, this all really happened! See, we didn't lie! See, he really was wearing that shirt when that happened!" In the last year I've seen it in everything from Tag to Fighting With My Family to The Farewell to I, Tonya, films I've admired and films I've detested alike. In the case of a movie like I, Tonya or last year's juggernaut Bohemian Rhapsody, which follow high-profile true stories with which the majority of the audience will already be familiar, it makes extra-little sense: We've already seen those photos. We have already marveled at how well or not well certain performances and sequences echoed our first experience of the story. All those images do is nudge you till your ribs ache, asking over and over again, "See? See?"
This year at Sundance I saw what I thought must be the logical absurd conclusion of this tic at the end of Joe Berlinger's Ted Bundy film, Extremely Wicked, Shockingly Evil and Vile (which is screening in a couple of weeks at the Tribeca Film Festival and will be on Netflix May 3). Berlinger didn't just stop at photos — he gave us vintage footage surrounding the Bundy case and trial, in many instances showing scenes that we had just seen reenacted note for note in the film. This would be uncalled for on its own — adding what amounted to a short documentary covering the same ground as the narrative film. But the true silliness of it all was that Berlinger had already made a Ted Bundy docuseries, Conversations With a Killer: The Ted Bundy Tapes, which had just premiered on Netflix two days before Extremely Wicked's festival premiere. So what was the point of not only doing both but letting one encroach on the other?
At Sundance and festivals like it, there's a lot of talk about the virtues of working outside the studio system, of independent cinema as necessary counter-programming to the churn of franchise films and IP-driven slates. But if we look at non-franchise, adult-oriented cinema as a broad genre that includes everything from Hidden Figures to Roma to The Rider — the kind of films that get splashiest billing at festivals and Oscar consideration come fall — it's clear they are indebted to a franchise: the True Story. If you can credibly add the words "based on a true story" to your trailer or poster, you may as well have promised the grown-up movie equivalent of a Wolverine cameo. And just as the Marvel Cinematic Universe hooks you with its parade of end-credits sequences, the True Story Cinematic Universe aims to send you out of the theater feeling as if you didn't waste your money seeing some arbitrarily made-up story, and you're willing to plonk down more for another such verifiable form of entertainment at some point in the future.
And in some ways, I understand the urge for this kind of insurance. Even a box-office success studio film such as A Star Is Born, itself a remake of a remake of a remake but still a made-up story, was frequently dinged for suggesting that Bradley Cooper's country-rock star would be popular today. "Unrealistic" has been a charge that has fueled countless backlashes and CinemaSins YouTube videos. In the so-called post-truth era, if something incredible, awe-inspiring, or unusual happens in a narrative film, there's a knee-jerk desire on both the audience and the filmmaker's side for it to be shored up with some kind of proof, to assure skeptics that it was not created, it was not dreamed up, that no act of imagination took place. And so now we sit in thrall at the end of everything from 127 Hours to Battle of the Sexes essentially waiting for a bibliography. (Or if we're lucky, a post-film Q&A with the filmmaker.) What is this, school? Motion pictures started off as a kind of magic trick, and the delight was wandering out of the tent into the bright light of day still not knowing. Half of today's magicians can barely wait before they start explaining how they pulled that rabbit out of the hat.