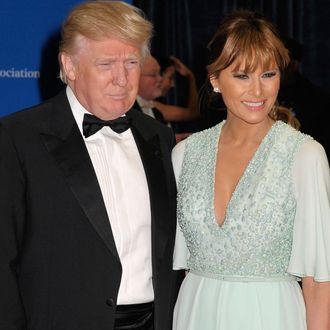 Donald and Melania Trump in 2015.
Photo: Kris Connor/FilmMagic
Someone still hasn't learned much about the art of the joke. What a shame! Donald Trump has, unsurprisingly, confirmed he won't be in attendance at this year's White House Correspondents' Dinner, despite the fact it won't even be featuring a comedian. "I'm gonna hold a rally because the dinner is so boring and so negative that we're gonna hold a very positive rally," Trump told reporters on Friday, per ABC News. "We haven't determined [the location]. We have about three sites. Everybody wants it, it'll be a big one. But the Correspondents' Dinner is too negative. I like positive things, okay?" This is the third year in a row Trump has snubbed the "dying evening and tradition," although he attended numerous times in the past before becoming president. The final time he showed up was 2015.
In place of a comedian this year, author and presidential biographer Ron Chernow will serve as the "featured speaker" at the Correspondents' Dinner. He plans to share his "lively, deeply researched perspectives" about the current American political scene, which sounds like a total laughfest.