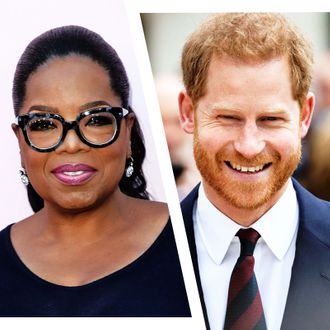 Oprah, Prince Harry.
Photo: Getty Images
The Windsors are going digital, and for a very noble reason. Apple announced this morning that Prince Harry, along with Oprah Winfrey (who's practically a veteran of Apple TV+ at this point) will be collaborating on a documentary about mental health and wellness for its streaming service. With the duo pulling double duty as creators and executive producers, their goal for the multipart doc is for each viewer to have "honest conversations about the challenges each of us faces, and how to equip ourselves with the tools to thrive, rather than to simply survive." It's well-known how Prince Harry has made mental-health destigmatization an integral part of his royal duties — he even discussed his own issues in a recent documentary about his mother, Princess Diana — and in a statement, he said he wants to further educate on the subject.
"I truly believe that good mental health — mental fitness — is the key to powerful leadership, productive communities, and a purpose-driven self," Harry explained. "It is a huge responsibility to get this right as we bring you the facts, the science and the awareness of a subject that is so relevant during these times. Our hope is that this series will be positive, enlightening and inclusive — sharing global stories of unparalleled human spirit fighting back from the darkest places, and the opportunity for us to understand ourselves and those around us better. I am incredibly proud."
This is the first time the prince has had an active role in a television program. Winfrey, meanwhile, signed a multiyear deal with Apple last spring to create as much original programming as possible. So far, so good!