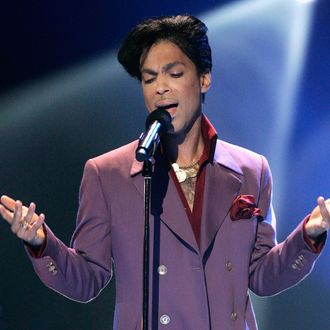 Photo: Vince Bucci/Getty Images
Three years after his death, we finally have a release date for the memoir Prince was working on at the time of his passing. Prince's memoir, titled The Beautiful Ones, will be released October 29, his publisher confirmed to the Associated Press. The book will combine his unfinished manuscript, rare photos, lyrics, and scrapbooks. It will open with an introduction by New Yorker writer Dan Piepenbring, selected by Prince himself before his death. The Beautiful Ones will be 288 pages.
"'The Beautiful Ones' is the deeply personal account of how Prince Rogers Nelson became the Prince we know: the real-time story of a kid absorbing the world around him and creating a persona, an artistic vision, and a life, before the hits and the fame that would come to define him," Random House said in the announcement. The book's editor is Chris Jackson, who has edited books by Trevor Noah and Ta-Nehisi Coates.
Per Random House, Piepenbring's introduction will be about the artist's last days, when he was "thinking deeply about how to reveal more of himself and his ideas to the world, while retaining the mystery and mystique he'd so carefully cultivated." Prince died April 21, 2016, from an accidental overdose of fentanyl at the age of 57. Last year, his literary agent said he'd written more than 50 handwritten pages of The Beautiful Ones.