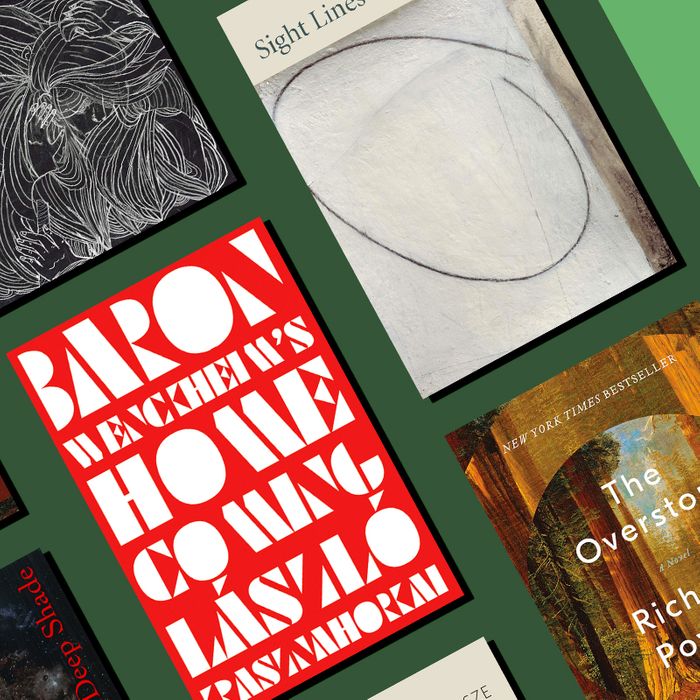 When asked what he likes most about poetry, Forrest Gander, who won the 2019 Pulitzer Prize in Poetry on Monday for Be With — a collection honoring his late wife and fellow poet C.D. Wright — talks about its universality across culture and time, but also its recent resurgence among readers. "In a time of visual extravaganzas, hypersurveillance, mass migration, and environmental catastrophe, people — especially the young — continue to find their way to poetry," he wrote in an email. "It must speak from depths that aren't touched by Twitter feeds, Facebook posts, or the relentless rush of news. I think it responds to some profound and soul-shaping human need." Vulture caught up with the poet to congratulate him on his latest honor and to find out what books he's most looking forward to reading this spring. —Trupti Rami
This extends the signal poet's book-length oeuvre (Deepstep Come Shining; One With Others; One Big Self) to the invented form of the amble, a saunter through documentary materials, lyrical interactions, and personal notes on beech trees. Yes, it's environmental literature, but with an Arkansas twang and Wright's inimitable poetic slant. With stunning production and color photographs by Denny Moers and others, the book becomes its own rich and celebratory experience. Casting Deep Shade could well serve as the poetic corollary to Richard Powers's remarkable novel Overstory. [Editor's note: Overstory just won the 2019 Pulitzer Prize in Fiction.]
With its gorgeous Eve Aschheim cover of an excitable line looping over a softly textured color field, Sight Lines shuffles scientific information, sensual observation, and the author's attentiveness to our exigent environmental predicament — experienced, in part, through his wardship of a local acequia in Santa Fe. What results are dazzling poems of connectivity and multiplicity — because "no one thing takes us out of ourselves." Sze's extraordinary skill negotiating hard juxtaposition and enjambed line breaks, shifting pronouns and tenses, and large-scale and small-scale events ("the magnetic lines of the moment; / a magpie hops onto an apple-tree stump") creates a poignant, sometimes erotic feeling of immersive encounter.
Still Nowhere in an Empty Vastness mixes documentary materials with readings of poetics and art to examine, among other things, tropes of Latinx masculinity.
Evenson continues his eerie mission to explore the permeable membrane between the dead and the living, the self and the other. Brilliant gestural ticks in his writing — "if" clauses, for instance, that make us question, with the characters, what is presented as real (if there is a real …) — can be creepy and darkly hilarious at once. Evenson is our most impressive explorer of the cracks in things that let in not the light, as Leonard Cohen would have it, but fever, chaos, and darkness.
Krasznahorkai, "the Hungarian master of the apocalypse" (sayeth Susan Sontag), follows a retiring Prince Myshkin–like character from Argentina to his little Hungarian village, aswarm with raving politicians, con men, gossips, and a brilliant but intellectually retromingent philosopher-biologist. Since this is Krasznahorkai, doom can't be far off. But as we make our inevitable approach and as characters exhaust themselves in futile gestures, the sentences take on their own lives, racing through clauses and grammatical norms like coked-up thieves ransacking a chest of drawers. The sentences themselves, sthenic and antic, overtake the characters, boiling like a stream of bats from the hub of contemporary anxiety in asymptotic arcs that never want to end.