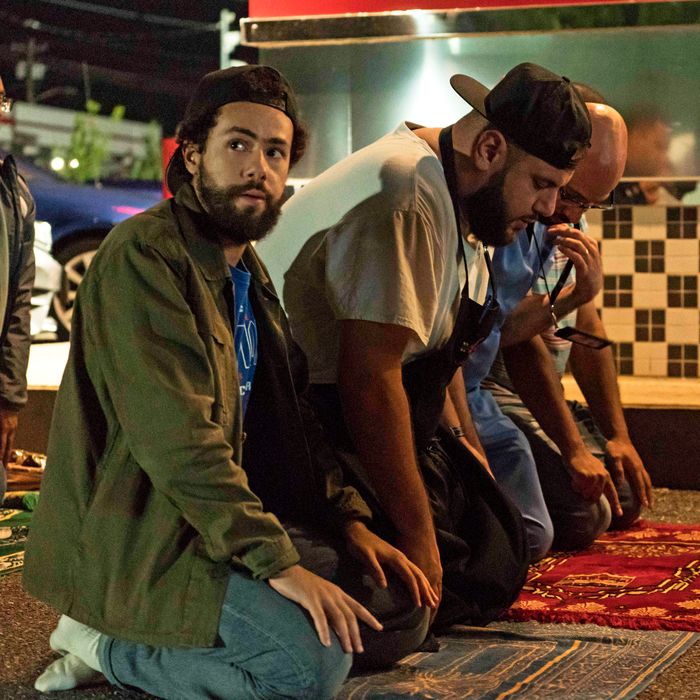 Photo: Barbara Nitke/Hulu
It's a crisp, October morning at the Islamic Unity and Cultural Center, a mosque with no dome or minaret in Astoria, Queens. It looks like it could be any other New York City duplex, with an AC unit jutting precariously out of its top-floor window. Today is the midway point of filming on Ramy, actor and comedian Ramy Youssef's debut series, and production is camped out throughout the mosque's interior. The new comedy from Hulu and A24 is modeled after the life of its 28-year-old, Muslim-Egyptian-American creator, and much of it is taken directly from his deeply personal standup comedy. But it's also the first scripted series centered on Muslim-American life — period. So, you know, no pressure.
Around set, Middle-Eastern people populate all levels of production. Anyone who understands what it means to be Muslim, or Arab, or stereotyped, can be pulled in to advise — like Sahar Jahani, a writers' assistant and script coordinator who wrote today's episode, "Do the Ramadan." On days when the show films at the mosque, Jahani is on hand to help the costume department tie hijabs, sourced from Treasure Islam, a clothing store eight miles south on Atlantic Avenue's Arab stretch in Brooklyn. "My one thing in life, if I could just die happy, would be making sure the hijabs in this show are not completely wack," she laughs. This woman would wear it a little looser, instructs Jahani, whose own hijab is wrapped securely around her face. This one would be more modest; this one wouldn't wear one at all.
"There's no other way we could do it," Youssef says. Wiry and energetic, he's the kind of guy who greets you like you're a friend from way back, and whose every sentence sounds like it could be punctuated with "dude." He's got a boyish charm that projects innocent … but not that innocent. It's the perfect energy for the role of Ramy Hassan, "a male Muslim, babied, semi-fuckboy," as Youssef describes him. His look for the Ramadan episode, which marks one of many points of crisis for his character, completes the not-a-boy, not-yet-a-man image: an (intentionally) ill-fitting galabeya from his childhood that stops just past his knees, and a backwards, blue baseball cap, his curls peeking out the sides.
Unlike other immigrant kids who are split between two worlds and have made popular television shows and movies that wrestle with that fact, Youssef's work is distinguished by how much he leans toward the old world. Ramy is shot in and around Queens, but it's set in a nondescript North New Jersey town, not far from where he grew up in Rutherford. Ramy Hassan runs in predominantly Arab Muslim circles; his New York-adjacent life is filled with diamond shops and Arab-owned diners and unassuming mosques. He wanders through it aimlessly, "having sex with random women" (in the words of his friend Ahmed, played by his real-life friend Dave Merheje). He still lives at home with his parents. The story's beating heart is that he's actually deeply religious, and driven by a desire to be good.
"A lot of immigrant stories on TV and film, I feel like I'm watching someone upgrade into a white lifestyle," says Youssef. "And this show is a wrestling match of wanting to be in both."
Downstairs in the basement, where production has set up video village, a man walks by with a grid of headshots for a Hasidic Jew role they're looking to cast in another episode. Ramy showrunner Bridget Bedard (Transparent), who's furiously making notes on future scripts, glances up to consider the images, along with two producers from A24 and Hulu. They land on a photo of a curly-haired man who had auditioned. One wonders aloud if his appearance is too cliche. "The whole show is about not playing into stereotypes," Bedard points out. They table the discussion.
"It was a really interesting conversation with casting directors and the network," Youssef says, as we melt into two oversized leather couches in the mosque's top-floor office. "They'd be like, 'What about him?' And I have to be like, 'Well, no. That person's Iranian.' And they're like, 'Yeah…?'"
They think Iranians are Arabs, I point out.
"They think Iranians are Arabs!" he exclaims. "And I'm like, 'No.' If the role is specifically for an Arab, it has to be an Arab actor." These are the kinds of distinctions that get flattened when you cast Iranians as Arabs, or South Asians as Arabs, or Arabs as Jews. For Muslims and Middle Easterners, these aren't small details, especially when you're used to Hollywood getting all the big things wrong. In pop culture, they're routinely lumped together as a massive, indistinguishable blob that terrorizes people in the name of Allah. The progressive version isn't much better: "good" Muslims who are more symbols than they are people.
Youssef did make one exception. "We have a Bin Laden scene, and I was like, 'I don't care if you're Arab,'" he laughs. "I don't need an Arab to play Bin Laden. I need an Arab to play my best friend."
The first-time creator has meticulously considered authenticity in every corner of his world, not only because he wants Ramy to reflect his own community, but also because he's conscious that Muslim-Americans will be his most eagle-eyed viewers. Still, talking about Ramy as a "Muslim-American comedy" can feel like a trap for the people behind the show. It applies a lens that's so broad as to be meaningless. On set, Ramy was alternately described to me as "coming of age" and "a show about a person who happens to be Muslim," both of which feel true, and also like an attempt to wriggle free of the burden of representation. It's partly why Ramy is named after its creator and not Bad Muslims, a title that was floated at one point. (File it under Lessons From Girls.)
On the other hand, Ramy is also so Muslim, and more specifically, so Arab-Muslim, from the Habibi Funk music that begins every episode to the casual, frequent, and occasionally facetious use of "Allahu Akbar." But the more you spin away from the finally, a show for Muslim-Americans sort of cheerleading, the more interesting it becomes to dissect. Ramy is tonally adventurous; one moment it can be dark and funny, the next it's poignant or surreal. The pilot includes a date scene where a Muslim woman asks Ramy to choke her while she masturbates. "Good" representation is probably last on the list of things it's concerned with. The characters are all deeply flawed, none more than its lead, who is constantly freaking out about how to live correctly. And at its core, Ramy is a show about faith. Ramy follows some of the rules of Islam (no drinking, no drugs), but he's unable to give up others — mainly, sex. His tormented relationship with sex is where some of the show's most pointed cultural commentary comes in.
Ramy is very specifically about Youssef's neuroses, but at the same time, the issues he navigates will be recognizable to many Muslims in America, who, as Youssef puts it, are "clinging to their faith [more] than other religions of our generation do." And if Youssef does have something big to say about Islam in the West, it's in all the "inside" questions he raises about being a modern, millennial Muslim. "I want to ask the right questions, and a lot of the time, that's the thing that bothers people most," he says. "When a very sensitive question is being asked that a community would prefer wasn't asked."
"The era we're in right now," Youssef continues, is "let's get nuanced, finally.'"
TV is a graveyard of unmade shows by Muslims and Middle Easterners. When, exactly, did it decide to get nuanced?
"I would be lying if I said [the show getting picked up] wasn't part of people being like, 'Okay. Shit. We actually need to talk about it,'" Youssef says. "But that's how America is. It's like, you have to see bodies in order to do something, unfortunately."
"You just think of the timing of all this," Jerrod Carmichael, a producer on the series, muses. "This is happening as a ban on so many countries is happening in the world. A lot is happening to that community while we're pitching the show. I think the networks realized it."
Youssef first had the seed of an idea for Ramy during the Obama era. It was 2012, and he had just booked a recurring role on the Scott Baio-led Nickelodeon sitcom, See Dad Run. During breaks, he would go to his trailer on the Paramount lot to pray. It made him wonder: "What other Muslims have prayed on this lot? There probably aren't many, but I haven't heard about that." A year earlier, when he had prayed to book that role, he remembered thinking, "I really hope I get this 'cause I want to tell a story [about it]."
Carmichael was crucial to getting that story made. He and Youssef first met at a house party in Los Angeles, six years ago. "He talked about God for like an hour," Youssef recalls. Carmichael is Christian, but they both felt the same way about their faith — it was an instant connection. "If you notice, there's not a lot of that in Los Angeles," Carmichael laughs. Soon after the party, they met up again for a walk and talked about God some more. "I wanna see somebody who talks about God the way we talk about it, the way we feel about it," Youssef told him, as they circled Echo Park Lake. "That conscious desire to do good, the guilt. What could that palette look like in a real character?"
Youssef is still a relatively new comedic voice, and by all accounts his jump to streaming-TV creator is an incredible rise. But you can immediately see why someone might want to take a chance on him. His comedy is both broad and technically precise, with a clearly articulated point of view; it can turn from deeply sincere to provocative on a dime. In the viral Colbert Show bit that introduced him to the mainstream, Youssef ends his set with a joke about his faith: "For me, God is hope that there's more to life than what's in front of us. That even if things seem impossible, there's still a chance that it could be OK… all I'm trying to say is, just submit to Islam because it's the truth, and that's the only way you'll be saved." The camera cuts to Colbert, who looks surprised and delighted to hear those words broadcast to CBS viewers.
In February of 2017, shortly after the Muslim ban went into effect, Youssef — along with Carmichael and co-creators Ari Katcher and Ryan Welch — started pitching the show around, attracting attention from all the big prestige networks. HBO passed, but greenlit his comedy special, out this summer. Netflix passed as well, citing that it felt similar to stories they were tackling in Master of None season two, Youssef says. "Which I think was… just the bacon episode," he laughs, referring to the episode of the series called "Religion," in which Dev Shah (Aziz Ansari), who is culturally Muslim, tries to hide his pork-eating habits from his parents. "I was like, 'Whoa. Can't wait to watch season two!' Then season two came out. I watched all the episodes. I was like, 'Wait… were they just talking about the bacon one?' Because none of this feels like anything we're doing."
They ended up with offers from FX, Hulu, and Amazon. "Money-wise, it went down between FX and Hulu," Youssef continues. "FX, you had Atlanta, and Louie, and Sunny — that was a very tempting alumni class to want to be a part of. With Hulu, there was an opportunity to go in and help define their new direction for comedy. And I knew they were going to take risks."
Indeed, Hulu has reinvented its comedy programming to critical success, starting with the debuts of PEN15 and Shrill earlier this year. "When you look at all of these, they have a very specific audience, and one that is defined by a take that you don't often see on television," says Beatrice Springborn, Hulu's vice president of original programming. "We had loved [Ramy's] standup, so when it came in we were really aggressive at trying to get the project." She also saw its potential to be revolutionary. "What occurred to me was how little I knew about Muslim-Americans, especially with how much Muslim-Americans are, you know, clearly …," she continues. "I was shocked that there had not already been a scripted series done about Muslim-Americans."
Ultimately, Youssef wanted the show to end up at a place where it wouldn't get stuck in development hell. "[At FX], I was very afraid it was either not going to get made, or get made in three years," he says. "And the story we're telling, because it's a human story, is timeless. But I also think it's timely, and I want people to talk about it. The sooner it could actually get made, and not be another Muslim TV show that didn't get made, was my priority."
Youssef's sense of urgency is understandable. Post-Trump, the phrase "more relevant than ever" has become a frequent soundbite for creators, journalists, and executives looking for the words to describe TV shows that deal with politics or identity. There's nothing particularly relevant to our current moment about Ramy. It would have been just as relevant as any other point in time to talk about the inner life of a young Muslim-American adult in New Jersey. The difference is that Islamophobic language has finally been deemed unacceptable in progressive circles. How does the public perception of Muslims as "relevant" to the mainstream political discourse affect what kind of show TV executives might expect? What do those pitch meetings look like?
Youssef mulls the question for a moment, as if debating how political to be. "I will say, what we sold and what it became were, I think, different things," he begins. "What ends up happening is you go in and you pitch some stuff that is very much, 'It's a clash of civilizations! How's he going to make it work?!' You try and talk about the hot-button issues, to focus on them centrally. And not only does it feel redundant, there's not a lot of story there."
Youssef recalls including in meetings a storyline about a character who gets radicalized. "In the pitch, there's this idea of, well, it's a Muslim show. We're going to have to do it," he says. "It's not even that they want or don't want it — they just expect [it]. It just seems like a baseline thing that would happen." But as they started developing the show, it increasingly seemed like a bad idea. "I was writing it, and I was just like, 'Man, this is bullshit.' I don't need to talk about this. Not now, not in the first season. Hopefully we get to do more, and we get to bring some nuance to understanding that," Youssef says. "[Hulu was] really supportive with watching the story evolve to what it did."
It brings to mind the story of Donald Glover famously "Trojan Horsing" Atlanta into FX. The final version of Ramy resists the sort of categorization that is required to get a show like it picked up; it emerged as something much stranger and harder to place in any one lane. It is still political, but in ways that might ask non-Muslim Americans to interrogate their place in the world, rather than force Muslims to defend their humanity. An episode that takes place on 9/11, "Strawberries," makes a geopolitical argument that is a common point of conversation in Muslim households, but extremely unusual to see on a mainstream TV sitcom. In it, a 12-year-old Ramy has a dream where Osama Bin Laden appears in his kitchen. It's a wild scene that goes in fascinating directions; at one point, he launches into a subtle but pointed speech about Egypt turning their wheat fields into strawberry fields. "But they are not for Egyptians. They have less bread so Americans can have strawberries in December," Bin Laden whispers, as he slowly takes a bite out of a strawberry. It's a haunting idea that a young, terrified Ramy doesn't quite know what to do with. If they get a second season, Youssef notes, he'd like to continue exploring the political through the personal. "There is this nuanced conversation you can have in the way Ilhan Omar is trying to do," he says, "and that people are kind of coming around to understanding." (Emphasis on "kind of.")
And throughout the first season, it's faith, as Youssef and Carmichael had always envisioned, that anchors the show. Morality is complex, and religion can both crystallize and confuse it; it can make you think about how your actions have consequences, and why you've made the choices you've made to live a good life. "I feel this desire to want to be good, but then I also feel like I'm sick," Youssef says, describing the feeling he wanted to evoke on the show. "Like, what do I need to do? Do I need to drink more water? That's so much how I look at my heart." Episode three, "A Black Spot on the Heart," depicts the ways religion can both be a salve and a burden, depending on how you apply it. Ramy has a terrible day, and he ends up breaking his no-drugs rule. Feeling lost and confused, he runs to the mosque, where he meets a white man who gives him a morality lesson. (That the man's whiteness feels surreal is just another way the show plays with tone in interesting ways.)
"Now I feel less like me. I'm just another dude who does weed," Ramy tells him, dejectedly. "I'm sorry to say, bro, kinda sounds like your whole idea of who you are is some ego trip … Don't spend all night thinking about how you messed up," the white man advises, placing his hand on Ramy's heart. "Just think about how you want to clean those black spots." It's followed by one of the show's most sincere sequences, in which Ramy lovingly cleans every corner of the mosque. The camera lingers on the details, as he dusts off a Quran, and dances with the handle of a mop like he's Cinderella alone in the mansion. When he finishes, he lays his head down to pray and lets out a sigh. It's a fleeting moment of peace in a life filled with doubt. It wouldn't matter what faith it was for the moment to feel true. But the fact that Islam is the lens it's filtered through does make it more profound.
Ramy begins with its protagonist announcing to his parents that he'd like to settle down with a Muslim woman. "So I was thinking," he says. "Maybe it's time that Allah wills it for me. You know, like, to be with someone?" But in the writers' room, the Muslim women were quick to clock that Ramy Hassan is a fuckboy.
"I remember saying to Ramy, 'Ramy, you're a fuckboy,' and he's like, 'No I'm not,'" laughs writer Minhal Baig, who is Pakistani Muslim-American. "I'm like, 'Your character is.' And he's like, 'No, he's just trying to find love.' And I'm like, 'Yeah, but he's a fuckboy!' But, specifically, Muslim fuckboy."
This characterization is seeded in the pilot episode, when Ramy goes on his first-ever date with a Muslim woman, Nour (Dina Shihabi, who's a "really good friend" in real life). At the end of the night, when they reach her car, Nour wants to have sex; Ramy balks. She's open to doing other things, so she asks him to choke her while she masturbates instead. "Like actually harder, it's not a massage," she says, frustrated, when he can't seem to do it. It quickly dawns on Nour that Ramy has a classic Muslim fuckboy problem: He can have sex with white women, and he wants to marry a Muslim one, but he can't see them as sexual beings.
"There were some nerves about it," Carmichael recalls, of filming the scene. "This is the first week of this show and we're like, 'All right, we're going to choke a girl out in the backseat of your car.' I'm glad that's in the pilot because I think it helped [Youssef] warm to the idea of going to those places and realizing it doesn't diminish the humor."
The choking scene is what sets the tone for the series, the taboo territory it will cover, and the critical view it will take of its imperfect protagonist. "We weren't going to protect this character," Youssef says. Initially, though, he was anxious about how Nour might come across on the page. He sent the pilot script to women he knew for their input. "Just being like, 'Please tell me. I don't want her to be crazy,'" he recalls. When it came time to staff his room, Youssef made a point of making every new hire in the writers' room a woman, including three Muslim women at various levels. (Ramy's team of creators are all men.) "There were no tokens," says Leah Nanako Winkler, a Japanese-American playwright who was among multiple staffers who got their first TV writing credit on the series. Bedard, who had previously run the Transparent room, was brought on as showrunner and helped build the room. "I remember telling my dad, 'We hired the showrunner from Transparent,'" Youssef recalls. "He was like, 'What does she know about Muslims?' I'm like, 'Well, she made a story about a trans woman, and people understand that story now.' My dad was like, 'Yeah. That's really good. We need that.'"
Sitting in a sunny patch on a bench outside the mosque, I ask Bedard how the room compared to Transparent and Mad Men, which was her first TV writing job. "I feel like when people are afraid of the showrunner, you don't get their best ideas," she says. "That was kind of the vibe [on Mad Men]. A lot of people felt that way. I know I did." Transparent instilled different values. "Jill's room is not like that at all, it's very nurturing, very safe. I tried to reproduce that. It makes a big difference in how much people are able to share from their personal lives without feeling stupid, and even if it is stupid, it doesn't matter. You don't feel shame."
It was an important tone to set on Ramy, where conversations would go to vulnerable places. When Youssef first opened the room, which met over 14 weeks in a light-filled home in Silver Lake, Los Angeles, he made it clear that sex is a huge issue in his life, says Jahani. "For whatever reason, he feels like he can follow a lot of the rules of our faith; it's been very easy for him to navigate not drinking or doing drugs," she says. "But sex has always been a problem. And that's because he feels like it's a bodily urge."
Youssef's sex life is his own, unique, complicated experience. But by addressing it on Ramy, the show also sends a flare up to its Muslim audience, signaling that it will be wading into "the sensitive questions." While American popular culture is defined by shows and movies that make sex a central part of a young person's coming of age, "Islam says the opposite," says Jahani, who is Muslim-Iranian-American. "It becomes a really big cloud over your growth and your personal experiences." In American circles, there's shame in not having sex; in Muslim ones, there's shame in having it. These are in-group dynamics that are hard to talk about in private, much less publicly.
"Ramy is very comfortable talking about sex, and at the beginning, I wasn't comfortable," says Jahani, standing in the mosque kitchen. "Even among my friends I hadn't been that honest about some stuff." But she also knew that if she didn't share her own experience, the show "would be kind of one-sided." "We wanted to bring to light the fuckery of Muslim boys," she laughs.
What she means is that Ramy can be a fuckboy and feel conflicted about it, while his sister, Dena (May Calamawy) is still a virgin at 25 and barely allowed to leave the house without an avalanche of questions. The almost comically opposed standards for Muslim men and women is a reality the writers explored most explicitly in a standalone episode about Dena, "Refugees," which all the Muslim women in the room emphasized was the most important to them. Over the course of the episode, Dena decides she's going to lose her virginity. For most of the series, sex scenes operate on the principle of less is more. But with Dena, the camera lingers, subtly reminding us of her sexuality. She, along with all the Muslim women featured on the show, including Ramy's mother (a devastating Hiam Abbass, who also gets her own episode), are depicted as people with sexual desires, to counter the common misconception that they aren't.
"In my own life, I was probably pushing away experiences with Muslim women because of some of these barriers," Youssef says. "Because we don't talk about sex in our communities, we don't have sex with each other."
Ramy burrows deep into Youssef's psyche, but his self-interrogation begins in his standup. During the writing of the show, he would often jump between the writers' room and the stage, testing out an idea to see if it worked, honing his thoughts to their sharpest possible point. And in the months leading up to the premiere, Youssef has been performing just about every night, perfecting new material for his upcoming HBO special. A few weeks ago, during one of his late-night sets, at Friends and Lovers in Brooklyn, the audience was a group of mostly young Muslims and Arabs. A woman in an oversized coat and stylish tan hijab sat next to a woman with short cropped hair. Middle Eastern bros were the core demographic. Youssef was wearing a zip-up jacket and jeans; his baseball cap was pointing forward. The focus of his new work was, largely, sex.
"[Standup] was where I realized my voice is, like, questioning myself," he says, sitting at the bar afterwards, no drink in front of him. "When I think about how my comedy would grow, it would be that I would be more real with my own hypocrisy." The same goes for Ramy, if it gets a second season; he would like to go deeper, to push Ramy Hassan to confront himself more profoundly. Reflecting back on his first season, I ask if there are ways in which he surprised himself. Where he'd thought he was more self-aware than he actually was. Youssef is silent for a few seconds. "I personally am surprised by how sexually charged [the show is]," he says. "I look back and I'm like, 'Oh yeah, huh.' It's not like that was the plan. That's what came out."
But it's the kind of conversation he always knew he wanted Ramy to start. The intention was there, embedded in the choking scene. "It's almost like I wanted to make a scene so that we [Muslim men and women] would have sex with each other," he says. "So that we could be with each other, and so that we would have a chance at building families together."