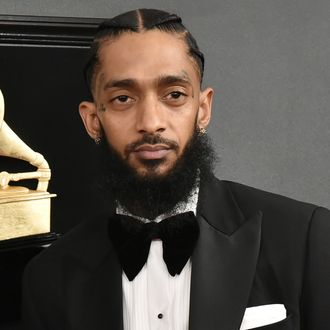 Nipsey Hussle.
Photo: David Crotty/Patrick McMullan via Getty Images
Following reports of a shooting late Sunday afternoon, Grammy-nominated rapper Nipsey Hussle has reportedly been pronounced dead at age 33. NBC announced his death following news of the attack, first reported by TMZ. According to TMZ, Hussle, born Ermias Davidson Asghedom, and two others, were shot outside Hussle's clothing shop, the Marathon Store, in L.A.'s Hyde Park neighborhood. A beloved figure in rap, Hussle's album Victory Lap was nominated for Best Rap Album at this year's Grammys.
As of now, the other shooting victims are reportedly in critical condition. According to TMZ, police are still searching for the shooter who allegedly approached Hussle and his crew on foot and fired multiple rounds, then fled the scene in a nearby car. Sources tell TMZ that police are investigating the shooting as gang-related. Hussle is survived by a son with his longtime girlfriend, actress Lauren London, and a daughter from a previous relationship.
Update, April 1: More details in Nipsey Hussle's shooting have emerged. The L.A. Times now reports that police are searching for a suspect whom they believe Hussle knew and who would've been "in the rap star's orbit." While a motive for the shooting remains unclear, detectives reportedly believe that while the shooter is gang-affiliated, the attack was not related to a larger gang issue and was instead "personal in nature."
Update, April 2: The LAPD has identified a suspect in the shooting death of Nipsey Hussle. Eric Holder, 29, is wanted for homicide and an arrest warrant has been issued as police remain unsure of his whereabouts. According to police, Holder approached Hussle and two other men on foot, fired multiple rounds that injured two of the men and killed Hussle, then fled the scene in a car driven by a woman.
According to TMZ, prior to the shooting, Hussle and Holder had a "tense exchange" during which Hussle reportedly questioned Holder on whether he'd once been a police informant. TMZ reports that Holder left the scene insulted by the accusation and later returned with a gun. A Los Angeles vigil for Hussle on Monday night ended in more violence as police were called to the scene to respond to reports of a stampede; at least six people were injured, with one person reportedly stabbed.
At a press conference on Tuesday, the LAPD confirmed the timeline of events previously reported by TMZ. Police Chief Michel Moore said Holder and Hussle were "known to each other" and that Holder approached Hussle "multiple times" outside of Hussle's clothing store where the two "engaged in a conversation." After an unspecified dispute, Moore claims Holder left and returned "armed with a handgun," which he "purposely and repeatedly fired" at Hussle and two other men.
Moore stressed that Hussle's death was unrelated to a recent spike in gun violence in the city that appears to be due to gang activity. Furthermore, he said that while Holder is believed to be a member of a gang, the dispute between Hussle and Holder was personal and "is not, to our information, anything related to rivalries between gangs." Moore said he believed Holder would be watching this press conference and urged him to surrender to local law enforcement.
Update, 4:45 p.m. ET: CBS is reporting that a man believed to be Holder is now in police custody after being caught in Bellflower, California. The LAPD has confirmed that the man in custody is Holder and he has since been arrested.
Update, April 4: Eric Holder has been formally charged for the murder of Nipsey Hussle, as well as shooting and injuring two other men during the incident, the Los Angeles County District Attorney's has announced. Holder is charged with one count of murder, two counts of attempted murder, and one count of possession of a firearm by a felon. He faces a possible maximum sentence of life in prison, and is currently being held without bail.
Update, 7:35 p.m. ET: Appearing in a Los Angeles court this afternoon, Variety reports that attorney Chris Darden entered a "not guilty" plea on Holder's behalf. (If Darden's name sounds familiar, it's because he was part of the prosecution team in the O.J. Simpson trial alongside Marcia Clark.) KNX reporter Claudia Peschiutta was the first to post the news. Holder's bail has also been set at $5 million.