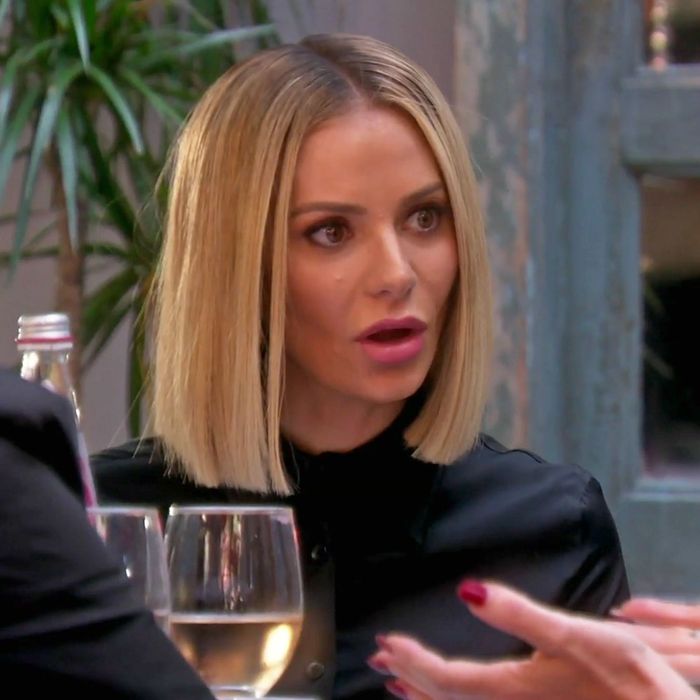 Of all the things I hate in the world — abject poverty, war, bubble tea — the thing that I hate the most is when I actually agree with Dorit Kemsley. Dorit is the kind of person whose business is in debt to its investors but she still had an office space decorated by a (very hunky mustached American) interior designer. The space is all pinks and plush pillows with giant palm leaves all over the place. The one thing we don't see is exactly where this office is located. Based on the wooden double door, it looks like it's in some sort of low-rent office park whose only view is either a freeway or a Coffee Bean Dumpster.
That's the kind of person Dorit is, and here I am agreeing with her when it comes to her friendship with Lisa Vanderpump. Dorit's husband, PK, a fondue made out of smegma, arranges a lunch between the two of them and Lisa and Ken so that they can work on their friendship. Now, again, this pains me to say, but Dorit was right the entire time. Even on the car ride over, PK asks that Dorit and Lisa reach a compromise and Dorit's blunt cut says, "Both people need to be able to find a way forward." What becomes immediately clear as soon as they sit down is that Lisa is not willing to find a way forward.
As Dorit is expressing how upset she was about the RadarOnline post, which she believes was planted by Lisa or someone in her camp, Lisa brings up the TMZ video where she defends Dorit. Dorit very rightly says, "Why did you call TMZ instead of calling me?"
"That's a bigger statement than calling and saying, 'Hi, Dorit,'" she responds. Lisa is right, but both were really needed. Lisa needed to call Dorit and say that she was sorry that story got out, or to see if she was doing okay and tell her what she was doing to put it right. She shouldn't have just called the press, put the statement out there, and hoped that Dorit wasn't too busy with her Google alert that day to see that Lisa came to her defense. What is so confounding about Lisa's behavior in this affair is that it has been entirely public-facing. As Kyle so succinctly put it, Lisa is more worried about her image than she is with her friendships.
Lisa and especially Ken, the Energizer bunny's older brother, tell Dorit that if she believes that Lisa planted the RadarOnline story, then there is no way that they can continue to have a friendship. Even PK, a neck that swallows most of a turtleneck, says that it feels like Lisa and Ken are controlling their thoughts. What they're doing is negotiating with their friendship (as, Kyle also points out, Lisa always does). They need Dorit to say that Lisa had nothing to do with this so that Lisa can go back to the other women and say that Dorit has forgiven her so that Lisa can maintain her dominance and her spotless image. If they can't get that, then they can't give their friendship.
Naturally PK, a vomited grain bowl you find outside of Hyde, just rolls over and says that if Lisa swears on her children's lives that she didn't plant the story, then he'll believe her so that the friendship can go forward. But PK won't really believe her, he'll just say that to appease Lisa. But this is the kind of behavior that Lisa is trying to fight against. She says Dorit shouldn't want to be her friend if she thinks she's a liar, but Lisa will totally be PK's friend if he lies to her. She doesn't care about the lying, she cares about coming off as blameless.
Eventually Ken decides that since Dorit can't come around, she's "no friend of mine," and decides to leave. Lisa follows him, because leaving when the lava starts boiling is a tactic they both employ. Lisa's not willing to argue or try to figure out what is upsetting Dorit, the both of them are only concerned with people saying exactly what they want them to say.
Honestly, this is how guilty people behave. They know there is no explaining what they did, so they have to take a hard line to get people on their side. Sadly, it doesn't seem to be working out in Lisa's favor. It sure doesn't help that as soon as Dorit leaves, Lisa says, "It's easier talking to Congress than that stupid cow." Wait, so Lisa doesn't want to be friends with someone who thinks she's a liar, but why would Dorit want to be friends with someone who thinks she's dumb? (She is.)
What's ironic is that both Dorit and PK, an eczema patch on your vulva, are just as bad at apologizing as Lisa and Ken. When the whole thing about his awful joke to Kyle from last episode comes up again, Dorit refuses to apologize for him and says that he apologized, but the only apology he offered was, "Sorry you didn't get the joke." He also doesn't want "this to be talked about for weeks on end," when, hello, that is exactly what happens on this show, and also that is exactly what he and his wife did two seasons ago to Erika when she didn't wear panties. I mean, they're totally the worst.
But the conversation that Kyle and Dorit have at that RV planning committee's meeting/dinner is really interesting. Kyle brings up something that many fans have thought, which is that Ken, Lisa, and PK must share some kinds of secrets together and that is why they're always banding together to make sure everything is cool. Their bond is strange and, as Kyle points out, not as deep as Dorit would like them to believe. I do believe they have known each other for a long time, but then why didn't Kyle see them at Pandora's wedding or any of Lisa's birthday parties? Kyle obviously knows their friends like Mohammed, and if Dorit was as close to them as he was, wouldn't Kyle at least have met her in passing? The whole thing is very weird and fishier than the mermaid flapping around at one of Mohammed's parties.
There was actually a fair amount of crazy stuff in this episode. Did I actually see Lisa Rinna's workout DVDs where she is wearing gold metallic sneakers and she is doing something like a mid-tempo version of Flashdance? Did that actually happen or was that some gay fantasia that I manufactured out of thin air? Will someone please get these tapes and start doing group workout classes inspired by them? I wouldn't do SoulCycle, but I would pay $40 to do the Lisa Rinna work out with a bunch of people. Maybe the Real Housewives Institute will have to build a gym.
St. Camille of Grammer might get her halo taken away for good if she keeps behaving in this sinful way. I always said what canonized her is that she is the only Housewife to ever completely rehabilitate her image. I don't know if that's true anymore. First there was her Brett Kavanaugh performance and now there is this lunch with Denise, where she goes around and talks trash about every single woman on the show. Denise says that not only does she like all of these women, she also doesn't want to open up to Camille because she's afraid of the drubbing she might get. Can we give St. Camille's feast day to St. Denise of Richards, our mother of the holy husband sweat?
Oh my God, there are not enough eyerolls in the world for the Kyle Richards family-holiday-card shoot, like they're the Kardashians or something. Also, really? White shirts and denim? Really? Sitting on the stairs? Really? Kyle had her "creative consultant" Cambria, a woman named after the worst Microsoft Word font, help her figure out this photo shoot? A pimply faced teen at an Olan Mills could come up with this. It feel like this exact family photo shoot is above the mantel in every fireplace from Patterson, New Jersey, to Pasadena, California.
However, the moment of this shoot I will never forget is when the dogs get out of the house and Kyle chases after them. It's not the chase that will haunt me until I am cremated and have my ashes spread on Scary Island, it is that she runs all the way down her driveway and into the street not wearing any shoes. Kyle! That is how you catch ringworm. That is how the terrorists win. You have to keep your shoes on at all times. That said, I was incredibly impressed with how quickly she kicked them off before breaking into a sprint. You could tell that Kyle has done this more than once (but more likely it was after her sister Kim than one of the dogs).
As Kyle grabbed Storm by her collar and led her back toward the house in that impossible posture that is half bent over and still walking quickly, she began to think about everything that was going on lately. She began to think of her bed, empty of all her children but Portia, who only goes to her own room in the morning to eat her one egg on a faux-Chanel platter. She thought about her husband, who she would always care for and clip his nails as he whines. She thought about Sofia, coming back from college to warm her heart.
But mostly, with this dog half-dragging her along the driveway, skidding her manicured feet against the pebbles of the drive, she thought about Lisa. Wasn't their relationship just like this? Wasn't it like one leading the other, one guiding the other, the both of them in a competitive alignment, just like Kyle was with her dog? Why were they always fighting when they were both trying to get to the same place? Why couldn't it just be easier? As her mind got lost in her interior, Kyle let go of Storm, who continued her trot happily back into the house and curled up in her favorite sunny square on the living-room floor. Maybe that is what Kyle needed to happen with Lisa, too. Maybe she should let go and Lisa would come back right to where they were before, that big happy home that was filled with so many people, so many happy memories in one big bed. Or maybe she would just try to split the next time the front gate was left open by a photographer. Kyle had no idea which might happen, and that idea terrified her.