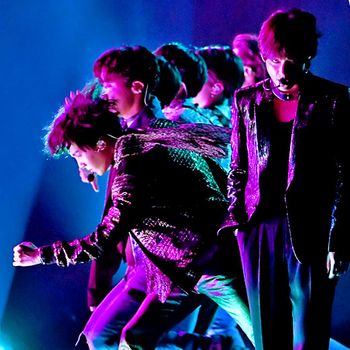 It's a beautiful moment, watching artists from around the world gain recognition in the U.S. without catering to the audience with watered-down, Westernized, English-language versions of the music.
Photo: Getty Images
K-Pop is true global music. The best records mix and match sounds from all over the world. When a song hits, it can feel like a scientist unveiling a new formula. K-Pop rearranges commercial music's rules. When it tries too hard, it can feel like product. It is product; K-Pop stars are literally trained in specialized idol schools, where prospective child and teen performers hone their singing, dancing, acting, and speaking abilities to a point where national fame seems inevitable. The success of boy and girl groups has always rested on how well they manage to make you forget the details of their origin. Good chemistry goes a long way. Great groups use each member's talents to bolster the others' strengths and boost the group's overall appeal. But the more moving parts there are to consider, the more chances there are for someone to drop the ball. This month, new releases from BTS and Blackpink capture two blockbuster K-Pop groups circling the height of their fame, but also angling to push out into new territories. BTS's Map of the Soul: Persona finds the Bangtan Boys embarking on a new conceptual era and seeking greater acclaim in the American pop sphere; Blackpink's Interscope Records debut, Kill This Love, capitalizes on the Stateside success of last year's EDM-trap hit "Ddu-Du Ddu-Du" by showing off more of the young group's wares.
BTS hit the ground running. The seven-man collective arrived in 2013 seemingly fully formed. They write their own music. They have impeccable style. Early hits like "Boy in Luv" and "No More Dream" presented BTS as eager rap, rock, and R&B fans carrying the torch lit by South Korean genre-benders like Seo Taiji and Boys, who took the hometown charts by siege with a unique and unpredictable spin on hip-hop in the '90s. BTS has gotten a little more high-concept every year since. Videos are arty and increasingly abstract; lyrics discuss matters of the heart but approach from heady, philosophical angles. BTS writes about love but also about identity and empowerment and sociopolitical awakening. Rappers RM, Suga, and J-Hope, alongside vocalists Jungkook, Jimin, Jin, and V, are giving voice to the peaks and valleys of being young, smart, and self-aware. They can handle textbook boy-band material, as they did last year on the breakup tunes "Fake Love" and "Tear," or they can get dark and existential, as they have on songs like "Stigma" and "Blood, Sweat, and Tears," which both featured on Wings, a 2016 album built on creative cues and concepts the group got from German author Hermann Hesse's metaphysical novel Demian.
Map of the Soul: Persona was inspired in part by the ideas of Swiss psychiatrist Carl Jung, who wrote in his Two Essays on Analytical Psychology that a persona is a "compromise between individual and society as to what a man should appear to be." The gap between artifice and reality is an obvious point of interest for K-Pop idols, for whom the whole world is a stage. Map of the Soul: Persona grapples with keeping up appearances in its opening title track, where RM longs for freedom from other people's expectations, and "Dionysus," which plays like a drinking song on the surface but is really working a complicated metaphor comparing the urge to create art to a drinker's taste for liquor. For all its high-minded ideas, Map's music can be a bit of a mixed bag. RM's verses on the intro are almost too good for the outdated rap-rock beat; "Dionysus" is so committed to its lyrical conceit that it's easily mistaken for a simple party-rap song. Map does best when the group relaxes: "Mikrokosmos" muses tenderly about love under a brilliant night sky over waltz-timed trap drums and rock guitars, while "Home" features all seven BTS members celebrating comfort and companionship over breezy R&B production. That said, collaborations with Halsey ("Boy With Luv") and Ed Sheeran ("Make It Right") feel like concessions made to grow the overseas audience. One wonders what strange magic BTS could pull off, freed from the expectations of all the millions listening.
Blackpink is rapidly ascending to the same rarefied space. With just over a dozen songs in their catalogue, the budding group — comprising singers and rappers Jennie, Rosé, Lisa, and Jisoo — is making history. Last year, with "Ddu-Du Ddu-Du," the group joined the growing list of K-Pop artists — including Psy, CL, and BTS — to place on Billboard's "Hot 100." Last week, "Kill This Love" broke YouTube's record for the most-watched video within 24 hours of its debut. (Persona's "Boy With Luv" broke it again the week after. Competition is stiff.) It's a much-needed success for Korean music factory YG Entertainment, founded by Yang Hyun-suk of Seo Taiji and Boys when the group disbanded. YG is weathering bad press: Seungri of the label's veteran K-Pop group Big Bang recently quit in disgrace, fighting charges of involvement with a nightclub prostitution ring, at great cost to Korean entertainment company's stock values. Blackpink is avoiding the chaos, following the lead of Girls Generation, Twice, and 2NE1 in creating space for women in a scene dominated by men.
"Kill This Love" is a clinic in what Blackpink is capable of. Through blaring synths, dizzying beat changes, vibrant colors, and stylish outfits, the group makes its American pop contemporaries seem mild-mannered by comparison. "Kill" is such a triumphant opener for the new EP with which it shares a name that the deep cuts don't bother trying to match the energy. The contrast is purposeful, though. Kill This Love coolly showcases Blackpink's range, chasing loud songs with quiet ones and dance tracks with wistful rock songs. "Don't Know What to Do" builds from mellow guitar rock to thumping EDM (but then settles for repeating the trick all over again). "Kick It" inverts the approach, cleverly rerouting the momentum of what appears to be a simple rock song with a wily hip-hop breakdown. "Hope Not" peels off layers, and the four singers take turns leading and harmonizing, backed by electric guitar and bass. The performances are never less than stellar, but bookended by "Kill This Love" and an outrageous remix of "Ddu-Du Ddu-Du," Blackpink's vivid new songs of love and longing are occasionally upstaged by the effortless cool of their singles. That said, Kill This Love is only the group's third EP; there's still room for refinement.
As American mainstream music gets wise to K-Pop's bubbly, mischievous blend of rap, R&B, rock, EDM, and bubblegum pop, the Stateside profile of Korean artists has grown, milestone by milestone. This weekend, BTS and Blackpink made their mark, the former as musical guests on Saturday Night Live, a first for a K-Pop band, and the latter in a rousing Friday-night set at Coachella, another first for a K-Pop girl group. It's a beautiful moment, watching artists from around the world gain recognition at American festivals and on television without catering to the audience with watered-down, Westernized, English-language versions of the music. America doesn't have to be a fortress for artists from other parts of the world, approachable only through protracted effort and great expense. Our charts are designed to reflect what people here are listening to. The throngs of fans — the Blinks and Army — supporting K-Pop through tickets, streams, and album sales deserve recognition.