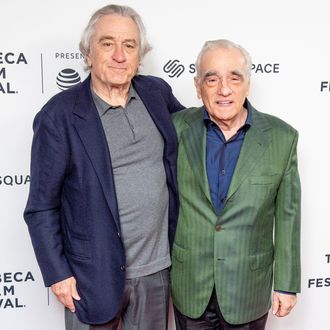 Robert De Niro and Martin Scorsese.
Photo: Roy Rochlin/Getty Images for Tribeca Film Festival
Oh, the stamina of your early 30s! When Robert De Niro and Martin Scorsese were working on Raging Bull 40 years ago, the actor had an idea that maybe he could pull double duty, playing middleweight champion Jake LaMotta on Scorsese's set during the day, and on stage at night. "I had a thought about doing it as a play, doing like a one-man show," De Niro told an audience at the Beacon Theater Sunday afternoon. "Shooting it in the day, and doing the play at night. We actually talked to the studio about that, and I think they would have gone along with it if it could have been possible." Scorsese recalled the idea: "We were crazy — 32 or 33 or something like that — 'Hey, yeah do it! If you're that age, there's that will, the energy of going from the movie set to the stage, you feed off that." Ultimately it was nixed because it was logistically tricky. "I actually thought I could do it. But it was just the logistics of it, and then wearing a fat suit. It's so complicated," De Niro said. "It was tough enough to get the script right. In theory, it seemed like an interesting thing to do, but could it have been really done is another story."
An unlikely cameo at the Beacon theater Sunday afternoon: Five-time Scorsese collaborator Leonardo DiCaprio, hiding in the orchestra under an L.A. Dodgers baseball cap. After a clip from The Wolf of Wall Street played onstage, Scorsese and De Niro wondered aloud whether its star was in the audience. "I think he's here," Scorsese said. "Leoooo?" The Rih-venant actor stood up and gave the crowd a wave.