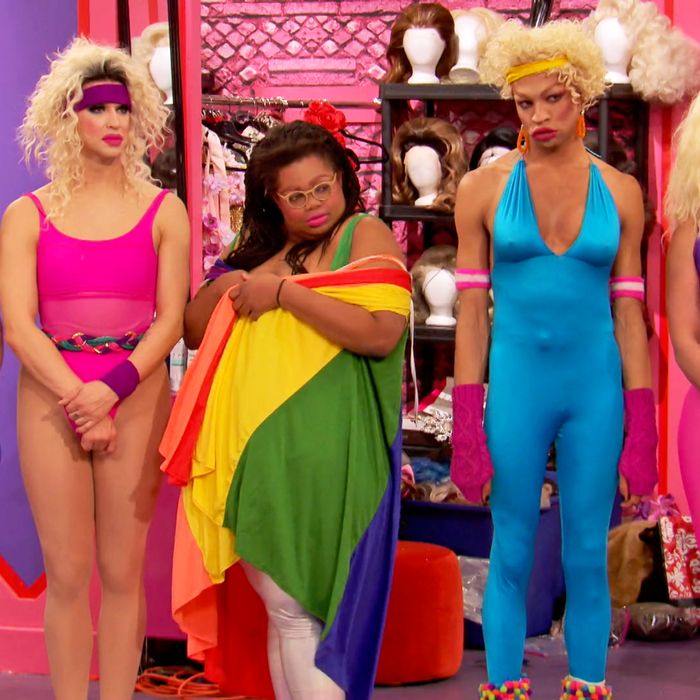 "It's not about how well you can dance. It's about how much you want to dance." I will never forget these words, spoken to me years ago by a party motivator named Stephanie at my friend Marc's bar mitzvah. They worked on me then, and if I'm ever feeling a little anxious at a function with a dance floor, they continue to work on me now. Who really cares if you're the best dancer? Just have fun! Well, unfortunately, this is not Stephanie's Drag Race, but RuPaul's, and he requires that you not be hopeless at choreography if you're going to compete for the title of America's Next Drag Superstar. Ya gotta be technical. Unfortunately for one of our competitors, lack of dance skill, and pretty much only lack of dance skill, is the reason for her ouster, leaving us with nine dancing queens going forward.
At the top of the episode, Shuga is bummed and feels she should be doing better than she is after narrowly surviving a lip sync against Ariel Versace. Yvie, obviously feeling pretty comfortable about her standing in the competition after the judges jizzed all over her clawed feet last week, takes an opportunity to read the other queens on what they're doing wrong, chiefly starting in on Vanjie regarding her repetitive silhouette on the runway. There are also choice words exchanged with Silky, and this bleeds over into the next morning when the queens all meet up again in the workroom. Silky can't wait until they make that "spooky dooky" go home, and we can't wait for more moments where Silky can say things like "spooky dooky." Was this opener supposed to focus on Yvie? Because one "spooky dooky" in, and I only have eyes for Silky. A star's a star!
RuPaul enters in a workout getup, and then has the girls get into the drag version of the same. The ladies get all Jane Fonda-in-Buns of Steel-ed out and are joined by the hilarious Love Connie, who will lead them in a "Galisthenics" mini-challenge. The two contestants with the best workout-inspired dance movies will win. Plastique brings new meaning to the words "death drop," as her shablams and plummets to the ground are accompanied by sound effects to give an extra bone-crunching effect, and A'Keria is spirited and playful throughout her interaction with Love Connie, so these two take the win. Honorable Mention to Silky Ganache, who flops on the ground so joyfully and freely in what will happily be the first of many of these types of displays this episode. I don't think we've ever seen a contestant with this much abandon. Plastique and A'Keria are tasked with picking teams for the maxi-challenge, called "The International Draglympics." In it, the girls will present a Freestyle Floor Program and must display proficiency in three sections: Fanography, Voguing, and Shablams. A'Keria's team, representing the nation of Tuckpantistan, includes Brooke Lynn, Silky, Yvie, and Shuga. Plastique will compete alongside Ra'Jah, Vanjie, Nina, and Scarlet for the faraway land of Glamazonia. The latter team starts off with bad energy almost immediately, as the ladies aren't confident in last-chosen Scarlet's dance abilities, or Nina's for that matter. Vanjie exclaims that they are, in a word, "fucked".
During the dance rehearsal with choreographer Travis Wall and Olympian Adam Rippon, I'm scared. I'm scared for everyone's egos and hope the girls will pull through, of course, but I'm mostly afraid for the ACL's of every competitor in the house. Silky and her abandon, in particular, really make me wince. At least she is committing, as is Yvie, to the best of her ability. Her condition makes it very difficult to go full bore in a challenge like this, as her body decides on any given day how much exertion it can or cannot take. Travis checks in with her after rehearsal and when he drops the fact that, if this gets bad, she may have to leave the competition, the pain on Yvie's face says it all. She does not want to lose this opportunity, and she doesn't want to have to hold back in any challenge.
Team Glamazonia is a mixed bag. It's nice to see Ra'Jah do well in rehearsal after she had such a bad time a couple weeks ago with this process, and Vanjie also looks rather strong. Scarlet is just not a dancer. It feels bad to watch her because some people … just can't dance! She knows it, her team knows it, America now knows it. As a result of inconsistency across the board, Glamazonia is in crisis. In the workroom, Vanjie gets vulnerable for the first time and says that she feels like she is not living up to the hype in Ru's eyes. As the audience, we are clearly gagged by Vanjie, but she can't see and impress herself. Yvie also discusses her joint disorder more in depth, and it's sad to hear that she's in constant pain, and always has been. She tearfully admits that her condition will eventually take her out of drag commission, as it worsens over time. Everyone in the competition wants to do well, but no one feels the clock ticking like Yvie. It's very humanizing, and you'd have to be pretty cold not to root for her after this.
Mirai Nagasu joins Rippon and Wall as guest judges this week, and we soon head into what I believe is the best maxi challenge so far this season. We haven't seen too much like it in terms of other challenges, it's a good opportunity for all of the girls to be showcased, and it's incredibly well performed pretty much across the board by the contestants. Team Tuckpantistan, in particular, does really well. Highlights include Yvie and Brooke Lynn's flexibility, A'Keria's overall attitude throughout the performance, and Silky's baton-twirling abilities. Silky is so much better than she needs to be. She twirls baton?! Come on, bitch.
Miss Vanjie is obviously the star of Team Glamazonia, but props are due to all of the girls for giving a coherent and spirited performance when you take into account where they started. And credit needs to be given where it's due: What looked like it was going to be a surefire disaster performance from Scarlet was definitely not. She may not have nailed every step, and she may have tripped once, but she performed quite well and stayed in it from an acting standpoint. There was entertainment value, mama! Pretty much all of the top ten girls gave it their all this week (Yvie gave so much that she actually injured her ankle; even tougher to see when you take into account the backstory she's just given us), so it's gonna come down to the runway.
Our theme this week is "All That Glitters" and it's fun to watch. It's nice to see the season get narrowed down to the girls who can really bring it. This runway is a good example of where everyone is at, with A'Keria a pageant-y standout in her beautifully embellished and stoned golden gown, Brooke Lynn's not to old Hollywood glamour and Sunset Boulevard kookiness, and Plastique's fishy-bird goddess look at the top of the pack for me. Silky, as well, can do no wrong in my eyes despite there not being much to the look; the commentary she provides to her own runway presentation adds days to my life. Yvie manages to use the crutch she's saddled with to her advantage on the runway, almost making it look like it was always part of her dangerous, rich, old Gotham gangster's wife homage. Ra'Jah sits in the middle of the pack, as her futurized Cookie Lyon-esque bodysuit isn't too far from what we'd expect from her, and Nina's comically large-breasted Nordic look relies a lot on comedy. Shuga's presentation needs an edit, Vanjie needs more than just a bodysuit and some bunny-eared glasses, and Scarlet's look is beautiful but truly nothing more. It's a gold gown. She adds some butterfly clips, which make me laugh, but this probably wasn't a good week for her to look basic.
The winning team is Team Tuckpantistan, and A'Keria is given the big maxi-challenge victory for leading her team to the W and being a fun standout in her own right. It was high time for A'Keria to win a challenge, and that runway was really superlative. The rest of the team is dismissed and Team Glamzonia stands for critique. It's pretty clear how this will go, as Plastique's performance and runway are given positive critiques if not raves and Vanjie and Nina are told they were stars in the challenge but big misses on the runway. It's evident that Ra'Jah, whose runway is fine, didn't stick out to the judges in the performance despite her showcased dance ability. Scarlet knows what's coming throughout her critique. She seems withdrawn and sad as she's told what she already knows; she's not a dancer and her runway is only okay. Travis does throw a nice comment her way about being the most improved, and even says she wasn't the weakest performer, but the writing is on the wall. Adding insult to injury, all of the girls, when asked by Mama Ru who should be given the axe, say Scarlet. Unable to admit one of them deserves to go over the others, Scarlet eventually manages to choose Ra'Jah, because she's "been in the bottom … a lot."
And so, the bottom two are in fact Ra'Jah and Scarlet, and they duke it out to Donna Summer's iconic "Last Dance." By the lip sync's end, I have to say I am fully Team Scarlet. Who truly cares if she is not the best dancer? Is that what drag is about? She removes the bottom of her gown to reveal pants, and absolutely goes for it. She has a glitter reveal. She has absolutely no rhythm. I love it all. Ra'Jah's performance is good, but there's really not much soul or fun to it. I feel similarly about her lip sync as I did to Shuga's last week. Is it technically good? Yes. Am I gagging in the nightclub when I see it? I don't think I am.
Scarlet wins this for me, but does not win it with Ru and is sent home. I have to say, this is the first elimination that hurts my heart a little bit, as I was warming up to Scarlet and her crazy, and really admired how much she went for it this week despite dancing not being a thing her body does. I look forward to seeing what she does after the show, and I hope she never dances again unless she wants to. I hope she remembers that it's not about how well you can dance, it's about how much you want to dance. Thank you, Stephanie. You had great energy.
… Said The Bitch! A Weekly Quote Roundup
Silky (On Yvie): "Miss Yvie bumps her gum all day. But the bitch only gives you spooky tee. There's not much more than spook. And I cannot wait 'til they make that spooky dooky go home."
…Said the bitch!!! "Spooky Dooky". That's all.