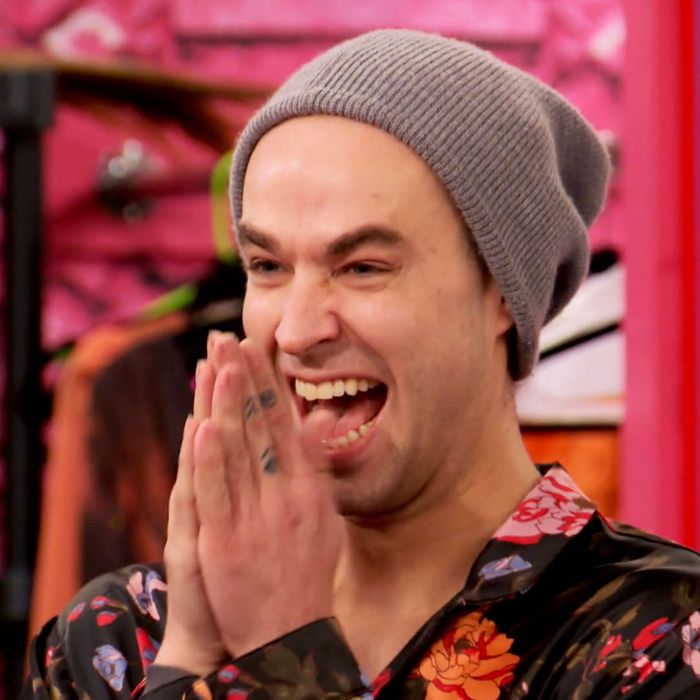 After last week's phenomenal episode, it would seem this season of Drag Race has turned a corner. Everyone in the competition has had at least a couple of strong moments, and over half of the girls either have a current claim to the top four or could solidify one at any minute if they push it just a little further. By the week's end, the strong are even stronger, with one contestant taking a rather huge leap forward.
The library is open, hollers RuPaul, as we've arrived at this season's Reading Is Fundamental mini-challenge. Contestants must, in the spirit of Paris Is Burning, be able to verbally ruin each other in the name of truth and good fun. Nina West is first, and it's clear that she is a little too nice for this to be her area of excellence. Miss Congeniality, she is! The top reader of the season, she is not. The rest of the ladies are having fun, but the standout is oddly Brooke Lynn Hytes, who decides to come with actual jokes. ("Silky Nutmeg Ganache. Ru, isn't she precious? No, really … isn't that Precious?") She takes the victory here very easily over Silky, who comes closest to matching her just based on sheer energy. It's unclear whether RuPaul is enamored with Silky or actually annoyed by how much oxygen she takes up.
Brooke Lynn is then given the opportunity to pair everyone up for an improv acting challenge, the Cops-inspired L.A.D.P.: Los Angeles Drag Patrol. She opts to pair herself with the talented actress Nina West instead of her girlfriend, Miss Vanjie, which she explains in her confessional as being a practical choice. She places Vanjie with Plastique, which may cause some marital strife later. Plastique has not necessarily excelled at challenges like this in the past, and Vanjie doesn't exactly have nerves of steel. I'm forecasting that this will be a tough twosome to watch. A'Keria is put with Yvie, and Silky Ganache and Shuga Cain make up the final pairing.
The girls are given their loose scripts and prompts and start looking them over. Brooke Lynn and Nina immediately have tension based on the parts that they've chosen for themselves. They have a scenario where one character is uptight and the other is free-spirited and wild, and initially Nina is pleased that the two will play against type. She, usually an uptight person, will portray a free-wheeling nude sunbather, and Brooke Lynn will play the person who calls the cops on her. However, Brooke Lynn is nervous about how she's done in acting challenges in the past, and before we know it, they've switched. Nina has decided to allow this partnership to revolve around Brooke Lynn and what she needs. Brooke Lynn, already a front-runner in the competition, is steamrolling Nina with an "I need this!" narrative, and Nina is letting her? Red flag, Nina. You gotta stick up for yourself.
Silky and Shuga, meanwhile, are already settling into a groove when RuPaul arrives for the walk-through. That groove definitely involves Silky being the center of attention, but it is a groove and it is funny. Ru notes that Shuga had a difficult time in the Snatch Game when it came to expanding on the character she chose, and it's clear in the room that people are starting to notice that Shuga isn't standing out. Admitting that she is aware of this and doesn't want to get lost in the mix, Shuga knows this challenge will be big for her. After Snatch Game and her decadent runway last week, she has momentum. But can she build on that?
Plastique tells Ru that, no, she will not be doing her Vietnamese accent today in the acting challenge. Instead, she will play an "overly dramatic" character in a catfight scene with Vanjie, who vows to let her character build instead of starting the scene "at a ten." Vanjie must harness the goods in this scene, especially with a partner who's going to be unpredictable. Someone's gonna have to drive the ship, and it doesn't feel like that person will be Plastique.
For Yvie and A'Keria, the big question is one of energy. A'Keria has been impressive in the past, but whether she can maintain high energy throughout a long improv scenario is up for debate. Yvie is fresh off a terrible comedic performance as Whoopi Goldberg, so the key for her is going to be having fun and getting out of her head.
The queens are informed that they'll be improvising with Fortune Feimster and Cheyenne Jackson, and before we know it, we are on the streets of L.A. ready to be a goddamn, maybe reductive, mess. The first situation to be rolled up on is Silky Nutmeg Ganache, who is running an illegal business selling back-alley butt pads out of the trunk of her car. She is immediately in control of the situation — dare I say very dropped into her character — and I believe it. When Feimster questions the legality of her operation, Silky offers her fried chicken. That's where we're at. When Shuga arrives as the church-going woman who called the police on Silky for selling her nasty butt pads, you're almost disappointed you can't hear more from Silky. Let's break it down: Shuga has energy. It just can't match Silky's. Shuga has comedic ideas. They just can't match the raw and hilarious quality of anything Silky says or does. Shuga is a great drag queen. Silky is a star. It all goes haywire, and before we know it, Silky is throwing herself all around the set as Cheyenne Jackson attempts to chase her down. All the while, Shuga has been sitting in the backseat of the cop car. She's been arrested, so that's what she does. Think outside the box, girl! Silky may look a mess, but she will be remembered! You can't be tentative with challenges like this. It's a damn Cops parody.
Brooke Lynn Hytes is certainly not tentative in her scenario, "Indecent Exposure at the Trailer Park." As her character Star Fire Glamazon, she is completely nude and in control of the situation. I love everything she's doing and saying, and I am enjoying this new, comedically free Brooke Lynn. Not enjoying it is Nina West, who was originally supposed to play this more fun part. She's waiting in the trailer for her cue line, which Brooke Lynn is uninterested in delivering, so eventually she just busts out of the trailer and makes her way into the scene. It, too, devolves into chaos very soon after she enters, but she is able to get some jokes in about being a repressed trailer-park housewife who is unappreciative of the nude sunbathing going down in her front yard. Themes of lesbianism are explored, and overall the scene is very full. It is the Blue Is the Warmest Colour of Drag Race. They'll both be fine, and Brooke Lynn may even win this challenge for her effort.
"Catfight at the Liquor Store," featuring Plastique and Vanjie, is basically entirely unwatchable from the second it starts. The two just cannot decide who is talking and who is not. I defy anyone to watch this once and tell me what is happening. The contestants watching from the workroom on a TV screen are confused as all hell. It would appear that the two women, dressed as cats, are fighting over milk? Eventually we are witness to a field sobriety test that feels like it exists only so Plastique can do a split. Vanjie screams and screams, totally out of control of the situation, as Plastique devolves into her Vietnamese accent yet again. I pity the editors who had to make this performance into a narrative. That can't have been easy. I am sure these two will be in the bottom. It's just totally incoherent.
The performance by A'Keria and Yvie, involving two generations of twerking women on the streets of Los Angeles, is a breath of fresh air by comparison. Yvie is very good and quite responsive and expressive in her acting as a younger twerking girl trying to make her way on the streets after leaving the "Twerkus" and traveling the world, but A'Keria is the star here. Something happens to her in this challenge. For the first time, A'Keria not only looks terrific but really pops on-camera as a performer. She knows her character, a woman who has worked this corner twerking for 35 years and will not sit idly by while this young millennial twerker takes her spot, and she has so much fun with the entire scenario. When she cries, she twerks as she does it. When she tries to run from the cops, she's twerking. And the whole time, you feel like you can really picture it on Cops. I have always been a big A'Keria fan, but with this one, she really throws down. In her confessional, A'Keria explains that, as a pageant girl, she has to be so poised and professional that she "can't even fart." Well, A'Keria, welcome to foolishness. Fart, bitch.
The runway theme is "Facekini," which means the girls must cover as much of their faces as possible while also serving face, in the grander sense. As they prepare, Nina is still frustrated with Brooke Lynn about the role reversal earlier. Nina wants to make it clear that she is not bitter about what's gone on, but that she truly hopes Brooke Lynn has not actively taken advantage of her this week. I am sure we will hear a ton about it in Untucked, and honestly? It'll be nice to see Nina get a little messy. Meanwhile, the girls are concerned that Silky is not putting any makeup on her face at all. Sure, the challenge is "Facekini," and for the most part the girls' faces will be entirely covered, but the attention to detail may be lacking for Silky, who nonetheless is as confident as ever and throws the opinions of the girls right the fuck out the window.
Ru and Michelle are joined by Jackson, Feimster, and special guest judge Natasha Lyonne. Silky is first to take the runway in a black-bug illusion that I really like at first, but on second watch, I notice that outside the funny bug headpiece, the costume lacks detail. An insect like this would probably have wings; this doesn't. I do like the inexplicable touch of Silky spraying herself with some type of insecticide, but I wonder if Michelle will read her garment for being basic, as well as the fact that this may not stack up to the rest of the girls who have no doubt blended makeup with costume to elevate this runway.
Shuga Cain looks wonderful on the runway in her Edwardian, My Fair Lady–esque dress, and the combination of makeup and ensemble already put her leagues ahead of Silky on the runway. She obviously loves the way she looks, and it's the second excellent runway in a row for Shuga. Brooke Lynn, yet again, looks phenomenal. The many references don't seem like they'd go together (steampunk, jungle, Trojan warrior), but it all really does. She a model, hawney. Nina West opts for a polka-dotted overt homage to Leigh Bowery, and it's absolutely fantastic. I find that Nina is underrated for her runways this season; she always makes the assignment really work for her and has improved leaps and bounds from where she started. Like Shuga, she will continue to shine when the runway theme allows them to wear something they've brought from home. Her oversize eyelashes are a favorite addition of mine. I love this.
Vanjie finally offers up something that isn't a swimsuit, opting to go for an American Horror Story season-one-esque full dominatrix bodysuit, complete with a long ponytail she brandishes as a sort of sexy whip. The fit on the legs is questionable, but it's fun and different for Vanjie. Plastique offers sex and edge as well, but her face is not covered up as much as the other girls, and I wonder if she'll get read for skimping on the theme. She looks phenomenal, she always does, but whenever someone isn't doing the assignment to the extent of the other contestants, it sticks out and is noted. A'Keria probably solidifies her win this week with a conceptual bodysuit that alludes to a massive amount of plastic surgery in her runway character's future. I am really loving how much fun A'Keria is having this week, and that ass looks exactly right as it walks away from us on that runway. Finally, Yvie gives us full-on freak Yvie. The look is Are You Afraid of the Dark? monster realness, and it's great, maybe one of my favorite Yvie runways.
Yvie Oddly and Nina West are safe and are sent away so Nina can blow off some steam in Untucked. Natasha Lyonne is impressed with Silky Ganache's skills as an actress, saying that she reached almost "Mike Leigh" levels of commitment and realness. High praise. She gets read for steamrolling Shuga a bit, and the judges are not into her runway. Michelle picks it apart piece by piece, calling the fact that she is not wearing makeup "a cop-out." On the other hand, while Michelle really appreciates Shuga's runway, the acting performance fell away for her. Without saying it, the judges make it clear that they just aren't getting enough, or anything, from Shuga. They see the effort, but it's just not popping. Brooke Lynn is commended for her performance in the challenge, and Nina is also given a positive critique from Michelle. If only she was there to hear Brooke Lynn say she couldn't have done it without her! The judges also appreciate the details in her runway.
Michelle is pleased that Vanjie has offered something different, but she still reads her for the silhouette, particularly what's going on with the fit on her legs. Watching Michelle actually take the time to give very detailed constructive criticism to Vanjie, it's obvious she wants her to succeed. But you can't get around the fact that Vanjie and Plastique were a mess in the challenge, which Plastique hears as well. Michelle is concerned that she's relying far too much on the Vietnamese stereotype, and the judges overall aren't buying her facekini look. She looks great, as always, but it isn't the assignment. We've got our bottom two right here.
A'Keria is showered with praise for both her performance and her superlative runway offering, and she remarks that in throwing away all of the expectations of a pageant queen, she is finding herself in fun. The judges respond well to that, and they name her the winner of this week's challenge. Well deserved!
Vanjie and Plastique are at a little bit of a disadvantage in this lip-sync to "Hood Boy," by Fantasia, as their faces are covered. Vanjie, in particular, because she did the runway assignment correctly, is going to have to be very physical to make this lip-sync dynamic. That is clearly not an issue, as she decides to really work that ponytail and shows us that she's improved dramatically as a performer since her lackluster lip-sync to "Ain't No Other Man" against Kalorie last season. Plastique is certainly no slouch either — she is from the school of Alyssa Edwards, after all. She is certainly one of the better performers we still have but just can't compare to the allure of Vanjie. In the end, Plastique seals her fate by making the odd decision that her one big jump into a split should happen entirely behind her competitor. Ru decides she's not ready to let the iconic Vanessa go, and Plastique sashays away.
With seven queens left, it's apparent that one contestant needs a big week to sustain and justify her place in the competition, and that's Shuga. At a certain point, you can stand out for not standing out, and that time is coming. Will we see a Kameron Michaels–type narrative and watch Shuga slay from here on out? Or is it her time? Either way, the strong are getting stronger, and it's looking even more difficult to determine who the real front-runners are.