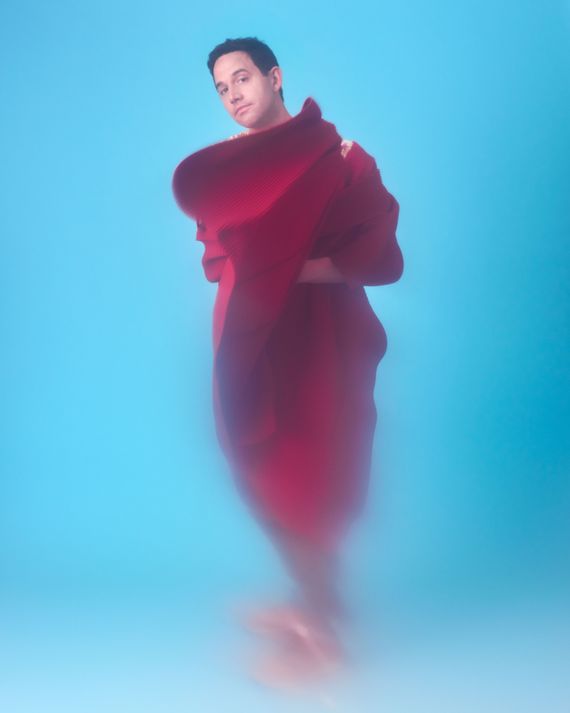 Homme Plissé Issey Miyake coat, $810 at Issey Miyake, 119 Hudson Street; 212-226-0100.
Photo: Maciek Jasik for Vulture
Santino Fontana has been stealing from women recently, but it's all in service of his latest role, on Broadway, in the musical version of Tootsie. In the show, based on the 1982 Dustin Hoffman movie, he plays a desperate actor, Michael Dorsey, who dresses up as a woman, Dorothy Michaels, in order to land a job when all his other options have run out. Fontana's not nearly as desperate as his character, but he talks about playing a woman with the fervor of someone worried that he, too, might get caught. He's copied mannerisms from his mom, his wife, and his grandmother. He finds himself analyzing the women he sees around New York City, like he's collecting a dossier on the entire gender — "Oh, that's her" or, "Dorothy would be friends with her." "Someone was bossing their child around in the supermarket and a woman said something and told her to stop," Fontana says as if citing a case file. "That's something Dorothy would do."
Tootsie the musical, like the movie it's based on, is a broad comedy, built on slapstick and mistaken identity — and now, singing. But in the midst of it all, Fontana has to play a guy who's playing a woman believably. There are the technical aspects. Dorothy Michaels should look like a woman, so he spent a lot of time figuring out her makeup and wigs. Dorothy should move like a woman, so he's working with ensemble member Leslie Donna Flesner to practice the physical ticks, like whether or not to fidget with a sweater. Dorothy should have a voice like a woman, so he recorded her first song up and down octaves and then went, "When I close my eyes, what sounds the most like a woman?"
"It's not drag," Fontana says. "He's trying to fool people in a way that doesn't draw attention to himself." It shouldn't be showy, it should convince.
As he describes all this, Fontana is wearing a leather jacket and a baseball cap backward, like he's incognito in the general persona of "a guy," while talking about what it takes to play "a woman." We're eating at a small restaurant in Bushwick. Fontana orders an adventurous lunch — jalapeño deviled eggs and beef stew — and a sensible drink — seltzer instead of alcohol. (He's midway through his first few Broadway performances, gotta protect that voice.) "I get asked, 'You're playing a woman, let's talk about it,'" he continues, parroting the tone I've been using of someone carefully broaching the question of how a cisgender man approaches playing another gender. Tootsie's a 37-year-old movie with iffy gender politics, which are being updated for the stage by a male director, Scott Ellis, male book writer, Robert Horn, a male songwriter, David Yazbek, and male star, Fontana himself. If the show works, and if Fontana does his job, maybe all that won't matter. "It's really no different than playing any other character," he insists. "Actually, if I play a king, or I play a prince, or I play a villain, those are as far away to me as half of the population I see all the time." He pauses, reconsiders slightly. "I find that … it feels both familiar and very different and also shocking that I never thought through so much of the day-to-day stuff women do."
In Tootsie the musical, as in the movie, the lessons in the day-to-day stuff women experience are built into the plot. In the film, Michael auditions for a hospital soap opera as Dorothy, falls for the show's star (Jessica Lange), and fights his ("her") way through sexism in the workplace. In the musical, set in the smartphone-era present, the soap is now a cheap musical sequel to Romeo and Juliet, starring an earnest actress (Lilli Cooper); the sexism is as present as ever, even if there are new ways to talk about it. The musical includes references to the #MeToo era and the gender pay gap. Michael's friend (Andy Grotelueschen onstage, in Bill Murray's film role) more actively berates him for his unthinking sexism. "We're talking about a guy who takes a job away from a woman, which is a terrible decision, but an entertaining one," Fontana says. "The fact that we underline how terrible it is and continue to highlight that … I could imagine a different creative team not doing that."
In the movie, after Michael reveals his charade, he still ends up with the girl, and they happily walk off into the sunset, something Fontana and the musical's creative team also know would never fly today. Reading Larry Gelbart's original screenplay, which he calls "brilliant, but of its time," Fontana realized Michael "never apologizes, really." We're talking in the middle of Tootsie's preview period, during which the show will make changes based on audience reactions, before its official opening on April 23; Fontana says they're still figuring out how to make its ending work. Michael needs to get the punishment he deserves, but it still has to be a comedy. You're not supposed to hate the guy by the end of it. In the version of the show I see a few days later, the last scene gestures toward how much more Michael still needs to learn, without explicitly turning him into a villain. To my mind, it recalls the end of Dear Evan Hansen, another musical that grapples with the damage done by a desperate liar, and has inspired divided reactions to its protagonist. "He's got to fight to try to make it right, whether he does or not," Fontana says. "We're playing with how much trouble he causes, how much comeuppance he gets."
Fontana promises he's never been so desperate as to make a choice like Michael does in Tootsie. His craziest scheme involves lying about needing to try out some glasses at a Lenscrafters so he could wear the frames to an audition. But he can relate to the sense of desperation that comes with being an actor. There's a kinship you can feel between Michael, who refuses to compromise for his art, and Fontana, whose career has learned more toward rigorous stage work than anything else. Fontana's New York career has been built around performances in a series of plays, including The Importance of Being Earnest, Act One, and his friend Stephen Karam's Sons of the Prophet. Ironically, considering he tried to hide the fact that he could sing in college ("I didn't want anyone to put me in a box"), he's become most well known for musicals. He earned a Tony nomination for playing a good prince in Cinderella, provided the voice for an evil prince in Frozen, and had his longest-running television role playing the grumpy, and yet princely in his way, love interest Greg on Crazy Ex-Girlfriend.
Fontana left that series a few episodes into its second season, a move that stunned many fans of the show, especially those who assumed his and Rachel Bloom's characters might end up together. It was a "tough decision" he attributes to a number of intersecting causes. He only had a one-year contract, and in waiting for the show to get picked up ("which was a long time"), he'd started looking at other offers. He'd just gotten married to his wife Jessica Hershberg — an actress who was also in Cinderella — and didn't want to pressure her to move away from New York. Finally, Crazy Ex-Girlfriend was originally developed as a 30-minute Showtime comedy that would take two-to-three months to film; when it became an hour-long comedy on the CW the commitment looked much more intense. He couldn't justify uprooting his life for it. "I wanted them to know, 'I would love to be involved in a smaller capacity if it's possible,'" Fontana says, choosing his words carefully; you can tell he knows they'll be analyzed. "But also, they should have someone who is there and lives there and can do that, you know?" In its final season, Crazy Ex found that person in Skylar Astin, who replaced Fontana as a "reimagined Greg." The two Gregs texted, "giving each other shit in a playful way," when Astin was cast.
In the time since leaving Crazy Ex, Fontana has filmed a few movies, shot a Seth Rogen FX pilot where he played a robot, and even dropped in on Hello, Dolly! for a few weeks. (He got wig advice on Tootsie from Bernadette Peters, and Victor Garber recently texted to compliment him on Dorothy's looks.) Plus he's been in a long relationship with Tootsie, which he signed onto about three years ago, though it's been in development for much longer.
Before he signed on, Fontana told Ellis, the director, he didn't know if he was right for the part. "And he was like, 'I don't know either. Let's just do the first one, we'll talk.'" Fontana agreed to do a reading and bonded with the rest of the creative team in the process. "I knew that parts like that don't come around that often, and I wasn't going to throw that away," he said. "Even if it ends up terribly, we gotta see it through." He did the first reading, which "was easily the best one of those things I have ever done, and I have done so many of those." He did several more readings. He did the out-of-town try-out in Chicago last summer, which he compared to summer camp. Now, he's here on Broadway.
In the way the story escalates, it feels like one of Michael Dorsey's own schemes: The dedicated actor steps into an impossible role and has to sell it, hard. The show hangs on him, after all. "Okay, you're going to be a man and a woman," he says, outlining all he has to do. "You're going to be an asshole and the best person in the room. You're going to sing as a man, you're going to sing as a woman. You're going to have quick changes in ten seconds. It's all of the challenges." He's smiling like this isn't a minefield, but an obstacle course. "Awesome, bring it on! That's fantastic."
Styling by Diana Tsui.