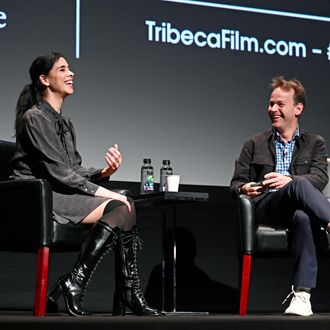 Sarah Silverman and Mike Birbiglia at Tribeca.
Photo: Mike Coppola/Getty Images for Tribeca Film Festival
"I am uncomfortable saying this, but you're one of the people who intimidates me the most." That's how Mike Birbiglia opened his "Storytellers" talk with Sarah Silverman at the Tribeca Film Festival on Monday. "You have a healthy fear of me," she responded, and he said, "I have a healthy fear and that goes with you, Steve Martin, and Jerry Seinfeld. Those are the three who I'm genuinely intimidated by and flub words, so that's what you guys get to watch."
That back-and-forth set the tone for the one-hour event, which could have been two respected comedians and actors trading stories but instead turned out to be much more of an interview conducted by Birbiglia. (He did flub many words, but in his usual endearingly sheepish way.) The two discussed Silverman's life and career, from her mother's death and turns in serious acting to her views on Trump, starting stand-up in her teens, and the musical that's being made about her 2010 memoir The Bedwetter, which Silverman has been working on since 2014. Here are the seven biggest things we learned from their conversation.
Her Bedwetter Musical Will Open Sometime Next Year
Birbiglia broke the news, though he honestly wasn't sure if he was supposed to be revealing that, and Silverman shared the details about the upcoming musical based on her book, The Bedwetter: Stories of Courage, Redemption, and Pee. "It's actually gonna be announced in like two weeks. A year from now, we'll be at the Atlantic, which sounds like far away, but it's been six or seven years, so it doesn't seem far away," she said. "Adam Schlesinger, who is a great music writer, songwriter, he had read the book and came over and he just said, 'This is a play. This is a musical. "Cursed From the Start." That's a song!' I go, 'All right.' We noodled around with it and we started working with this beautiful playwright. I'm not in it. It's [about] the year I'm 10."
Silverman Didn't Write One of Her Most Famous Jokes
Recounting his college years, Birbiglia brought up how he and his "comedy nerd" friends frequently quoted one of Silverman's lines: "I was licking jelly off of my boyfriend's penis and I thought, I am becoming my mother." Silverman, to Birbiglia's temporary embarrassment, let out a long groan and said, "So, let me tell you a story about that joke. It's the one joke I didn't write." Birbiglia yelled, "Oh my God, really!?"
"At the time, everyone quoted it to me and I would have to say, 'Claudia Lonow wrote it,'" Silverman said. "We were at the Improv and she wrote it on a piece of paper and slid it to me. I read it and I went, 'You've got to do stand-up again. This joke is perfect!' She goes, 'No, I'll never do stand-up again. I want you to do it.' And I was like, 'I will do it, but I'll kill with it, but then I'll always feel guilty. This is your art!' But I took it and I put it in my first special, and boy, that is everyone's favorite joke. And it kills me."
She Regrets Some of Her "Problematic" Material
"It's not evergreen. That's the beauty and the horror of comedy mixed with the beauty and the horror of social media," she said. "I don't stand by lots of comedy. Boy, I haven't seen Jesus Is Magic in a decade or more but […] I know I would call it very problematic. I can only accept myself and know that I grow and change. I've done things in comedy I wouldn't do today because being progressive means that you change with all the new information that you get." She also pointed out how she used to describe things as being "gay." "I used to defend it that way: 'I have gay friends. It just means lame. I'm from Boston,'" she said. "And then one time I was defending it and I heard myself and I was like, I'm the guy who says, 'What? I say colored. I have colored friends.' I should be creative enough to think of something besides 'gay.'"
She Had an "Identity Crisis" After Becoming Successful
Silverman said that as her career blossomed, she grew increasingly uncomfortable with her bratty, more offensive persona. "Now, I am how I feel," she said. "It was challenging, oddly, to be funny as yourself. It's like I do characters, but I did this one very arrogant, ignorant character and that's what I did on The Sarah Silverman Program, and then I did have kind of an identity crisis after this because I got famous doing that. I was going, How do I write more material? Do I stay in this one character? I got really in my head and I didn't know how to move on from that special and that series. And then I found freedom in going, I just have to start over and bomb and eat shit and figure it out like I did the first time. […] You have to be brave enough to change and have people be turned off by how you've changed. Otherwise, the only other choice is to be this caricature of yourself."
She's Not Running for President
Birbiglia brought up Silverman's past comments about seeing a sense of anger shared by supporters of both Donald Trump and Bernie Sanders, and she compared the collective dissatisfaction to getting notes from a network executive: "You go, 'What the fuck is this?' But maybe they don't know how to articulate the note, but you want to find out what the spirit of it is […] I think with different voters and disenfranchised people, there is something wrong. What Trump is great at is giving them something to blame, and it's each other, or just 'other.' I see a very big difference between the liars and the lied-to."
This led Birbiglia to sheepishly ask, "Do you think you'll run for president?" Silverman said, "No, I've had too much therapy. I have a lot of skeletons in my closet."
Tig Notaro Is Always There for Her
When the talk got to the topic of how, in Birbiglia's eyes, Silverman is unflappable, she said, "I learned through therapy maybe or from Mr. Rogers that there's no one like me in the whole world. I'm the only person qualified to be me. He told me that through the television and I believed him." But then she got more serious, talking about how she used to carry around self-doubt and feelings of inadequacy, but one moment with Tig Notaro really got her out of that mind-set. "I said something like, 'Oh, I hate my this' or whatever," she recalled. "I don't know what I said — something shitty about myself. And Tig goes, 'Don't talk about my friend like that.' I was like, 'Whoooa!'"
She then recounted the story of how Notaro was with her on the set of Lady Dynamite when Silverman learned her mother had passed away. Silverman said that maybe they should finish filming her scene before she flew home to be with her family when Notaro, who had lost her mother the previous year, said no — they were done filming and she'd drive Silverman home and help her get ready. "She told me, 'There's two kinds of people in the world: People who have lost their moms and people who have no idea what's coming.'"
The room went silent, save for a few sympathetic murmurs, to which Silverman said, "Right. There wouldn't be a laugh there. But I know, you're taking it in. You know when you don't say something funny and there's no comic blow to it?" Birbiglia replied, "That's my whole career."
She Loves Birbiglia's Pizzeria-for-Third-Graders Idea
When talking about how she got into comedy in her teens, Silverman recounted how she wanted to be a stand-up since she was in third grade. (She actually wrote, "When I grow up I want to be an actress, a comedian, or a masseuse.") Birbiglia referenced one of his old jokes, saying, "I wanted to be a poet or a comedian or the owner of a pizzeria where third graders hang out. I didn't know a lot about business." When the laughter died down, Silverman said, "I'm going to say something crazy. I think that's a good idea." Finally getting the validation he's been seeking for ten years with that joke, Birbiglia let out his biggest laugh of the night.