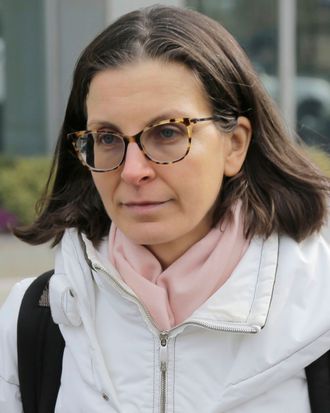 Photo: Seth Wenig/AP/REX/Shutterstock
Seagram's liquor heiress Clare Bronfman pleaded guilty Friday afternoon to two federal counts in the NXIVM sex-cult case less than two weeks after Smallville actress Allison Mack admitted to her role in the organization. Bronfman copped to one count of conspiracy to conceal and harbor illegal aliens for financial gain and one count of fraudulent use of identification, officials said.
The 40-year-old's plea, albeit sudden, was not shocking. Previous court proceedings revealed that she had been in plea talks, and jury selection in the case had been slated for Monday.
Her plea was preceded by recent courthouse dramatics. There was a gushing moment when she and Mack exchanged extensive hugs and cheek kisses in the hall prior to a proceeding. Bronfman also appeared on the brink of passing out after it was revealed in court that disgraced celebrity lawyer Michael Avenatti had worked on her case.
Federal prosecutors allege that NXIVM, headed by Keith Raniere, functioned like a pyramid scheme, offering participants costly self-help courses and the promise of advancing in the group by recruiting others.
They claim NXIVM also featured a secret sect called "DOS." Although
DOS was billed as a women's empowerment group, those who joined were considered "slaves" and were required to provide embarrassing information to guarantee their compliance with the rules. Mack, considered a "master" under Raniere in this hierarchy, "directly or implicitly required her slaves … to engage in sexual activity with Raniere," prosecutors said.
Prosecutors also allege that Raniere and Bronfman plotted to commit identity theft by obtaining "e-mail usernames and passwords of perceived enemies and critics of Raniere in order to monitor their electronic communications."
Bronfman also "encouraged and induced the illegal entry into the United States of an alien for Bronfman's financial gain, engaging in international wire transfers to make it fraudulently appear that the victim had the financial resources to obtain an investor visa," authorities had previously said.
Mack pleaded guilty to one count of racketeering conspiracy and one count of racketeering on April 8, tearfully telling the court, "I'm very sorry for the victims of this case … I'm very sorry for who I've hurt through my misguided adherence to Keith Raniere's teachings."
Bronfman faces up to 25 years in federal lockup, but prosecutors are likely to suggest that a span of 21 to 27 months in prison is appropriate, officials said. The judge doesn't have to agree with their recommendation. Bronfman is scheduled to be sentenced on July 25, officials said. NXIVM's bookkeeper, Kathy Russell, also pleaded guilty today to one count of visa fraud.
Since Raniere still appears to be headed for trial, he will be the only defendant left when jury selection starts next week.