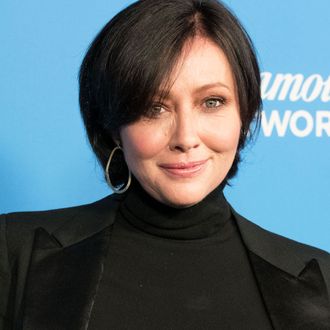 Photo: Earl Gibson III/Getty Images
After what Dylan and Kelly did?! Luckily the upcoming Beverly Hills reboot project isn't a direct sequel, or else Brenda Walsh would be right to never talk to these people again. Fox announced on Friday that Shannen Doherty has officially joined BH90210, the six-episode meta … sequel … thing starring the original Beverly Hills 90210 cast as themselves trying to get a Beverly Hills 90210 sequel on the air. Jason Priestley, Jennie Garth, Ian Ziering, Gabrielle Carteris, Brian Austin Green, and Tori Spelling are already onboard the project, in which they'll play heightened, soapy versions of themselves. The show's eighth main cast member, Riverdale star Luke Perry, was not reported to be working on the project before he passed away in March.
Doherty left after the original show's fourth season, but later appeared in Darren Star's 2008 sequel series 90210, which raises the question: Did that reboot happen in the world of BH90210? Or are there two unrelated 90210 timelines, thus meaning two Brenda Walshes and, potentially, two Shannen Dohertys? If so, can we see them go toe-to-toe in BH90210? These questions, and more, will be answered when the series premieres sometime this summer.