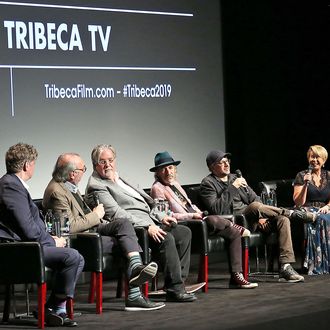 Tribeca Film Festival's
Simpsons
30th anniversary panel.
Photo: Monica Schipper/Getty Images for Tribeca Film Festival
Even after three decades on the air, the producers and stars of The Simpsons still have a lot of ground they want to cover, particularly when it comes to the celebrities they want to appear on the show. At the Tribeca Film Festival on Sunday, producers Matt Groening, James L. Brooks, Al Jean, and Matt Selman joined stars Harry Shearer and Yeardley Smith for a panel about the show's 30th anniversary, screening two episodes, the classic "Marge vs. the Monorail" and 2012's "The Day the Earth Stood Cool," then reminiscing about the program's history and cracking a few jokes about Fox, politics, and Trump.
While they didn't reveal any specifics about upcoming episodes other than to say they're always inspired by the "crummy" events going on in the news, they did offer up their wish list for guest stars. Smith, who moderated the panel, went with the Rock, which was a surprising answer only because it's shocking that he somehow hasn't been on yet.
Jean went with Sandy Koufax, Groening chose Tribeca Film Fest founder Robert De Niro, Shearer said Canadian prime minister Justin Trudeau, and Selman opted for two: Monty Python's John Cleese and Michael Palin. Jean, who showed off his encyclopedia-like knowledge of the show by referencing episode numbers for random story lines, said of another Python, "We have had Eric Idle on the show multiple times because he actually came into the rewrite room and said, 'Put me on the show.'" But Brooks got the biggest laugh with his pick for a guest: Donald. J Trump. "We've never had a president, but I think I'd love to have this president if he'd read the script as written," he said with a smirk. "He's not a good reader," Smith quipped, "Maybe if we just did it in pictures?"
It wasn't the only time Trump came up throughout the 45-minute talk. When Smith asked them what keeps them up at night, Brooks responded, "Well, I'm sort of an insomniac since Trump took office." Selman helpfully suggested a sleeping pill for that: "There's this great drug called Remeron and it says now 'Trump Strength' on the bottle, so it'll put you to bed." Jokes about Fox and going to Disney were also peppered throughout the event, with Smith asking Shearer what he'd miss most about Rupert Murdoch. "I'll miss the wrinkles. But you know, Fox has been a warm and fuzzy place for all of us and I think I'll miss having a daily inspiration for the words and the mannerisms of C. Montgomery Burns," he said, slipping into the voice of Springfield's top villain. The crowd, naturally, clapped and cheered. Once it died down, the smiling Shearer added, "Too cheap, too easy. Thank you."
When asked about possible Simpsons spinoff shows, Shearer offered up one idea. "I guess the one character that I think would benefit from a spinoff at this point more than any other would might be Reverend Lovejoy, because there's never been, as far as I know, an American television show about a clergyman," he said, noting that when The Simpsons first debuted it was denounced because Bart was a "bad role model," but by season 15 he was being interviewed by a Christian magazine about the show's religious characters Ned Flanders and Reverend Lovejoy. "It seems to me we've learned a lot about Ned, but Reverend Lovejoy and Helen have adventures still to be explored — you know, like his pre-Bible believing days when you rebel." If the Lovejoy spinoff doesn't work out, though, Shearer suggested another idea: "Otto in rehab."