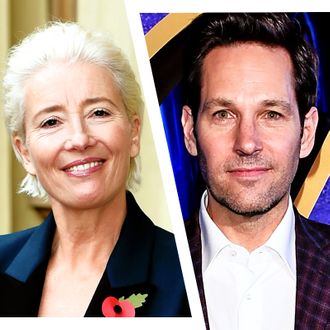 Emma Thompson and Paul Rudd.
Photo: Getty Images and Shutterstock
The end is near for the current season of Saturday Night Live. The show revealed on Twitter today that it's lined up its final two hosts for next month: Emma Thompson on the May 11 and Paul Rudd for the season finale on May 18. Thompson will be joined by the Jonas Brothers as musical guests, while Rudd has been paired up with DJ Khaled.
Prior to Thompson's episode, former Saturday Night Live cast member Adam Sandler will make his hosting debut on May 4, where he'll be joined by musical guest Shawn Mendes.
Thompson will be making her SNL hosting debut next month, while Rudd will be hosting for the fourth time. He last hosted way back in 2013, though, so we are very much due for some more Rudd SNL sketches.