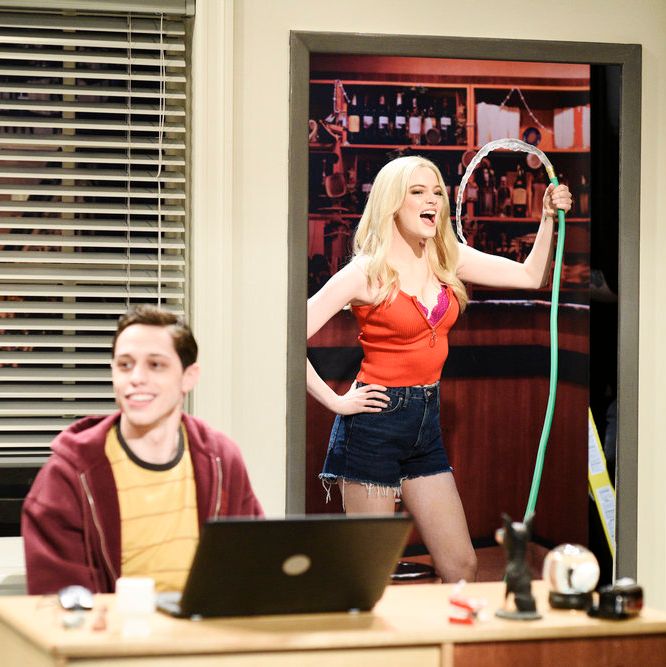 Photo: NBC/Will Heath/NBC
During this, Emma Stone's fourth hosting gig, The Favorite is out of theaters (and the Oscar cycle), Maniac waits patiently on Netflix for you to click on it, and Zombieland 2 doesn't land until the fall. In terms of timeliness, the first appearance of K-Pop boy-band sensation BTS is more notable than Stone's return to Studio 8H. Thankfully, Stone is comfortable enough in the SNL groove to show up and just do the work. She doesn't need something to plug in order to take the reins; she doesn't even need to be the main attraction. Her comic instincts, character work, and sense of physical play are all excellent. The writers take advantage of that with some imaginative premises, many of which end up idling in first gear, but a few find amusing second beats that take them to the next level.
(As usual, we've ranked this week's sketches from best to worst.)
Jail Cell Cold Open
During this edition of docuseries LockUp, a new prisoner (Chris Redd) compares his crimes with those of older prisoners (Kenan Thompson and Kyle Mooney). But all their talk of armed robbery and assault doesn't impress the woman who emerges from the shadows, Laurie Loughlin (Kate McKinnon). $500,000 to a crew teacher to lie about her daughter's athletic abilities, plus $300,000 for tuition, all for USC? And her daughter's job is now quote-unquote influencer? This woman is crazy. "You think prison is hard?" she asks the guys. "I've done 68 Hallmark movies." Then there's newly charged lawyer Michael Avenatti (Pete Davidson), who is so nuts he withheld tax revenue from his coffee shops in order to fund a race-car team. Also in the cell, WikiLeaker Julian Assange (Michael Keaton), the "scourge of the cleaning staff at the Ecuadorian Embassy," who can magically make anyone's "ding-dong pics" go right on the internet. And though everyone is scared of the dude in the corner, rapper Tekashi 6ix9ine (Melissa Villaseñor), he's just in for "robbery and gun stuff—it's stupid!" This refreshing sketch remains light and silly even while cleverly taking the piss out of its ripped-from-the-headlines targets.
The Actress
After years of trying to make it, and playing "one-dimensional women with vacant lives" in commercials, an actress (Stone) nabs her biggest challenge yet: "Woman Who Gets Cheated On in Gay Porn." While she is doing her best to understand her motivation and articulate her moments, the director (Beck Bennett) just wants her to dig through the "Woman" bin for costumes and say the lines as printed. Still, she wonders whether she will "find Deirdre in time"—because, yes, she named her character Deirdre. Then the actress has a revelation about Deirdre's life and history, and can stand on-camera and tell her cheating husband, "I forgive you." The director, of course, will be editing that out and cut right to the plowing. Well composed, well acted, well written, this is an excellent, self-aware jab at actor puffery.
Fashion Coward
This commercial parody introduces a store for people who feel "lost and scared" while shopping. The shop offers up normcore hits such as brown sweater, black dress, and a big, zip-up gray sweatshirt that "doubles as an invisibility cloak." The messages these clothes send include "Ideal Juror," and "I Go on Cruises With My Parents." To help shoppers avoid past traumas, the mirrors in the dressing room are very far away and a knockout gas descends if anyone takes longer than 30 seconds to decide whether a garment is right for them. (And in that instance, a burly dude carries the shopper home and shops for them on the way.) It's a specific and sharp look at fashion for the nonmodels among us.
Weekend Update
The segment starts with Julian Assange's arrest, and Colin Jost's joy at seeing "an internet troll" get hauled out of an embassy: "When seven cops have you pinned to the sidewalk, you can't be like, 'I summon the power of e-mails!'" As far as Trump's interest in sending illegal immigrants to sanctuary cities, Michael Che says, "You can't scare us with more immigrants. That just means faster Ubers and more Elmos." Aidy Bryant comes on as Carrie Krum, the kid with travel tips that are specific to her. Boise, Idaho, is the place to go on spring break to visit her grammy and step-grandpa. Another must-see? Grammy's cul-de-sac, which is perfect for Rollerblading. And the beaches of western Pennsylvania are great for standing "ankle-deep in ice-cold water that stinks." Bryant is sweet and charming, as always.
Che is convinced that Kim Kardashian could achieve her aim of becoming a lawyer in three years because "it only took a couple years for Kanye to go to space." There is also a joke about dolphin vaginas. Scientists discovered that the dolphin clitoris is remarkably similar to that of a human woman. "Said the night janitor at Sea World, 'Well, I could have told you that.'" Mikey Day and Heidi Gardner return as Instagram influencers Nico Slobkin and Brie Bacardi. Though their perfectly composed and hashtagged photos make them look content, their passive-aggressive personas immediately surface on "Update." After some accusations, some Cartman impressions, some use of a "shirt shield," she says she's pregnant. She's lying, though, and somehow everything goes back to normal. Even though there are some bigger, cartoony moments here, the characterization of this couple remains spot-on.
Dorm Room Posters
Bored student (Pete Davidson) wishes he didn't have to write a paper about the Revolutionary War, and when he dozes off, his posters come to life. His favorite Soundcloud rapper Lil Percocet (Mikey Day), movie heroes Black Puma and Jaguara (Kenan Thompson and Ego Nwodim), and wrestling star Mad Dog Doogan (Beck Bennett) all do their best to relate their lives and deeds to history to make it seem relevant. Then there's Krissy Knox (Stone), one of Maxim's 50 Hottest Girls From Rural Areas, who says history is like the "long fat garden hose" that she's drinking from "like a dumb, silly doggie." It's also like math, too, somehow. Even when the others encourage their student to tear down the poster, there's a poster of her sister Brandi Knox waiting underneath. This is a solid second beat to this sketch, even if it's essentially the same framework, and Stone's vapid creep is perfectly unsettling.
The View: Jenny McCarthy on Vaccines
On this edition, Whoopi Goldberg (Leslie Jones) leads the ladies in a conversation about Trump wanting to send illegal immigrants to sanctuary cities. Ana Navarro (Melissa Villaseñor) gets stuck in a ranting loop, Abby Huntsman (Cecily Strong) wants to know about the weird j in Kirstjen Nielsen's name, and the "princess of Arizona" Meghan McCain (Aidy Bryant) clashes with Joy Behar (Kate McKinnon). Whoopi brings things into order by reminding everyone of the show's premise: "We are five best friends with nothing in common." Then Jenny McCarthy (Stone) comes on to defend anti-vaxxers and things get nuts again. The cutting take on McCain's self-righteousness is the core of this sketch, and that alone is worth it.
Emma Stone Four-Timers Monologue
Though it's the fifth hosting gig that matters, Stone feels certain that the players planned something special for her return. Just as Emma's undue expectations threaten to become a full-blown disappointment, Kate McKinnon and Kenan Thompson improvise a "special song." (That song: Bob Marley's "No Woman, No Cry," with the words "Oh, Emma, she host.") In response to a question about special gifts, Aidy Bryant quickly tears off her own bracelet and hands it over. "You had it engraved?" Stone asks. "Penicillin Allergy!" To simulate special guests, they blindfold Stone and let Melissa Villaseñor do her best Owen Wilson and Kyle Mooney does Oprah. This self-referential take on SNL mythos is a bit of an ouroboros, but it's still enjoyable.
Royal Baby Video
A baby shower is in progress at the duke and duchess' estate, where Harry (Mikey Day) films a direct address to his unborn child. Along the way, he turns the lens onto Prince Charles (Beck Bennett), Prince William (Alex Moffat), Kate Middleton (Cecily Strong), 21 Savage (Chris Redd), his ex Tinsley Granger-Gash (Stone), Ringo Starr (Pete Davidson), a friend of Meghan Markle's mom (Kenan Thompson), Meghan's cousin (Ego Nwodim), and Queen Elizabeth (Kate McKinnon). And he avoids, at all costs, the loquacious James Corden (Aidy Bryant), who is "at a ten since he's been here." Yeah, it's basically just a parade of faces, but there are a couple of good gags scattered throughout. The Corden bit is pretty cutting, and when the queen is found buried under baby gifts, it's fun to see Charles pop out of nowhere to ask, "What happened? Am I king?"
Hobby Song
Melissa Villaseñor has been killing it in the "self-love–slash–confidence department," so she busts in on Emma Stone's dressing room to rap about hobbies. These hobbies include charcoal drawing, biking, hiking, birdwatching, smelling books, cooking for one, hugging her backpack, silence, and "talking like Gandalf." Emma seems eager to end the conversation but apparently was just too embarrassed to talk about her own hobby: creating a tiny town full of trains and figurines, including Barry the Mailman and Peter the Jester. More Villaseñor is always welcome, so this sketch is a winner for that reason, but the content and the rap don't feel particularly inspired.
Ladies' Room
Three ladies from the '80s (Stone, Cecily Strong, and Leslie Jones) have a problem: Women have their hands all over one of their men. A beat kicks in, and as the trio take their conversation to the ladies' room, the scene becomes a music video. A huge crew of dancers and one guy in an "electric dancing chair" (Beck Bennett) carry on until they're interrupted by a clerk (Kenan Thompson). All the stuff about CHWs ("chicken-headed women") and purple Trans-Ams is lost on him because the place is not the bathroom at Club Vortex; it's the fitting room at Limited Express. And the clerk needs to know if they thought it was a bathroom, "how many of y'all went?" The dedication to the '80s aesthetic is amusing, but the first half feels like a by-the-motions parody — albeit a highly specific one — and the second half, a pee joke that dismisses that parody.
Chalmers Reserve Event Wine
Stars of reality show Nastiest Summer Renters of Sag Harbor, Trett and Leezan Chalmers (Kenan Thompson and Cecily Strong), tout their new Event Wine, which is 72 percent grain alcohol. The first sip might be rough, but the second means the drinker won't know wine from "hot-dog water," and it might usher in their first-ever lesbian experience. Then the Patudis (Stone and Kyle Mooney), the couple who crafted this beverage, reveal its secrets: The brew is moldy grapes, corn, and a dye so strong it keeps the wine from looking brown (and will stain teeth forever). The Chalmerses try to shut the Patudis up but accidentally drink some of the swill and set Leezan's hair on fire. The content feels right for a good, weird ten-to-one, but it never quite hits.
Though tonight's sketches don't reveal some new facet of Emma Stone that's never been seen before, and her newest characters aren't remarkable, she holds it down throughout. Some of the best moments in the show are owed to writerly specifics, including the carefully imagined "Fashion Coward" commercial parody and the wicked actor fantasy of "The Actress." It's also nice to have another cold open in which the writers don't have to react immediately to the biggest Trump headline of the week; the extra space helps them to play just a little more. The next live show isn't until May 4, when SNL alum and aging frat-boy hero Adam Sandler returns to 30 Rock.