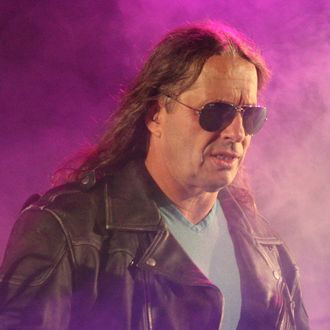 Bret Hart.
Photo: Gallo Images/Getty Images
Not even Mr. McMahon would stoop so low. Wrestling legend Bret "the Hitman" Hart was tackled by a random audience member during his WWE Hall of Fame induction speech. We know it wasn't a stunt because 1. Hart has suffered several injuries and a stroke that preclude him from ever taking a bump again, and 2. Both security guards and other wrestlers pulled the jabroni off Hart almost immediately after it happened. Footage shows the attacker wearing what looks like an Adrien Brody-like Rastafarian hat/wig combo.
This is one of many indignities Bret Hart has had to endure both during and after his wrestling career, including the in-ring death of his brother Owen and the infamous Montreal Screwjob. On Sunday's Last Week Tonight, Hart was shown saying "All these wrestlers that have broke their backs making this living for years end up with nothing when it's over. Then they take you out back and put a slug in the back of your head and dump you." Hart did resume his speech once order was restored and thanked his tag team partner and brother-in-law Jim "the Anvil" Neidhart. Hart was also joined on stage by Neidhart's daughter, WWE Superstar Natalya.