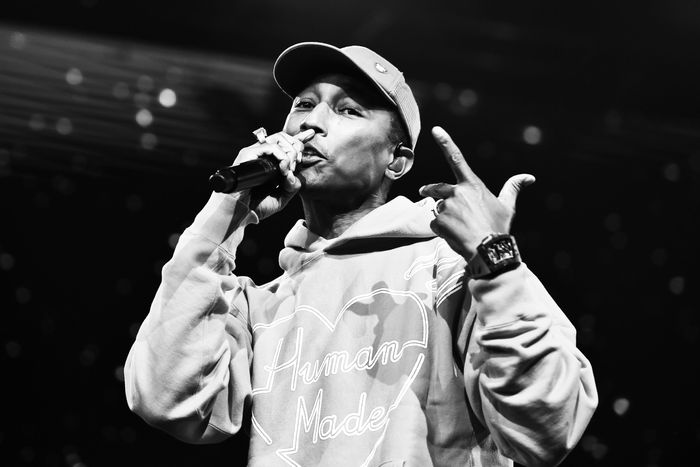 Photo: Alberto E. Rodriguez/Getty Images
"A good composer does not imitate; he steals," Igor Stravinsky once said. So it goes for music, with performers and songwriters pilfering, directly or indirectly, melodies, chord progressions, lyrics, and more, well before songs were written down. We don't know when the first accusations of music borrowing were levied, but we do have this timeline of some of the most famous, and often ridiculous, examples.
1722
George Handel, author of "Messiah" and "Water Music," is publicly accused by fellow composer Johann Mattheson of stealing melodies. Later scholars say Handel heavily "borrowed" from many other works. Mattheson and Handel had quite a relationship — they were friendly, but also nearly killed each other in an opera-house duel. A button on Handel's coat saved him from Mattheson's sword.
1783
Mozart debuts his Symphony No. 37 in G major. It's mostly copied from Haydn's Symphony No. 25 in G major, written that same year, though the copying isn't discovered until 1907.
1844
Millett v. Snowden becomes the first known music-copyright-infringement case in the United States. The music for the song in question, "The Cot Beneath the Hill," was reprinted without copyright in the Ladies Companion magazine, and the Southern District of New York awarded the plaintiff $625 over the breach.
1939
South African singer Solomon Linda records the Zulu-chanting "Mbube," which later becomes the Tokens' doo-wop hit, "The Lion Sleeps Tonight." Linda, who sold the rights to the song for 10 shillings, died in 1962 in poverty, though his heirs later successfully claimed the royalties to "Lion" from a publishing company and Disney, for its use in The Lion King, in a 2006 settlement.
1963
The music and melody from the Beach Boys release "Surfin USA" were lifted directly from Chuck Berry's 1958 hit "Sweet Little Sixteen." Berry got the copyright immediately, though Brian Wilson was credited as the sole author until 1966, with Berry subsequently listed as a co-writer.
1968
The Kinks discover that the Doors' "Hello, I Love You" sounds a lot like their "All Day and All of the Night" riff. Singer Ray Davies initially only wanted Jim Morrison & Co. to cop to the lift, but he eventually sued, settling out of court.
1969
The Beatles' "Come Together" features John Lennon singing "Here come ol' flattop, he come groovin' up slowly." Lennon is later sued by Chuck Berry's publisher, who accused him of stealing Berry's "Here come a flattop, he was movin' up with me" from 1956's "You Can't Catch Me." Lennon settled out of court and agreed to record three Berry songs for upcoming albums, though he only released two in his lifetime, leading to more legal squabbles.
1969–2016
Led Zeppelin is known for habitually lifting songs, mostly from blues musicians, including: "Dazed and Confused," "The Lemon Song," "Whole Lotta Love," "Bring It on Home," and more. Over several decades, they settled a series of lawsuits and awarded writing credits. Their most recent suit alleged that they took "Stairway to Heaven" from the group Spirit's 1968 instrumental "Taurus," but a Los Angeles jury ruled in their favor in 2016.
1970
George Harrison's first solo single "My Sweet Lord" is noted for similarities to the Chiffons' "He's So Fine." A legal battle ensues. Eventually, courts decided Harrison subconsciously copied the song and had to pony up $1.6 million, about 75 percent of the royalties, and portions of his album, All Things Must Pass. The drawn-out lawsuits weren't settled until 1998.
1971
Isaac Hayes's "Theme From Shaft" becomes the most iconic song in the blaxploitation genre, winning an Oscar and a Grammy. In 1985, he won $17,000 from Schlitz Brewing Co. after they used an obvious rip-off of it in a beer commercial.
1981
The Aussie band Men at Work have a hit with "Down Under," which takes its flute riff from 1932's "Kookaburra." Years later, the copyright holder of the latter song, Larrikin, sued for infringement, ultimately winning 5 percent of "Down Under" royalties from 2002 onward.
1984
Huey Lewis alleges that Ray Parker Jr.'s "Ghostbusters" is a rip-off of 1983's "I Want a New Drug." Funnily enough, Lewis was reportedly asked to write the Ghostbusters theme but declined in order to work on Back to the Future. They settled in 1995.
1985
John Fogerty releases "The Old Man Down the Road." Fantasy Records, which owned the rights to all of his Creedence Clearwater Revival songs, sues him for plagiarizing his 1970 hit "Run Through the Jungle." Fogerty performed both songs in court and prevailed, then countersued to recoup his attorney's fees, a right protected by the 1976 Copyright Act. The case was ultimately settled in his favor by the Supreme Court in 1994.
1988
Rod Stewart already had a copyright issue with his song "Da Ya Think I'm Sexy?" after it was found he copied parts of Brazilian musician Jorge Ben Jor's "Taj Mahal." That was settled amicably, as was Stewart's next dustup, this time with Bob Dylan over "Forever Young." Dylan, who's faced his own issues of infringement for repurposing old songs in the "folk tradition," wrote his "Forever Young" as a lullaby for his son, and Rod's version had similar lyrics and melodies. Stewart agreed to the charge, splitting royalties with the Bard down the middle.
1989
Vanilla Ice's "Ice Ice Baby" uses the bass riff from Queen and David Bowie's "Under Pressure," though the rapper contended he added an extra note, making it different. Regardless, the classic rockers are awarded an out-of-court settlement for royalties and given songwriting credit.
1991
Kurt Cobain expressed reservations over releasing "Come As You Are," as the opening riff is almost identical to Killing Joke's 1985 song "Eighties." It's rumored that Killing Joke's attempted lawsuit over the song either never made it to court or was dropped after Cobain's suicide.
1992
After Radiohead's "Creep" became a hit, songwriters Albert Hammond and Mike Hazlewood sued, saying it sounded too much like the Hollies' "The Air That I Breathe" from 1972. They settled peacefully, sharing writing credits and an undisclosed sum. But Radiohead weren't so copacetic when, in 2018, Lana Del Rey claimed they asked for 100 percent of royalties on her song "Get Free" because it allegedly copied "Creep." Del Rey said Radiohead asked for 100 percent of the royalties and they eventually settled for a lesser, also-undisclosed amount.
1997
The Verve's "Bitter Sweet Symphony" uses a sample of Andrew Loog Oldham's orchestral cover of the Rolling Stones' "The Last Time." The latter band's former manager, Allen Klein, sued and won 100 percent of the royalties from the hit track, with Mick Jagger and Keith Richards receiving writing credits. Verve singer Richard Ashcroft called "Bitter Sweet Symphony" the "best song Jagger and Richards have written in 20 years."
1997
DJ Jubilee and Juvenile found themselves in a quandary over what the court called "the poetic four-word phrase 'back that ass up.'" Both New Orleans rappers released songs on the topic around the same time, "Back That Ass Up" and "Back That Azz Up," respectively, and a jury ultimately decided that Juvenile's version was original enough to ward off any infringement claims. A similar suit from the group The Architectz is ongoing against Lil Jon over the phrase "Turn Down for What."
2006-2015
Tom Petty somehow found himself in the middle of several plagiarism claims, though he generally didn't seem to care much. He laughed off claims on social media that the Red Hot Chili Peppers took "Mary Jane's Last Dance" for 2006's "Dani California," and pointed out that the Strokes admitted to copping "American Girl" for their hit "Last Nite." In an amicable 2015 agreement, Petty and Jeff Lynne were awarded 12.5 percent of Sam Smith's "Stay With Me" because it sounded like "I Won't Back Down," with Petty saying, "These things can happen."
2007
For Jay Z's "Big Pimpin'," producer Timbaland sampled the song "Khosara Khosara" by the late Egyptian composer Baligh Hamdi. Hamdi's nephew tried suing them, first arguing that he held the copyright, though EMI had legally licensed it. He also claimed that Hova's lyrics infringed on Hamdi's "moral right" to not be associated with anything objectionable. Both claims were dismissed.
2008
Coldplay's "Viva la Vida" faced not one but three charges of plagiarism, one from guitarist Joe Satriani, whose lawsuit alleging the infringement of his instrumental "If I Could Fly" was tossed out. Another came from Yusuf Islam (formerly known as Cat Stevens) over "Foreigner Suite." The latter never went anywhere, with Islam saying, "They did copy my song but I don't think they did it on purpose." The most interesting allegation came from the band Creaky Boards, who said Chris Martin aped their track "The Songs I Didn't Write." It was later proved that Martin wrote "Viva" before Creaky Boards released their song, and the group admitted that both tracks were possibly inspired by the video game The Legend of Zelda.
2011
Of the many ways Lady Gaga has been accused of ripping off Madonna, the most blatant example to fans is how much "Born This Way" sounds like Madge's "Express Yourself." Noting the similarities, Madonna called Gaga's hit both "interesting" and "reductive," but didn't sue.
2014
Eminem's camp sued the New Zealand National Party for using an instrumental soundalike of his hit "Lose Yourself" in a campaign ad. Em eventually won $600,000 NZ over it, possibly due to the fact that the track in question is named "Eminem Esque."
2015
In one of the most infamous infringement cases, the estate of Marvin Gaye claimed Pharrell and Robin Thicke's "Blurred Lines" ripped off "Got to Give It Up." After the jury agreed, the Gayes won $7.4 million, shocking scores of prominent musicians and the industry at large.
Four Times Ed Sheeran Borrowed Too Much
By Wayne Marshall
1. 2016
Claim: Ed Sheeran was sued by Ed Townsend, co-writer of Marvin Gaye's "Let's Get It On," over "Thinking Out Loud."
Similarities: Both songs are based around the same chord progression and harmonic rhythm. But the chords are shared by many songs (Elton John's "Crocodile Rock," the Commodores' "Easy," Rod Stewart's "Have I Told You Lately"), and the approach to harmonic rhythm is also fairly common.
Resolution: A trial is pending.
2. Also in 2016 …
Claim: The writers of X-Factor winner Matt Cardle's "Photograph" sued Sheeran for $20 million, accusing him of "note for note" copying on his song "Amazing."
Similarities: The melody of "Photograph" is unusually close to that of "Amazing."
Resolution: Settled out of court.
3. 2017
Claim: Sheeran's "Shape of You" was called out on social media for being melodically similar to TLC's "No Scrubs."
Similarities: Like "Photograph," the melodic similarity here is notable, especially in the pre-chorus.
Resolution: The "No Scrubs" songwriters were added to the credits of "Shape of You" after it drew scrutiny.
4. 2018
Claim: Sean Carey and Beau Golden sued Sheeran for $5 million for "The Rest of Our Life," a song he co-wrote for Tim McGraw and Faith Hill, for copying their song "When I Found You."
Similarities: The same, main melodic motif opens both songs.
Resolution: Settled for an undisclosed amount.
*A version of this article appears in the April 1, 2019, issue of New York Magazine. Subscribe Now!