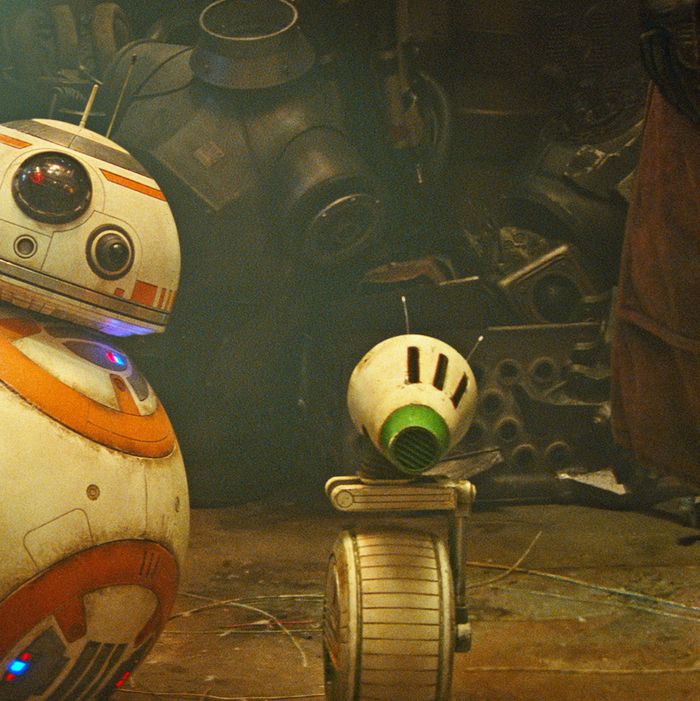 So little! So cute!
Photo: Lucasfilms
The orbicular BB-8 faces a new, tiny challenge to its robotic cuteness throne. At a presentation for Star Wars: Episode IX, now ominously and/or confusingly subtitled The Rise of Skywalker, J.J. Abrams made lots of hints about the content of the new movie, which will feature appearances from Keri Russell and Greg Grunberg and is therefore canonically Felicity-core. Abrams revealed that the film will introduce a tiny little new droid friend. Meet D-0, a cute little guy that looks like a megaphone on top of a wheel of cheese and whose name sounds like "deo."
In the presentation, Abrams said he wanted to show everyone that D-0 is, like a Death Star, a fully operational adorableness operation, and brought it out onstage. Abrams showed off various concept sketches, some of which made it clear that the robot was based in part on the shape of a duck and described it as a "new friend" of BB-8. The two seem to have a sassy, Frasier (BB-8) and Niles (D-0) sort of relationship.
With its arrival in the Star Wars verse, D-0 marks the third iteration of the Disney-era Star Wars movies' spherical riffs on R2-D2, also counting BB-8's evil twin BB-9E. Plus, there are also plenty of other cute things around like porgs and fish nuns (they're cool, don't doubt us on this!). It's almost like this space universe is designed with merchandise opportunities in mind.