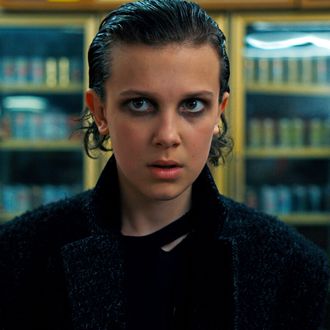 Exactly how many people watch individual shows on Netflix remains mostly a mystery, but a new survey suggests that the streaming giant's self-produced content is breaking through with subscribers. According to a new report from leading Wall Street analysts MoffettNathanson, seven of the ten programs most often identified as Netflix subscriber favorites are produced in-house, with Stranger Things and Orange Is the New Black outperforming acquired hits such as Friends and The Office. That's the good news. The downside for Netflix: Audiences are still attached to plenty of shows from outside suppliers, some of whom have been threatening to pull those programs from the streamer.
MoffettNathanson arrived at its conclusion by surveying more than 500 Americans from among a demographically representative sample, and then asking the 430 who said they had access to Netflix to list up to five of their favorite programs from the service. The group collectively responded by naming 271 different titles, a sign that Netflix's strategy of offering something for everyone is paying off by yielding a slew of shows that a small portion of the subscriber base really loves. "The breadth and variety of the answers point to the deep value of a diverse library," MoffettNathanson concluded. Indeed, only two shows were named by more than 10 percent of the survey responders: Stranger Things (13 percent) and OITNB (10 percent), while nearly half of the top 20 titles were mentioned by just 3 percent of those polled. Other titles among the most-mentioned Netflix-produced shows include Grace and Frankie (6 percent), Ozark (5 percent), and the recently launched Umbrella Academy (4 percent). To be sure, the MoffettNathanson survey shouldn't be seen as evidence of what the most-watched titles on Netflix actually are: The poll isn't a substitute for Nielsen ratings or data from Netflix, but rather an educated guess at which shows on the service have the most sizable fan bases.
While Netflix-produced titles topped the list, the survey also underscores what Netflix's rivals have been saying for years: Syndicated content bought from outside companies remains very popular with audiences. Half of the top 20 titles in the MoffettNathanson survey come from competitors, led by NBCUniversal's The Office (8 percent), Warner Bros. TV's Friends (7 percent), and Disney-produced Grey's Anatomy (4 percent). All of those companies are set to unveil their own streaming services by the end of the year, and eventually they may look to put their hugely popular library titles on those platforms. WBTV parent company WarnerMedia has made it clear it at least wants to share custody of Friends when it launches its own streaming play, while Disney has made it clear it eventually wants to put all Disney shows on Disney-owned services.
What might yet prevent a sort of mass exit of library content from Netflix — a librexit, if you will — is that Netflix has shown a willingness to pay top dollar for content it really wants. Disney seems to have accepted losing some of that sweet Netflix coin as a necessary cost to building its own subscriber base, but other studios may not be willing to give it up. "We continue to believe that Netflix will be able to source content from Hollywood's studios because few have embraced Disney's strategy," MoffettNathanson's report says. In the meantime, Netflix can take comfort in knowing its customers are really into quite a few of its original shows, even series not beloved by critics. Among the top shows mentioned in the MoffettNathanson survey: Old-school sitcoms Fuller House and The Ranch.