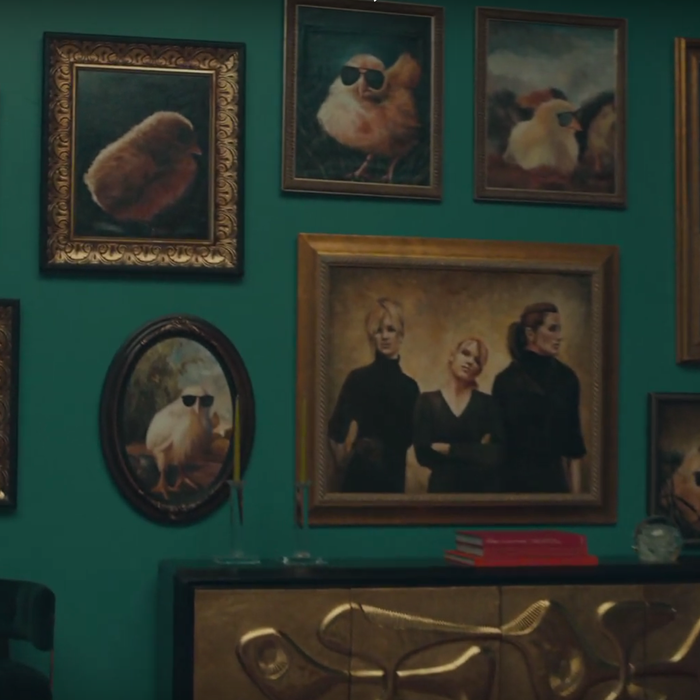 When you see it.
Photo: Taylor Swift
Give yourselves a round of applause and a shot of something potent, for we've survived yet another Taylor Swift easter-egg hunt (or at least round one of the latest.) On Thursday night, Swift dropped her new single "ME!," featuring Panic! At the Disco's Brendon Urie, and its pastel attack of a music video. Said visuals are, of course, not just any ole' music video — there's subtext here, folks. Buried within the video are many of the clues Swift left for fans on her Instagram throughout her 13 Days of Horror counting down to the song's release. Some are so elusive, Robert Mueller would run the other way. Others are hiding in plain sight. One of the biggest mysteries among Swift's trail of breadcrumbs was a photo that went way off-theme, an absolutely baffling Instagram of a gallery wall full of photos of baby chicks in sunglasses. Literal accessorized chickens. All meaning (and hope) was lost.
Naturally, this seeming curve ball was intentional, designed to throw even the most decorated Swiftie sleuth off their game and off her scent. At last, all has been revealed. We finally know what the damn chickens in sunglasses meant, and quite frankly, we're sorry we ever doubted your genius, Taylor. A little less than a minute into the video, the camera scans over Urie's shoulder and, behold, there's the wall of paintings of chicks in glasses previously in question. And what's that? Their appearance now aligns with the lyric "and there's a lot of cool chicks out there." And, oh my god, one of these paintings is not like the others. Holy shit, that's a painting of the Dixie Chicks, front and center, right? All dressed in black, taking no one's nonsense. Oh, did you miss it? Let's zoom right on in.
Okay, let's take one more look at ya, this time with the painting next to Urie, who looks completely beside himself over this cameo. Same!
Oh, what a world. Okay, so now we know what the chicks in sunglasses represented — well played, Taylor, you really got us — but what does the Dixie Chicks appearing in this video mean? The reference and respect paid to Taylor's country roots and the women who paved the way (and who were famously ostracized by the country music industry for their specific methods of trailblazing) is evident, but could Swift including such a bold and unmistakable nod to Natalie Maines, Martie Maguire, and Emily Strayer signal something deeper? Is a collaboration in the works? (Swift did perform the Chicks' "Goodbye Earl" with Maines on her 1989 tour, adding, "If not for this woman and her band, I would not have known that you could be quirky, be fun, be yourself, be outspoken and brave and real.") Or does their inclusion suggest that Swift is shutting the door on her country past for good and giving it a middle finger on her way out? Just one more clue, Taylor! Inquiring minds, like the Dixie Chicks themselves, apparently, need answers!