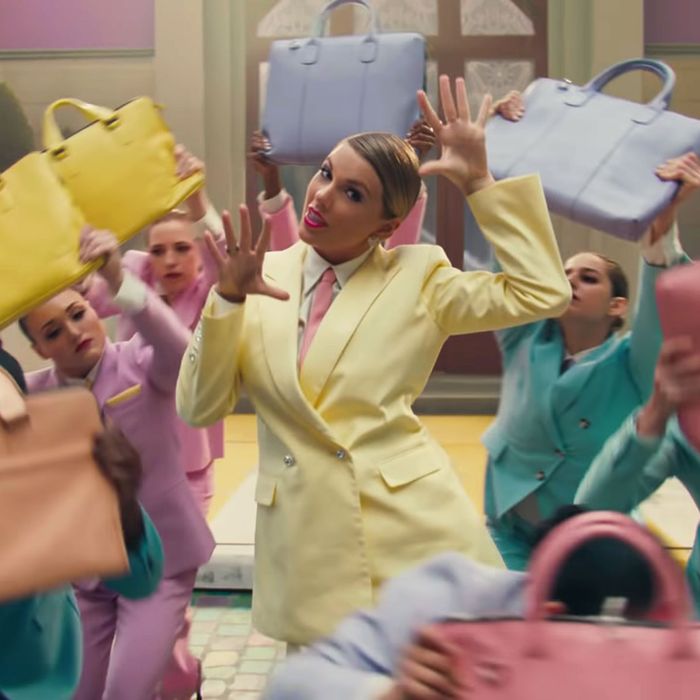 It's an everything smoothie brimming with bits of Lisa Frank, Splatoon,
Mary Poppins
, and "California Gurls."
Photo: Taylor Swift/YouTube
Taylor Swift made a good villain. Her heel turn in the Reputation era was necessary image reform. The role of the happy-go-lucky pop-idol Swift played from Nashville to New York ceased being believable in the face of mounting bad press. No one's upbeat all the time, especially not in a tussle with a powerful adversary. Taylor getting her hands a little dirty throughout her spat with the Kardashian-Wests humanized her. The self-deprecating bits of the "Look What You Made Me Do" video and the delighted meanness of songs like "I Did Something Bad" and "This Is Why We Can't Have Nice Things" felt corrective. In these songs, Swift got to communicate that she knows what unflattering remarks are made about her out of earshot, and she actually cares. That was realer than the seemingly endless reserve of grace she displayed in other eras. Swift making it out of the Reputation era looking better than the people who caught her in a bold lie is a come-from-behind victory as outrageous but also inevitable as Avengers: Endgame. But negativity is draining and unsustainable. Doing bad never feels good for very long.
When I revisit Reputation, I'm not coming back for snark, anyway. I'm reeled in by tight hooks and by tenderness under fire. I'm replaying "Delicate," "End Game," and "Dancing With Our Hands Tied." I'm returning to the stunning six-minute koto drum spectacle Netflix's Taylor Swift Reputation Stadium Tour documentary captured during "King of My Heart." I'm most interested in Taylor Swift as a medium, as a songwriter who appears to be able to just pluck a melody out of the air whenever she pleases. Last night in Nashville, when Swift told Robin Roberts, "With a pop song, we have an ability to get a melody stuck in people's heads, and I just want it to be one that makes them feel better about themselves, not worse," I respected that urge to get back to her main objective. I wanted the new music she's been advertising around Nashville and Instagram in vibrant pastel color to bring her back to her country roots in a year when mainstream pop seems more receptive to that than it has in a long time. I'll settle for what we got.
"ME!" — produced by frequent Lorde collaborator Joel Little and featuring Panic! at the Disco's Brendon Urie, with a clip directed by Swift and music video and movie vet Dave Meyers — is the most fuss-free Taylor Swift lead single in ages. ("Shake It Off" borders on the annoying kind of catchy. "Look What You Made Me Do" is a more intriguing video than a song; "Ready for It" and "End Game" served better beats, raps, and hooks.) From the first scene, where the Reputation snake explodes into a kaleidoscope of butterflies with rainbow wings, "ME!" is cute but cloying. It's an everything smoothie brimming with bits of Lisa Frank, Splatoon, Mary Poppins, and "California Gurls." Processing what you're seeing and hearing feels a lot like brain freeze. The video smartly identifies musical theater as the common ground between Taylor Swift and Brendon Urie's respective wheelhouses. (Having Urie appear in a video bursting with rainbows after he came out as pansexual is clever queer subtext, if any part of this video can be called subtle.) Even when they're overdoing it, they at least look like they're having fun. There's entirely too much going on, and lot of it has been done before, but the chorus barrels at you like a 747, and seeing Brendon Urie continue to flower as a straight-up pop star is one of this era's coolest career reversals.
That said, since we're going to hear this thing dripping out of PA systems all summer, it's hard not to wish the words were less vague. Say what you will about Reputation, but if you lived any of the oddly specific scenarios the songs painted — if you ever caught yourself muttering "My reputation's never been worse …" in a tight spot — they hit hard. "ME!" aims to reach the masses by sacrificing nuance for fun-for-the-family relatability. The lyrics are campy: "Hey, kids, spelling is fun! / Girl, there ain't no 'I' in 'team,' but you know there is a 'me.'" It's like Off! for cynics. (Remember when Kendrick Lamar crooning "I LOVE MYSELF" on "i" made folks worry that he was trolling for hits and Grammys?) It's like Disney characters candy flipping. It's chipper almost to a point of self-parody. Where Reputation advanced Taylor Swift's career by pushing her toward new moods and genres, "ME!" is a nostalgia trip. It's back to basics, but it's also a touch basic.