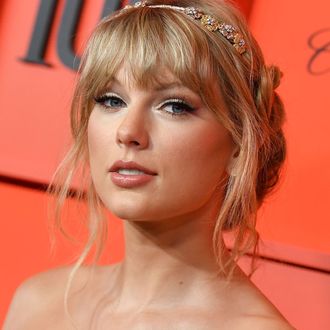 Taylor Swift.
Photo: Angela Weiss/AFP/Getty Images
Taylor Swift has had fans on edge for nearly two weeks since she launched a mysterious countdown clock on her social pages, set to expire on April 26. Vulture's senior Taylor scholar recently went deep — like, incredibly deep — parsing out the meaning of clues Swift has left online about the meaning of her secret announcement, but Swift explicitly mentioned "the song and the new music" in an Instagram Story video she posted today. She also posted her latest clue, which is a photo of a butterfly mural done in Nashville. Between the wings of the butterfly is Taylor Swift and above her head is the word Me. So that's a confirmation of new music, attached to a clue that's a painting done in Nashville, which maybe means TS7 is a country album that returns to her roots as chord-strumming singer-songwriter and the lead single is called "Me"? Or … not?!
Also noteworthy: Swift said in her butterfly 'gram that she'll be speaking with Robin Roberts on an ABC broadcast tonight. And Robin Roberts is someone you discuss real things with, so perhaps Taylor has some life updates she's planning to share? Maybe something that has to do with Joe Alwyn? There are also three cats in the mural instead of two, so maybe Olivia Benson and Dr. Meredith Gray have a new companion? Or maybe 20GayTeen isn't over yet and the Kaylor truthers — who all know the song "Dress" better than the sound of their own voices — will finally be vindicated? We will find out soon, but the agony of anticipation continues for a few more hours.
Update: Swift confirmed during tonight's NFL Draft broadcast that fans can expect a new single and music video titled "Me!" to drop when her countdown clock runs out at midnight Eastern tonight. She said the song, which features Brendon Urie from Panic At The Disco, is about "embracing your individuality and really owning it." So, let your imagination go wild with that.