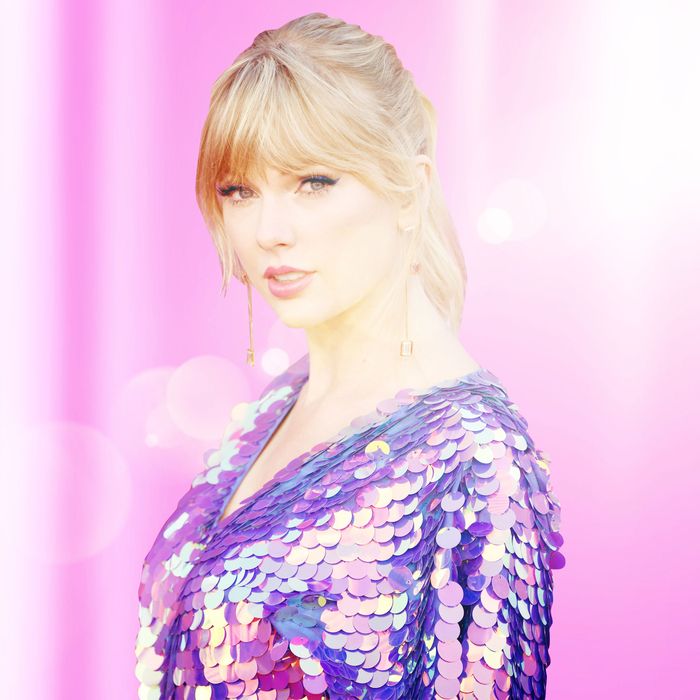 The TS7 era is upon us and, it turns out, has been for a while.
Photo: Vulture/Getty Images
Sometimes I think about men who sanctimoniously say their favorite movie is The Prestige and I'm like, you frauds could never handle a Taylor Swift pre-album clue trail. Fans of Westworld, Marvel, and DC combined have nothing on Swifties, the official sleuth cult of Taylor Swift. On April 13, Swift dropped a 13-day countdown clock on her social media, signaling something big and mysterious to come on April 26, and also confirming what the Swifties have long prophesied: the dawn of TS7, the singer-songwriter's seventh studio album.
Swift has been dangling TS7 carrots in front of our treadmill since New Year's Day — but prior to April 13, the day of the "official" announcement, Swifties who'd prematurely sounded the alarm just frankly sounded a little nutty. As it turns out, the naysayers were the fools. I explored all of the psychotic fan theories about TS7, at first joyously, then painstakingly, until my contacts shriveled and fell into my bra. Here's everything we can cull about the new music from fan theories about all of the ridiculous bread crumbs she's been leaving.
The Pastel Color Story
I want to zoom out before I shove you head first down the TS7 K-hole — a broad glimpse at the beast we're dealing with. When Swift first started posting new photos on social media in February, her color palette shifted violently, a return to "screaming color," if you will. Taylor Swift loves a color story: The Reputation epoch was marked in black and white, spliced with moody reds and venomous greens — stark, powerful colors that reflected the themes of the album (power, taking control, resolute declarations of love, lust, and the ends of eras). I mean, this warlock has an album called Red, and the title track is basically about synesthesia.
Since February, her Instagram has been painted pastel — sunny yellows, sea foams, violets, and millennial pinks — a color scheme redolent of the "old Taylor" (once pronounced dead), the Romeo and Juliet, "spinning like a girl in a brand-new dress," wonderstruck Taylor. Even her recent Time and Elle U.K. covers fit her Instagram's color story. All signs predict that, lyrically and sonically, TS7 will be a return to her days of girlish lusting: uplifting, hopeful, pure, optimistic, brimming with love and daydreams and crushes and new dawns that follow dark times. The actual composition, the music, will likely differ from Reputation, too — she may return to the more strummy sounds of Red or Speak Now, rather than the dark, moody synths and swirling electronic harmonies of her latest album. But also, that "screaming color" reference is from 1989 — so maybe the album will be pure pop!
On the topic of Speak Now, the background art for every single Taylor Swift song on Spotify has changed to display her "4.26" countdown, except for "The Story of Us," which is the seventh song on Speak Now (seven = TS7), and that song's run time is 4:26. "The Story of Us" also contains the phrase "next chapter," which Swift coyly (and purposefully) uttered when accepting an award at the AMAs in October. "I'm even more excited for the next chapter," she said — maybe the first public hint at TS7.
The Incomprehensible Instagram Imagery
But if you look past the pastel aesthetic and focus on the actual images she's been sharing, they're pretty bananas. On Swift's Instagram, we've got chickens in sunglasses, businesswomen holding briefcases, studded hearts, ruched tutu fabric, manic beading and sequins, bike spokes, rainbow cobblestones, recurring butterflies — what does it all mean?! Some posit that Swift won't even be dropping new music on April 26, that she could just be trolling us with a campy Target fashion line reveal. I disagree. Swift is like a mad pop-star scientist — everything is a cipher — and all of these images are connected somehow. (She's even started wearing clothes with similar imagery, some of which look a whole lot like unreleased merch.) Stay with me Scullies, I'm going full Mulder: All these photos are likely behind-the-scenes screengrabs from a music video that's going to drop on April 26.
If you look at the ground in the businesswomen photo, it matches the rainbow cobblestones in the other. Also, the studded heart seems to be juxtaposed against the ruched tutu fabric. And these two images were taken in the same location on the same day, if you look at her white shirt and blue sweater, and the white fence on the side of the tennis court. All of these pictures clearly exist in the same Taylor Swift cinematic universe. It has to be a music video, right? Or is it something bigger, like a documentary? Regardless, what would the video or documentary be about?! [Scampers across the room to my other Carrie Mathison pinboard.]
Kaylor Truthers and the Opal Symbolism
My personal favorite theory hails from the Kaylor shippers, the faction of Swifties that believes that Taylor Swift and her former BFF Karlie Kloss were romantically involved. The theory is that Swift has been dropping hints about her love for Karlie Kloss since the Reputation era. On Tuesday night, Kaylor shippers picked up on something crucial: During Taylor's performance of "New Years Day" at the TIME 100 Gala, Swift seemingly changed the lyrics from "I want your midnights" to "I want her midnights" not once, but twice. "New Years Day" is the final track on Reputation, which, in theory, could segue into the "next chapter…"
Also, the Reputation CD skin pictures a collaged photo of the pop star — but Kaylors think it's actually a dual image of Swift and Kloss, which sends the incognito message that they are one. That collage-image theme is bleeding into this new album cycle, too — we've seen it used again in photos from her Elle U.K. photo shoot. In the Reputation song "So It Goes," Swift sings, "Cut me into pieces, gold cage hostage to my feelings, and our pieces fall right into place." Swift loves a puzzle, and these images actually look like puzzle pieces. Plus, some Swifties hilariously posit that her Instagram of chickens wearing sunglasses was a reference to Taylor and Karlie in sunglasses — the "chicks," if you will. She wants us to solve the Kaylor puzzle, you guys.
But Swift also loves hiding things in plain sight. Her April 14 Instagram depicts the singer wearing opal rings, as do her Time cover and photos of her from the iHeartRadio Music Awards in March, also posted on her 'gram. Opals are known to symbolize love, seduction, desire, passion, faithfulness, and loyalty; they're also believed to be "emotional stabilizers." Yeah, I, too, would need an emotional stabilizer after falling in love with my model best friend who married into the Kushner family. Opal and pink tourmaline (depicted in this April 13 Instagram) are also the birthstones of October. Four of her six studio albums have been released in October; meanwhile, Kloss just so happened to have wed Joshua Kushner in, you guessed it, October.
And check this out: In an interview with Us Weekly in 2017, Swift said, "When I was bullied in school, my mom used to take me to T.J. Maxx after school to look at the opal jewelry. I thought opals were so beautiful, and somehow it made me feel better. We never bought them, just looked." So, the opal rings might be symbolic of "feeling better." Maybe, in Swift's mind, she's healing from the public beating she's taken over the last few years. (The Reputation era was very transparently about overcoming that backlash.) Now, the wounds have been stitched up, and she's stable and happy with herself again.
The Numbers
April 13 was not the first time Swift whispered about a "4.26" announcement. She penned an article for Elle back in March titled "30 Things I Learned Before Turning 30," and fans have since realized that No. 26 on the list reads, "I make countdowns for things I'm excited about." But wait, there's more.
On January 1, Swift's official fan club tweeted 115 rainbow emojis, captioned "another 2019 big mood." The rainbows pointed to her new aesthetic — pastels, butterflies, sunshine, glittery hearts. But also, on January 1, there were 115 days until April 26. [Pulls down ceiling chain on attic door leading to another room of deranged pinboards.]
There's also an official Taylor Swift 2019 calendar that many fans noticed had wax stamps on specific days: the 13th of April, May, July, August, and December (13 is Swift's lucky number). Sure enough, April 13 was the day the countdown was announced. My guess is that each stamp marks another single release — or even music videos. This shit goes deep.
Fractured photographs, calendar play, and coded public statements aside, here's where I started feeling crazy. April 13 is National Scrabble Day. In October 2018, Godlor fucking Swift posted a photo of her playing Scrabble with her mom, and captioned it "let the games BEGIN." And on February 24, she posted a mysterious photo of seven palm trees and 61 stars. Again, seven = TS7. And, you guys, there are 61 days between February 24 and April 26. Do you see? Do you see??? [A gust of wind blusters through an open window and blows my papers all over the attic.] NO!!!! MY RESEARCH!!!!
If you got all the way through this without thinking, Ugh, her mind, then grow up. Taylor Swift is an adorable pop-star version of the guy from Saw, and we all extremely want to play the game.
This post has been updated throughout.