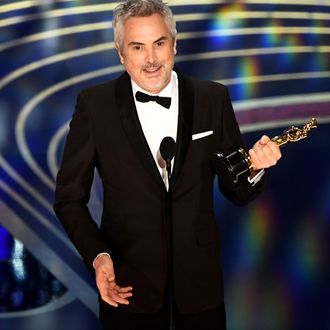 Photo: Valerie Macon/AFP/Getty Images
At long last, the Academy of Motion Picture Arts and Science's Board of Governors met Tuesday night to consider changes to Oscar rules. The "Foreign Language Film" category has been renamed "International Feature Film," and now five movies can be nominated in the Makeup and Hairstyling category, up from the previous three. The big question — would there be a big stand to block Netflix movies from competing for Best Picture? — fell flat. The previous eligibility rule was maintained, meaning Netflix movies with at least a seven-day theatrical run in a Los Angeles County are indeed still eligible for awards consideration.
"We support the theatrical experience as integral to the art of motion pictures, and this weighed heavily in our discussions," Academy president John Bailey said in a statement. "Our rules currently require theatrical exhibition, and also allow for a broad selection of films to be submitted for Oscars consideration. We plan to further study the profound changes occurring in our industry and continue discussions with our members about these issues."
What's more, Steven Spielberg — who once seemed very anti-Netflix — wasn't even all that anti-Netflix anyway. That's according to "two people close to him, who spoke on the condition of anonymity to maintain their relationship," who told the New York Times in a report published last night that Spielberg wasn't even present at the big vote because he's working on a little movie called West Side Story. The 92nd Oscars will be held on Sunday, February 9, 2020.