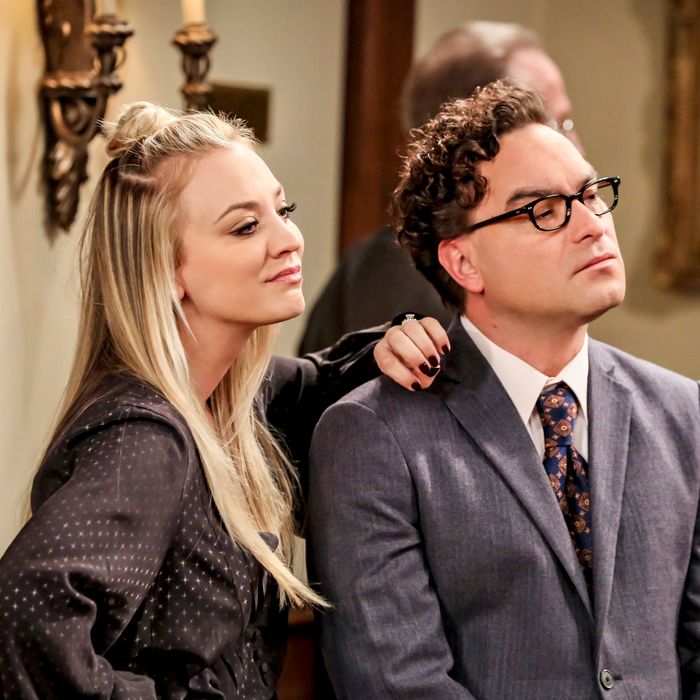 Photo: Michael Yarish/CBS
After nearly a monthlong hiatus for March Madness business, The Big Bang Theory returns, and, prepare your groans, so does that damn super-asymmetry plot.
Except, wait, there's actually some movement in the story line, though it might not be a positive development for Sheldon and Amy. But also, more surprisingly, it's might not be Sheldon's fault.
In a guest star-packed episode, Ellen DeGeneres appears in a faux installment of her daytime talk show. Her guests: Sheldon and Amy's wily Nobel Prize rivals Pemberton (Sean Astin) and Campbell (Kal Penn), who are waging a publicity campaign by making up spoof songs (Olivia Newton-John's "Physical" becomes an ode to "Physicists") and singing them in viral videos.
The hucksters' ploy to charm the public is working (hence the appearance on Ellen), and when it turns out that Sheldon has previously alienated many of his fellow scientists by, well, by being Sheldon, Shamy's chances of nabbing the Nobel for themselves are looking slimmer and slimmer.
This is, of course, particularly irksome to the couple. They know Pemberton and Campbell's connection to super asymmetry is accidental. Those two, in fact, can't even explain the idea (hence the diversion of the wannabe Weird Als and their poor parody tunes). Making the situation extra personally painful, Shamy came up with their project in the moments leading up to their wedding, convincing them that it is their destiny to be linked personally and professionally by super asymmetry.
Caltech president Siebert is also invested in Shamy's Nobel pursuit, and in an effort to sway support among the scientific community their way, he hosts a special reception to which Nobel laureates Kip Thorne, George Smoot, and Frances Arnold are invited. They're all among the many who've been the butt of a Sheldon slight, too, and even care packages of cookies don't bring them back around. Personal pleas by Shamy pals Leonard and Penny (yes, mostly by Penny) smooth things over, and the aforementioned smarty-pantses show up at Dr. Siebert's soiree.
So do Pemberton and Campbell. And their smug glad-handing in this room full of luminaries, with so much on the line, proves just too much for Shamy to take. Well, for Amy to take. Though everyone's concern has been focused on keeping Sheldon in line — even Sheldon himself has arranged for Leonard to alert him with a phrase ("shut up!") when he's about to make a stupid mistake — it's Amy who loses her cool. She calls out Pemberton and Campbell as impostors in a loud rant, leaving the entire room stunned into silence.
Will this officially doom Shamy's shot at the award? Or will the fact that the usually calm, kind, professional scientist was driven to such an outburst serve to finally convince her colleagues in the larger scientific community (not to mention Nobel voters) that Sheldon and Amy are the ones who deserve credit and accolades for super asymmetry? Only five episodes remain before the Big Bang series finale, and there's no doubt that this will continue to be a front burner story line.
Meanwhile, Bernadette and Stuart consider teaming up for a professional venture of their own, when Bernie wants to turn the sweet story Howard tells baby Halley to squash her fear of the dark into a children's book. Artist Stuart illustrates the tale, which revolves around Howard's astronaut days, and how he was afraid, too.
But sharing those details with a baby is one thing. Howard's not so thrilled with The Frightened Little Astronaut becoming a story that's known by babies, and more importantly adults, outside the Wolowitz home. Despite interest from a publisher friend of Stuart's, Howie nixes the idea of people reading a cute tale about him being a coward, he says, especially when it reminds him of how much the other astronauts poked fun at him during his mission. Bernadette says it doesn't spotlight cowardice, but that he was brave for going through with something that frightened him.
This, too, ends as an unresolved story line, but here's hoping Howard signs off on the book, and that it becomes a best seller. The reaction of a very successful Stuart is certainly a scenario I'd like to see play out before the series ends.
Theor-ems
• Howard suggests Bernadette give "the frightened little astronaut" some superhero abilities. She wants to keep the story true to Howard's experience in space. "Cats don't wear hats," he argues. "And if someone gives you green eggs, it ends with you on the toilet trying to make a deal with God."
• Bernie, about Halley: "I don't know why she's suddenly so afraid of everything."
Howard: "Honey, remember, she's my child, too."
• Sheldon nailing social media when he explains why he made unkind remarks to Nobel laureate Makoto Kobayashi: "I was jealous, angry, and new to Twitter. It was a dangerous combination."
• Sheldon's excited when Nobel laureate Saul Perlmutter uses the cookies Sheldon and Amy sent him to spell out a thank-you message. Or what Sheldon thinks is "Thank You."
Amy: "Sheldon, that word isn't thank."
• Sheldon tells Leonard he feels guilty that his past behavior toward his fellow scientists might prevent Amy from winning an award she deserves. "Wow … when did you start caring about other people's feelings?" Leonard asks.
Sheldon: "Well, I laughed when Amy got a shock from the broken Christmas tree lights, so it was after that."