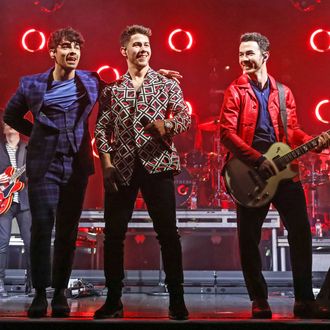 The Jonas Brothers.
Photo: Chelsea Lauren/Variety/REX/Shutterstock
It took alcohol and a jam session to bring the boys back together. In a recent tell-all interview with Billboard, the Jonas Brothers explained how they opened up about their troubles while Joe was lending one-third of the JoBro talent to Australia's The Voice last summer. The three apparently sat down for breakfast with a side of some much-needed family therapy — and to process their 2013 split. To release all those years of bottled-up emotions (and to avoid "Burnin' Up" in that Australian heat), they had to crack open a couple of cold ones.
The trio went around and asked each other their feelings about being in the band, and after every question, the other siblings rated how honest they thought the answer was out of ten. The rating then corresponded to the number of seconds the person had to drink, which sounds like taking the best part of truth or dare and making it worse. According to Nick, Kevin had to drink longer than his brothers since he "had a few skirt-arounds," and we estimate that at least nine out of ten psychologists probably would not recommend this method. After their Australian meet-up and other "hourslong conversations," the trio is doing much better. Nick says they're "in a healthy place, we're enjoying the ride. And I think the music is a reflection of that." It sounds like the boys are back and stronger than ever. The Bros recently took to Instagram to announce that their new album, Happiness Begins, is coming out June 7. Just in time to brighten up our summers.