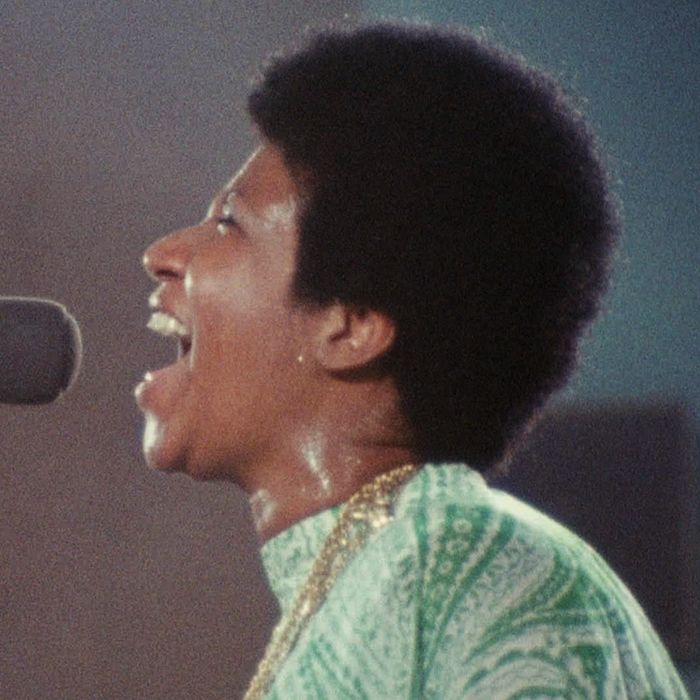 Photo: Amazing Grace Movie LLC
This story was originally published in November 2018. We're republishing it today for the release of Amazing Grace.
In January 1972, Aretha Franklin came to Los Angeles to create what would become her greatest artistic statement. Over two consecutive nights at the New Temple Missionary Baptist Church in Watts, before a live audience that included her father Reverend C.L. Franklin and her mentor Clara Ward (as well as Mick Jagger and Charlie Watts), she recorded her return to the gospel music she had grown up singing as a teenage prodigy. Accompanied by Reverend James Cleveland and the Southern California Community Choir, Aretha's sessions would be released later that year as the double album Amazing Grace. Her most personal record, it also became her most popular release, certified double platinum, the biggest-selling album of her career as well as the best-selling gospel album of all time.
But the liner notes of the original vinyl record revealed what must have been Aretha's greatest frustration: "The recording of this album was filmed by Warner Brothers, Inc. with Sydney Pollack directing." No movie was ever released, and the fate of what had become of the film project remained one of Hollywood's most enduring mysteries. Enter Alan Elliott, a young Atlantic Records employee in 1990 when he first learned about the long-lost movie. Over the next 28 years, Elliott worked like a cinematic Sherlock Holmes to at first crack the case (it turns out Pollack, who died in 2008, had neglected to use a clapper to sync images with audio) and then to salvage the film. Along the way, Elliott mortgaged his home several times to buy the existing footage, edit the film, and pay for insurance and lawyers; he needed the latter in abundance, as Aretha sued several times to prevent the movie from being screened, including its scheduled world premiere at the 2015 Telluride Film Festival. After Aretha passed away at 76 in August, her family and Elliott quickly came to an arrangement, and last month, the film — a remarkable document of the Queen of Soul at the height of her powers — finally premiered at two sold-out, emotional screenings at the Doc NYC festival.
Now a songwriting professor at the UCLA Herb Alpert School of Music, Elliott grew up in Hollywood, the son of composer Jack Elliott (who co-wrote the themes from Barney Miller and Charlie's Angels and was the longtime musical director of the Grammy Awards). Elliott spoke to Vulture over the phone from Los Angeles while driving to meet the city superintendent to finalize plans for a star on the Walk of Fame for the film's choir. Amazing Grace — without a director's credit for Pollack, per his family's wishes — opens at Film Forum this Friday for a one-week-only engagement in order to qualify for Academy Award consideration, with a nationwide release slated for 2019.
When did you first hear Aretha's album Amazing Grace?
In 1972 when I was 8 years old. Quincy Jones was a very close friend of my father's, and he was producing her next record, Hey Now Hey (The Other Side of the Sky), and that was a big deal at my house.
Was Amazing Grace an album that stayed with you throughout your youth and into your college years?
Yes. I was hired by Atlantic Records to become their A&R person for black music in 1990. When I was there, I was introduced to Jerry Wexler, who was one of the owners of Atlantic Records and co-produced the record. Jerry and I became very close, and Jerry said at a certain point, "You love Amazing Grace?" I said, "Yeah." He said, "We filmed it." I was like, "What?" He was like, "Yeah, there's a director, Sydney somebody."
In the small world that is Hollywood, Marilyn and Alan Bergman used to drive me to camp, so they introduced me to Sydney Pollack. So Sydney and I started having the conversation in 1990. Sydney never tells me about why the movie never got finished. There's sort of this mythos that had been built up in the intervening 18 years that Aretha didn't have a contract or something, but he never told me that the big problem was that he couldn't get the sync together.
Eleven years ago, I knew I needed a life raft off the Titanic known as the record business, and I remembered Amazing Grace, so I called Jerry Wexler, who was down in Sarasota, Florida, while my wife was pregnant with our first child, and I said, "What about Amazing Grace?" And he said, "Yeah, you're the Don Quixote type; why don't we get into that?"
So Sydney and I and Jerry are working on it together. That worked very well for a couple months, and then Sydney got pancreatic cancer. By that point we had been intimate enough to start to have the conversation of what kind of movie would it be, and we had sort of hit a logjam: Sydney wanted to do talking heads and I didn't. I was like, nope, the movie is actually in there; it's not going over to Quincy Jones's house and talking about how important it was. One day, I got a call from Sydney's assistant saying Sydney wants to talk with you and he's going to be very blunt with you. Sydney was a Method actor, and I think he wanted to fuck with me a little bit, in a fun way, for the least comfortable conversation I've ever had.
Now, I knew Sydney was sick: At my wedding, the best man was Ari Emanuel, and the man who officiated was Larry Gelbart, who wrote Tootsie. Larry had told me that Sydney was sick. So Sydney called and said, "Hi, Alan." And I said, "Sydney, I'm so sorry you're sick," and he turned it around and said, "I'm not sick, Alan. I'm fucking dying, but I'm calling because I want you to finish the movie. I know you know it better than I do, and I'm going to make sure you get to finish it." So Sydney and Ari Emanuel went to Warner Bros., and we expropriated the movie at Sydney's request. Then the fun started.
What was your reaction when you first saw what you had bought?
It was literally boxes. Sydney had died and then there was this delivery of all this stuff. There were just reams of documents and releases and things. There was an invoice to pay the choir director for lip-reading, and that was the tip-off that something is not right here. I started just going backward in sort of a detective way: Why were they lip-reading? It was, Oh, they don't have any sync. There is no work print. There is no assemblage that he had made. Sydney had no experience doing documentaries. Sydney's guys were turning the cameras on and turning them off, so they had thousands of pieces of footage in 1972, where footage hung on a clothesline with a hook and then had to be synched up to a quarter-inch piece of tape, so they had no chance.
What was also a huge mystery was that in the archives there were releases for every single everything — everything was documented, except there was no Aretha Franklin contract, so that was very odd. The film company could not find her contract.
At a certain point, I came up with the idea that perhaps Michel Gondry would be a good director to help me finish the movie because he had made Dave Chappelle's Block Party, so I contacted him on Facebook and he was really nice. We had a meeting, and I showed him the footage and he was kind of blown away. He was going to do it, and the idea was we'd pay Aretha a million dollars and we'd get the original choir and the original band and put everybody together at the original church and do one last song as a coda. So we were going to do that, but Aretha came back right before we were going to sign the papers and said, "Julia Roberts gets $10 million a movie, so I should get $5 million." We didn't have $5 million, so she just didn't want to do it in the end. Then Gondry called me and said, "I have to go do The Green Hornet, but my editor Jeff Buchanan, he loves the footage and he'd like to cut a trailer to show you how much he can do." So Jeff cut the trailer and it was great, and it's the same exact trailer that we use now. That ended up as a happy accident, and Jeff and I figured out how to edit the movie together in this really unique way where he was in New York and I was in Los Angeles.
When did you have a rough cut?
We had had a family and friends screening in New York in August 2011 and Aretha heard about it and got upset and sued me.  From Aretha's side, you can only imagine how angry she was. She had been promised her Woodstock. They had told her that she was going to be a movie star, that this was the follow up to Woodstock in a very serious way in terms of corporate synergy. The record company made a great record and the film company just bungled it. I can only imagine the heartbreak she had from 1972 to want to get that out into the world.
What is the feeling when the person for whom you've devoted your life to finally bringing their masterpiece to the world's movie screens sues you?
At the time, you're just sort of confused, 'cause it never made any sense, but in hindsight it makes complete sense in that she was upset about the fact that they messed it up in 1972.
Did she ever see the film?
She saw the film I think in 2015. In August 2015, she gave an interview to the Detroit Free Press saying that she loves the film, but she thinks there are some legal issues.
Did you meet her at the time?
I only met her once for five seconds, maybe eight seconds, in 2008 I believe. Jerry Wexler had told her that I was going to come to a concert that she did in Los Angeles. Now, when you go to an Aretha Franklin concert, it's usually about 85 degrees inside, so I'm in this wool suit, sweating, at the House of Blues in Los Angeles for about two hours. Then I'm ushered backstage, and I wait about 45 minutes to an hour for her to come out, and it's about 90 degrees backstage because she liked to keep it very warm, and then I was introduced to her. I genuflected and I said, "Miss Franklin, Jerry Wexler sent me. I'm so excited to meet you. It's so terrific. I'm the one who owns Amazing Grace." And she looked at me and said, "We'll be speaking." And that was it.
What was the upshot of the 2011 lawsuit?
So she sues me, and I take a Pollyanna approach to it, which is, Okay, this is an excuse to negotiate. So we crafted a deal that said we need to negotiate in good faith, and then we never heard from her, and her lawyer disappeared. She would change agents, and there was no manager, so there was no real way to negotiate. She did all her own negotiating, from what I was told. Then in 2013, Warner Bros. Films discovered her contract, which was really what I thought was going to be this great moment — because now I would be allowed to negotiate with whomever she had, knowing that we had her contract — but that was not the case. For a year or so, I tried to negotiate and tell her that we had her contract, and that didn't work.
So in 2015, we went to Telluride, and we were waiting in line for the director's lunch on the Friday that the film is gonna open. It's 11 a.m., and I get a call saying we're being sued in federal court in Denver and that we have to hire a lawyer for an emergency injunction at 3 p.m. So they sued the film festival and it was just chaos. At the end of the day, she showed up on the phone to talk to the judge, and the judge was very impressed that Aretha Franklin had called him, and he gave her a 14-day stay in the state of Colorado. It was a shock to the First Amendment, it was a shock to the fact that she had a contract, but everything superseded it because she was Aretha Franklin, and who wants to say no to Aretha Franklin? The judge didn't want to say no to Aretha Franklin.
Then they said Aretha wanted money, and we said, "Okay, how much?" I again took it as a hopeful sign that we could negotiate. They said, "Okay, you can show the movie in Toronto next week, but you can only show it for buyers, you can't show it to the public." Then a bidding war ensued, and Lionsgate won, and then we tried to craft a contract for six months and it didn't work out. At the time, it was a huge heartbreak, obviously, but what I didn't know at the time was that she had pancreatic cancer. I had been corresponding with Sabrina Owens, who is now the executor of the will, we had become friendly, and somewhere around there, she told me that she was not well. And then, Aretha said that she wanted to negotiate through another lawyer, that she wanted to negotiate and get another deal done, and then we tried, and she just disappeared.
Wasn't there a 2016 Telluride cancellation as well?
Yeah, that was the second time we tried it. They said to us that they wanted to negotiate another deal after the Lionsgate deal fell apart. We tried, and then Sabrina hipped me to the fact that Aretha just wasn't well, and that was heartbreaking. I didn't start the movie to stick it in the eye of Aretha Franklin, that wasn't the intended thing. I wanted to work with Aretha Franklin. I wanted to bring glory to Aretha Franklin; it was never to be disrespectful to Aretha Franklin. So when Sabrina and I were talking and she said she's not well, there was just nothing to do, so we sat on it.
So you and your producing partner Terrell Whitley were invited to Aretha's funeral in Detroit in August?
When Aretha passed, Sabrina reached out and asked if we would come to the funeral, so we went to Detroit. A couple weeks later, Sabrina reached out and asked if we would come to Detroit again and show the film to the family, so we did. There was a lot of emotion when we showed it. So she called me on the way home, and Sabrina negotiates for a living, she's one of the heads of HR for labor relations for the University of Michigan, so within I believe three to five minutes, we had a deal. It's all crazy. I could be overestimating. She said, "Well, you should make me an offer." And I said, "Okay, how about this?" And she said, "How about that?" And I said, "Okay, great."
Was that surreal after that whole 46-year saga, to have it all wrapped up so suddenly?
It's all crazy. It's the craziest story that I know of in show business. I think we've lapped the field on crazy.
Are there distribution plans beyond the one-week runs in New York and Los Angeles?
We're sussing it out. How are we going to do stuff that is meaningful to her legacy? I feel very protective, and I think Sabrina does, too, of how do we sort of do this for us, by us. We're really excited about finding a good distribution partner, but it has to be someone who understands that we are going to be doing these events in a noncorporate fashion with Reverend William Barber, with the Poor People's Campaign, with Clean Water for Flint, with voter registration, and aren't scared by that and actually are interested in that. So we've been very picky about the conversations. And, look, it's also a brutal, brutal business, so if we don't find distribution, we'll do it by ourselves. There are other ways besides going through a giant distribution company. As you can tell, after 11 years, I'm not a volume business.
You oversaw the entire postproduction; is there anything left in the film that has Sydney Pollack's touch?
One of my favorite moments is the last shot of the movie, which is Aretha after she's sat down and finished with everything, and Sydney's just standing over her shoulder. That's a really emotional moment for me, always, because he was such a terrific guy, and I would never have been able to make the movie without him.
This interview has been edited and condensed for clarity.