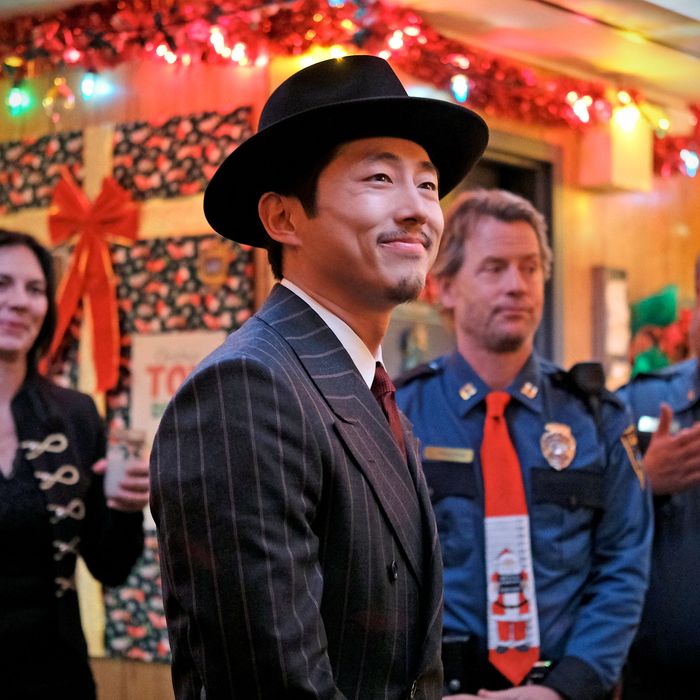 Photo: Robert Falconer/CBS
The small town of Iglaak, Alaska, population 936, is located almost 1,500 miles from the North Pole and seemingly just as far from anything resembling civilization. It boasts a nearby Air Force base — which it mostly exists to serve and with which it shares an unreliable power grid — and little else. But Iglaak wasn't always Iglaak and Alaska wasn't always Alaska. It took settlers from elsewhere to the place with those names, names borrowed from the Inuits, who were there before. And the same settlers brought their own traditions, like Christmas, to Iglaak, and they did so with the sense that the change would be permanent, that this land was theirs forever.
But what if settlers from elsewhere, maybe not even from this planet, had other ideas?
That's the question driving the fourth episode of the revived Twilight Zone, even if "A Traveler" takes some time getting around to revealing it. But the time it takes only enriches the episode. The basic plot is pretty easy to sum up, and echoes several classic episodes in which it's unclear who is and isn't an alien visitor (most clearly "Will the Real Martian Please Stand Up?"). But the atmosphere surrounding that plot, the tense direction of Ana Lily Amirpour (A Girl Walks Home Alone at Night), and the performances of Greg Kinnear, Steven Yeun, and newcomer Marika Sila make this an enjoyable, bleakly funny installment — even if it loses a little momentum in the home stretch.
In other words, it's at its best the closer the story stays to Iglaak's police station, a domain ruled over by Captain Lane Pendleton (Kinnear), a police chief who enjoys his power, enjoys holding court (and making casually racist comments about the Inuit residents), and usually ignores his far more competent deputy Yuka (Sila), who can barely stand her boss but tolerates him in the name of duty.
Captain Lane Pendleton is a man of tradition, and those traditions include pardoning a stranger on Christmas Eve. This year, the ceremonial stranger is set to be Yuka's hard-drinking brother, Jack. Then, somehow, a mysterious man who says he's had his named legally changed to "A Traveler" (short for Aggro Traveler, the name of his YouTube channel) shows up in jail. It's all part of his life as an "extreme tourist," and getting pardoned by Captain Lane Pendleton is on his bucket list.
A (Yeun) is charming and dapper too. He wears a sharp suit, albeit one that seems to be a few decades out of date. Not out of date: His phone, which he claims is Russian-made, appears to be a highly advanced piece of technology. But who can worry about such matters when there is a chance to be on YouTube? Not the Iglaak locals — except for Yuka, who runs a background check that comes up empty. Too empty. Who is this guy?
Whoever he is, he knows how to command attention and disarm those he meets by making them feel like they're the center of the universe. He's not that far off from the sociopath Yeun played in last year's great movie Burning, and for a while it seems like he could be a sociopath. What other kind of person walks into a jail cell only to schmooze his way out?
Maybe no kind of person known to Earth. As the celebration mounts and the karaoke gets into full swing, A commands the crowd. Everyone's having a great time. So it's a drag when A decides to sour the mood, accusing Jack of theft and then trotting out some old grievances that turn the revelers against one another while he looks on impassively. Maybe he is a sociopath after all. Or maybe he's a Russian spy.
Of course, Captain Pendleton knows a thing or two about the Russians, and when A begins pushing his buttons, he starts to panic about a deal he's made. Here, at least, collusion is a crime, and Pendleton is guilty as hell. All of which leads to a three-way battle of wills between Yuka, A, and the captain. And it's not a battle Pendleton is cut out to win.
The battle is also one that, when in full swing, takes some of the air out of the episode. The final confrontation between Yuka and Pendleton feels a bit anticlimactic in a way the funny coda doesn't quite pay off. But what's come before plays well enough that it doesn't really matter that much. Amirpour's skillful use of the confined space of the police station, the jail, and the long corridor between the two keeps the tension high, while the script, by Glen Morgan, keeps finding clever ways to circle back to the theme of colonization. "They have been shoving their way of life on everyone everywhere they show up," Jack tells Yuka at the top of the episode. By the end, he's ready to take a chance on the aliens. At least from his point of view, they couldn't be any worse than a culture that puts Captain Lane Pendleton in charge.
Science and Superstition
• Kinnear and Yeun are, as expected, very good in this episode, but the breakout performance comes from Sila, who doesn't have much in the way of screen credits but whose website touts her work as "an Inuit artist, actress, yoga teacher, fire performer and youth facilitator." She was also named the 2017 Canadian Hooper of the Year thanks to her hoop-dancing skills. Here, her dry, suspicious character offsets the loquacious men around her. She's one to watch.
• I spotted a bunch of Easter eggs in this week's episode, but I'm sure I didn't catch them all. There's another gremlin doll, Willie the dummy returns on the wrapping-paper art, and there's a character named Ida Lupino, after the actress and director who starred in one memorable Twilight Zone episode, "The Sixteen-Millimeter Shrine," and directed another, "The Masks," the only original-series episode to be directed by a woman. Amirpour's the first woman to direct a revival episode, making the tip of the hat all the more apt.