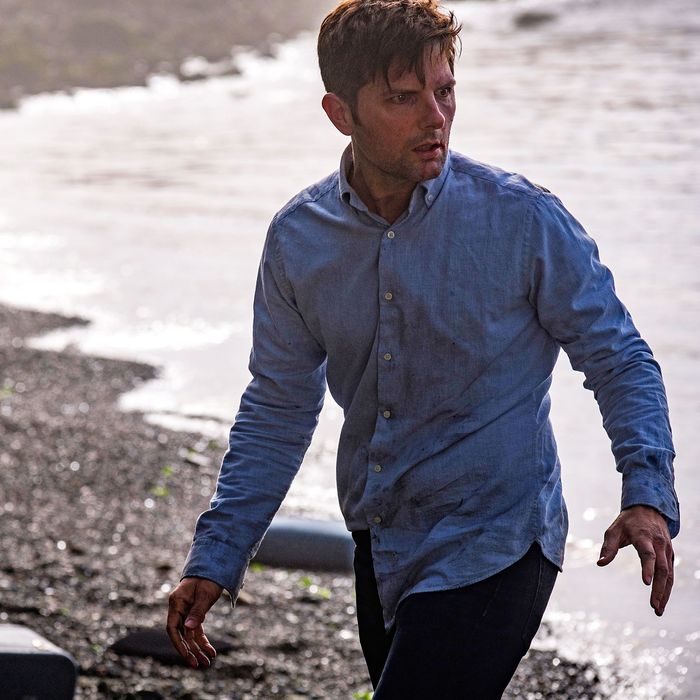 Photo: Robert Falconer/CBS
It's courageous for the revived Twilight Zone to remake one of the original series' most famous episodes so early in its run. Written by Richard Matheson, the original "Nightmare at 20,000 Feet" was memorably directed by a just-starting-out Richard Donner and stars William Shatner in one of his most memorable non-Star Trek roles — and it's already been remade once, by George Miller, as the most successful installment of the ill-starred 1983 Twilight Zone: The Movie, to say nothing of the many parodies it's inspired over the years. Maybe that's why "Nightmare at 30,000 Feet" doesn't really try to remake its predecessor. (It's one of two new episodes premiering simultaneously on CBS All Access, the other being the Kumail Nanjiani-starring "The Comedian.") Apparently taking place 10,000 feet higher in the sky, this new pass retains the idea of a passenger who becomes increasingly distressed while trying to save a flight from a doom apparent to nobody but himself while discarding the rest of the original plot. There's no gremlin on the wing this time. Instead, the episode pits itself against another familiar Twilight Zone foe: fate.
Written by X-Files veteran Glen Morgan and Daredevil veteran Marco Ramirez and directed by Greg Yaitanes, "Nightmare" stars Adam Scott as Justin Sanderson, a PTSD-suffering journalist who, against his wife's advice, has taken a job in Tel Aviv. He saw some "fucked-up shit" in his last assignment in Yemen. Tel Aviv should be a breeze by comparison. And even though he has a cover story titled "The End of Civility?" in Progressive Pointe magazine, he still needs the work. Getting there, however, could be more difficult than he expected.
But at least he has a cool new podcast to pass the time. The first episode of Enigmatique promises to explore "The Mystery of Northern Goldstar Flight 1015," and it sounds like a good one, the story of a plane that disappeared from the sky. The only problem: he's on Northern Goldstar Flight 1015.
So, like his "Nightmare" predecessors, Justin grows increasingly unhinged as the podcast starts to provide more and more evidence that he and his fellow passengers will soon vanish. And, as with preceding variations on a similar story, the episode hinges on two elements: the performance of its star and the director's ability to turn the confined space of an airplane cabin into a hothouse of tension. On both points, this episode rises to the occasion. Scott's everyman qualities serve him well here. Justin seems like a nice guy — he even gives up his first-class seat so a family can stay together — stuck in a bad situation. And Yaitanes keeps ratcheting up the tension, alternately swooping through the cabin and shooting the characters in uncomfortable close-ups.
The concept's solid, too. With its eerie music and NPR-inspired narrator (who's voiced by podcasting pro Dan Carlin), Enigmatique could pass for a real podcast. Its even tone and the "please remain calm" demeanor of the flight crew both provide an increasingly disturbing counterpoint to Justin's mounting terror. With each new development, he becomes increasingly sure that the worst awaits the plane, so he tries to steer it away from its apparent destiny, whether by trying to get some sports fans to stop streaming a game or by confronting a man he believes to be a Russian mobster. The future, he believes, is in his hands.
But the future — and specifically, a fellow passenger, a burned-out, alcoholic ex-pilot named Joe (Chris Diamantopoulos, best known as Russ Hanneman on Silicon Valley) — has other plans. I'm not sure about the twist — that it's Joe, Justin's seeming ally, who ultimately brings down the plane — but I did enjoy Diamantopoulos's performance. At first he seems like the sort of guy who's just slightly off, a probably harmless eccentric who's revealed as anything but harmless. But the moments leading up to that revelation feel implausible in ways the rest of the episode doesn't (plausibility being a relative concept in an episode with a prophetic podcast, of course). And the final scene, in which the surviving passengers take their frustrations out on Justin, just feels cheap, a rimshot that breaks with the tone of the rest of the episode. If he'd been portrayed as a pest who deserved that sort of punishment, it might have worked. Instead, it's a gag that doesn't land, a weird coda that makes light of a protagonist whose fate we're supposed to care about elsewhere. Sure, it gives a punchline to Justin's concerns about the end of civility, but it plays like a twist too far in an otherwise solid outing.
Science and Superstition
• This is an episode thick with references. You can see Nanjiani on the cover of a magazine in the airport, presumably at the height of his "Comedian" character's fame. A toy that resembles the gremlin from the original "Nightmare at 20,000 Feet" washes up alongside Justin. The character of Captain Donner refers to Richard Donner. As for an advertisement for a trip to Mars that acknowledges "space exploration is very, very difficult," I'm not sure what that refers to honestly. It could be a nod to any number of classic past episodes, or to an episode to come in this series.
• Scott works well in this episode, but he is not the most obvious choice for the role. In previous iterations of this story, his character was played by William Shatner and John Lithgow, actors known for pushing their performances to frenetic extremes. Scott's a master of deadpan delivery who usually underplays his parts. He even seems kind of amused by Enigmatique and its coincidences, up to the point where he can't be amused anymore.