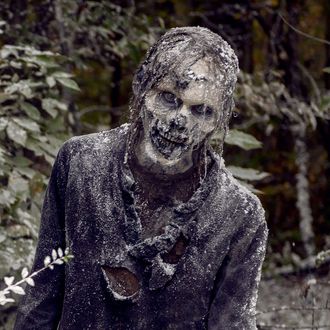 After months of rumors, a new Walking Dead spin-off is now officially a go at AMC. On Monday, the network said production will begin this summer on a third drama series set in the zombie universe, with a premiere planned for sometime in 2020. Matt Negrete, a Dead vet who's written on the original series for five seasons, will co-create the as-yet untitled spin-off alongside Walking Dead universe chief content officer Scott Gimple (Negrete will also serve as showrunner). AMC has ordered ten episodes of the AMC Studios–produced series, which will film in Virginia. And while the network isn't saying a lot about the plot of the spin-off, it did offer one key detail: the two leads will be women.
Per AMC's formal announcement of the project, the third Dead series "will feature two young female protagonists and focus on the first generation to come of age in the apocalypse as we know it. Some will become heroes. Some will become villains. In the end, all of them will be changed forever. Grown-up and cemented in their identities, both good and bad."
There's no word yet on casting, but with production scheduled to begin this summer, Negrete and Gimple will no doubt be looking to find their leads within the next few months. The expected 2020 debut would coincide with the tenth anniversary of the original show's TV premiere. "Showing audiences an unseen pocket of the Walking Dead universe, steeped in a new mythology, is a very cool way to celebrate a 'Decade of the Dead' on TV and over 15 years of Robert Kirkman's brilliant comic," Gimple said.
The decision to go forward with a third series in the Dead franchise — not to mention previously announced plans for some Rick Grimes–centric movies — comes despite softening numbers for the existing series. But Sarah Barnett, president of the entertainment networks group at AMC Networks, told Vulture last week that she's convinced there's plenty of life in the zombie universe. "The fact that [the original Dead is] still the No. 1 show by a margin of two to one is quite something," she said. "We do believe there is audience and untapped creative opportunity within this show, and in exploring some new worlds and new characters that are related to this incredibly rich, strong universe."
David Madden, president of programming at AMC, sounded similarly upbeat about the potential for the third series. With next year's newcomer, "The Dead will keep walking into a new corner of the post-apocalyptic world, a corner that will present stories and characters unlike any that The Walking Dead has dramatized thus far," he wrote in a press release announcing the green-lighting.