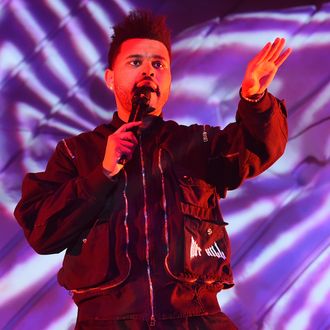 Photo: Kevin Winter/Getty Images for Coachella
It seems unlikely that the series would close out with a huge, bloody concert scene, but according to Pitchfork, the last season of Game of Thrones will at least get its very own song from The Weeknd, SZA, and Travis Scott. The track will allegedly be released "soon," which is coincidentally also when the HBO series returns for an eighth and final season, though the show at least has a rock-solid drop date of Sunday, April 14.
Pitchfork also reports that the show approached The Weeknd about doing a song, and he subsequently asked SZA and Travis Scott to collaborate. The "Starboy" singer/songwriter seems like a perfect match for Game of Thrones, since most of his tracks feel like he's beset by an army of the dead, emotionally-speaking. And those are just songs about being lonely and rich and constantly having sex, so you can imagine how much gloomier he could go with this.