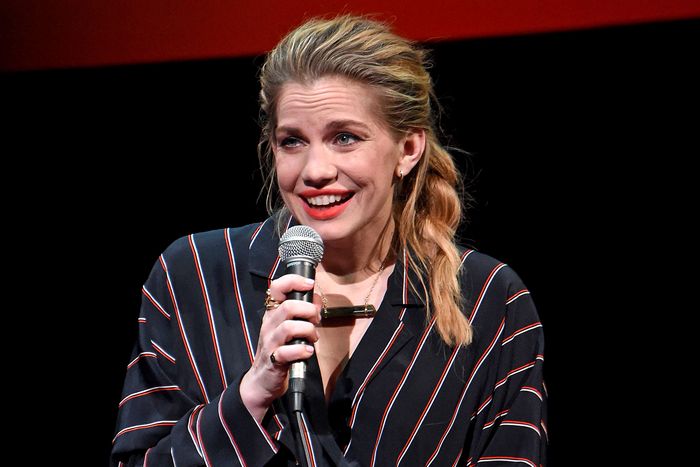 Anna Chlumsky.
Photo: Jamie McCarthy/Getty Images
The comedy podcast universe is ever-expanding, not unlike the universe universe. We're here to make it a bit smaller, a bit more manageable. There are a lot of great shows and each one has a lot of great episodes, so we want to highlight the exceptional, the noteworthy. Each week, our crack team of podcast enthusiasts and specialists and especially enthusiastic people will pick their favorites. We hope to have your ears permanently plugged with the best in aural comedy.
Without Fail — How Anna Chlumsky Got a Second Act
For those of you looking for even more content about a certain HBO show in the middle of its final season, then do we have the podcast for you! This week on Without Fail, host Alex Blumberg welcomes Veep star Anna Chlumsky to talk about the challenges she faced as a child star, why she completely left acting for a good chunk of her life, and what eventually brought her back into the spotlight. As a reminder, Chlumsky found success at an early age when she was cast as the titular my girl in the hit movie My Girl. Following her breakout role, Chlumsky tells a familiar tale we've heard from other child stars. Due to greedy family members to the difficulties of navigating puberty while in the limelight, Chlumsky left the acting world in pursuit of some normalcy. After a chance encounter with a psychic on the streets of New York City who offered a bargain rate of $40 for ten minutes, Chlumsky talks about what truly motivated her back into the arts. Whether you're a fan of Veep or just interested in learning what the original title of My Girl was supposed to be, tune in! —Tom Rainey
Listen: Spotify | Apple | Website
Conan O'Brien Needs a Friend — Patton Oswalt
To date, Conan's O'Brien's guests on his podcast have been pretty entertaining, but I don't think anyone has reduced him to laughing so hard that he's gasping as he tries to catch his breath … until this week, when Patton Oswalt came calling. Right off the bat they get into a comic's toughest crowd: their peers. And Oswalt is still haunted by a 25-plus-year-old memory of being in a car driving to a gig with three other comics, all spewing out jokes when, without warning, "my riff gun jammed!" he said. He kept trying to throw in lines but nothing was working and that became the joke. This becomes a theme for the show: What happens when things just don't seem to click or work out right? Like a member of the audience in a once-upon-a-time club called Sir Laughs a Lot in Milwaukee, where an audience member pointed out that Oswalt's passion for comedy might not be equal to his ability to actually do comedy. Or O'Brien musing that audiences may be starting to care too much these days and feeling bad for comics who are bombing. Something happens that cranks the wheel and sends both guys reminiscing about the days of sugary-sweet but now forbidden breakfast cereals, and that gets Oswalt going off about the world of bland, colorless cereals that he's only allowed to eat now, for his health. His riff gun now in full auto, the lines lay O'Brien out, but he gamely fires back, and the episode closes with us wanting more, which is just how comics want us. —Marc Hershon
Listen: Spotify | Apple | Website
The Poundcast — Mike From @catatonicyouths
Just because professional comedians rarely use Instagram for comedy doesn't mean the platform is bereft of hilarious accounts. Take time to wade through the digital mire of stolen meme pages and you'll discover hidden gems like the original meme creator @teenagestepdad or @FoosGoneWild, a "for us, by us" Chicano humor account that's light-years away from network-approved Latinx content. One of the funniest accounts to blow up this year has been @catanonicyouths, a collection of the worst in rock and metal that its curator has found from a decade's worth of wasting time on YouTube. Over at @catatonicyouths, you'll find a plethora of cringe-worthy performances, from Scott Stapp's long-forgotten MLB track "Marlins Will Soar" to a Myspace-era screamo music video that ends in a low-budget mass shooting. On this week's Poundcast, DJ Douggpound invited the man behind @catatonicyouths, a Philadelphia-based musician named Mike, to talk about his curating process, his love-hate relationship with music, and the crazy year he's had since the account went viral. In the wildest story he tells, he's even had famous musicians reach out to tell him they enjoy @catatonicyouths, not realizing they were featured in older posts. I'm hoping it was David Lee Roth, whose two separate performances of "Jump" — one an Irish folk rendition and the other a remixed EDM calamity — make a perfect bookend for a lazy Sunday afternoon spent scrolling through this account. —Pablo Goldstein
My Neighbors Are Dead — Us With Joel Boyd
Horror films are adept at making you feel the protagonist's pain, putting you in the shoes of the prey struggling to survive. It's what creates that great feeling of unease, of tension, of fear. But what about everyone else in these movies — the characters that fall outside the hunter-and-the-hunted dynamic? Not the prey, but the periphery. What would they have to say, for example, about Damien Thorn's (The Omen franchise) infamous fifth birthday party if given the opportunity? Adam Peacock is here to figure that out. With his podcast My Neighbors Are Dead, he talks to the lesser-known characters from your favorite horror films, sitting down with them once a week to hear their side of the story and shoot the shit. This week he's joined by Tony, a "skeptical tether" from Jordan Peele's recent success Us. Finally, all our questions about the mysterious underworld the tethers call home are answered. Spoiler: Almost all the answers relate to rabbits, and the tether is really none other than comedian Joel Boyd making some extensive improv magic. Interviewed up top, Boyd provides plentiful insight into the world of Chicago comedy, hometown horror (hello, Wisconsin!), and more before seamlessly transitioning into Tony. The fiction of horror and fabrication of these characters provides limitless humor and makes the podcast a must-listen. —Becca James
Listen: Spotify | Apple | Website
Duncan Trussell Family Hour — Justin Roiland
Justin Roiland, the beloved voice of both Rick and Morty of Rick and Morty, is a big get for any podcast. But the nihilistic Venn diagram between Rick and Morty and the Duncan Trussell Family Hour is a single circle. Naturally, Trussell's solo intro centers on last week's galaxy-shattering black hole photo and the hip-hop theme song it needed. Rick and Morty fans might be surprised to hear that Roiland actually hates the sound of his own voice. Like many comedians, a deep dissatisfaction with himself materialized sometime during his childhood and never left. He explains how his low self-worth complicates his success and interactions with fans. After teasing his new video game, Trover Saves the Universe, the conversation predictably turns existential. It wouldn't be a DTFH without touching on quantum entanglement, the multiverse, and chaos magic. Rick and Morty fans looking to bridge the gap between the show's themes and chaos magicians should look no further for enlightenment. Stay tuned to the very end for a lovely Roiland rant on kindness that could have easily been gurgled out by bizarro Rick. —Mark Kramer
Listen: Spotify | Apple | Website
Other Podcasts We're Listening To:
The Bill Simmons Podcast — Bad Warriors Omens and Trevor Noah's First BS Interview
Listen: Spotify | Apple | Website
Cool Playlist — I Didn't Want to Sell a Show to You Idiots Anyway! With Rachel Bloom
Listen: Spotify | Apple | Website
The Todd Barry Podcast — Baron Vaughn
Listen: Spotify | Apple | Website
Stupid Genius — Why Do Onions Make Us Cry?
Listen: Spotify | Apple | Website
We're No Doctors — My Family Is Cursed by Stairs
Listen: Spotify | Apple | Website
Got a comedy podcast recommendation? Drop us a line at comedypodcasts@vulture.com.