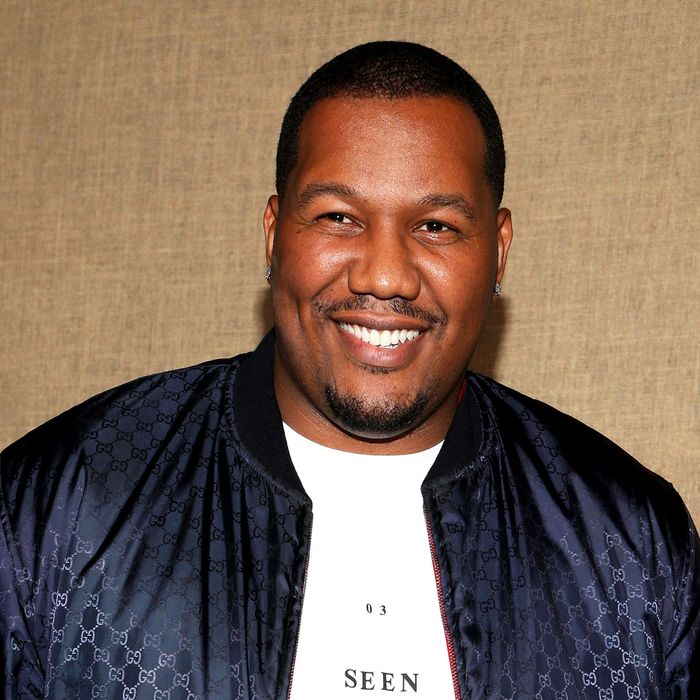 Travon Free.
Photo: MediaPunch/REX/Shutterstock
The comedy podcast universe is ever-expanding, not unlike the universe universe. We're here to make it a bit smaller, a bit more manageable. There are a lot of great shows and each one has a lot of great episodes, so we want to highlight the exceptional, the noteworthy. Each week, our crack team of podcast enthusiasts and specialists and especially enthusiastic people will pick their favorites. We hope to have your ears permanently plugged with the best in aural comedy.
Larry Wilmore: Black on the Air — The Writers Guild of America Fight With Travon Free
If you follow an abundance of TV comedy writers on Twitter, then your feed has turned into a cascading waterfall of blue avatars over the last month. The reason for those blue "I STAND WITH THE WGA" avis is that the WGA is trying to end the practice of TV packaging fees, where agents go into business with the very same studios that they're supposed to be negotiating against on behalf of their clients. On the latest episode of Black on the Air, veteran showrunner Larry Wilmore is joined by writer and member of the WGA negotiating committee Travon Free to explain how this decades-long practice of fiduciary negligence by the agents has led to an overall decline in writers' wages over the last decade. The crux of the issue, as they explain, is that agencies have sold shows by packaging writers, directors, and actors together and taking a packaging fee from the studio instead of the usual 10 percent from these clients. But whereas these clients win in the short-term, the agencies get paid directly in fixed percentages from the show's production budget (money that should be going to creatives and the crew) and future back-end points that potentially dwarf what the creators themselves make! In layman's terms, why would an agent bother negotiating their baby writer client's weekly paycheck when that agent, who also represents the showrunner, is raking in the dough from packaging fees? This episode was recorded just hours before the WGA revealed that over 95 percent of its voting members had agreed to a new agency code of conduct that will potentially see all 20,000-plus writers fire their agents en masse. And given that agencies seem more focused on making money for their private-equity owners or future shareholders than their clients, that once unthinkable scenario could become very real in just a few days. —Pablo Goldstein
Listen: Spotify | Apple | Website
Doughboys — Munch Madness: Poquito Más vs. Qdoba vs. Taco Bell With Nicole Byer
And just like that, the Doughboys' annual Munch Madness: Tournament of Chompions competition is over. With tacos and burritos taking this year's spotlight, the Boys of Dough literally brought the heat to this fierce competition. Over the Mouth of the Border eight-episode arch, we've seen drop-ins from commissioner Evan Susser (Deli Boys), surprise eliminations of notable fast-food chains, and more than enough "rumblies" to go around. In the climatic finale, guest Nicole Byer (Why Won't You Date Me?), along with members of the tribal council, help decide the fate of our remaining fast-food chains in front of a live studio audience. Complete with "Frankenfood" that was constructed on the hood of a car hours before showtime, this year's tournament certainly covers the vastness that is Mexican-inspired fast food. If fast-food fights that use a complicated grading scale to declare a definitive winner is your thing, then tune in to Doughboys to see who will be crowned the victor of the Dave Thomas Cup and subsequently fed to Bruce Vilanch in celebration, rather than Bruce the shark from Jaws in defeat. —Tom Rainey
Listen: Spotify | Apple | Website
In Voorhees We Trust — Episode 1
Get ready for the most comprehensive look at the Friday the 13th franchise yet as Matt Gourley and Paul Rust "tackle and assess all 12 films of the Voorhees family legacy." Episode one of In Voorhees We Trust ("with Gourley and Rust!") alone is longer than any one of the dozen movies the comedic duo revisits for the podcast — now out from behind the Stitcher paywall. You may be thinking two-plus hours is too long to spend reminiscing about Camp Crystal Lake, but you would be wrong. The franchise's first installment, released in 1980, introduces the Voorhees family and the many camp counselors (including Kevin Bacon post–Animal House and Bing Crosby's son Harry) they terrorize, all of whom provide ample opportunities for ribbing. From the confounding way Mrs. Voorhees pronounces her last name to "Bacon's Bacon" (the star-studded boner that allegedly flashes onscreen), the 95-minute slasher film lends itself well to ceaseless consideration. With Gourley and Rust guiding you through the "best kills, the biggest thrills, and the coolest chills," it's a rollicking good time that's equal parts horror-movie history and friendship-building activity full of extensive film facts and excruciating childhood flashbacks. Does anyone else remember what it was like trying to avoid those obligatory nude scenes while watching horror movies with the family? Rust certainly does. Tune in to laugh at and along with the hosts as they follow in the footsteps of machete-wielding mass murderer Jason Voorhees. —Becca James
What a Time to Be Alive — Congrats, You're Going to Jail!
"The only podcast that counts down the things that make you say the thing that's the title of the podcast" has now been around long enough that the hosts — comedians and excellent tweeters Patrick Monahan, Kath Barbadoro, and Eli Yudin — have become long-term weird-news reporters, with the most mileage lately coming from a story that keeps on giving. The continued saga of the Garfield house phones that washed ashore in the French beach town of Brittany (the mere mention of which requires one to two of them to exclaim "It's Brittany Beach!") leads into the week's top-five countdown, which is highlighted by the man who was convicted last week of stealing $100 million from Facebook and Google simply by sending them bills for services never rendered. As Barbadoro points out in the roast of the tech giants, the scam was hardly more than writing an invoice and saying, "I charge a million dollars per invoice." The playful pile-ons of unserious headlines have already earned the trio a devoted Patreon following and are a welcome diversion from the real news of the day. —Noah Jacobs
Minor Adventures — Whitney Cummings Takes a Lie Detector Test!
Once upon a time, at (or near) the dawn of podcasting, comedians were getting into the game, inspired by other comedians. Now it's happening with actors. Witness Topher Grace (BlacKkKlansman, That '70s Show), who guested on a number of podcasts recently and was urged to get onboard after appearing on Anna Faris Is Unqualified by the host. This week saw the kickoff of Minor Adventures With Topher Grace, which will see Grace and a celebrity friend embark in an "in-studio adventure," as his producer Sim Sarna puts it. For his maiden voyage, Grace welcomes Whitney Cummings, only to have her strapped into a lie detector and asked a battery of quasi-embarrassing yes or no questions. ("Have you ever gotten mad when you didn't get recognized?" "Have you ever had sex backstage at a comedy show?" "Have you ever faked an orgasm?") Part of the fun is the no-nonsense operator of the lie detector, who doesn't sound as if he ever smiles. And then there is the turnabout part of the show, when the host tries to be Grace under pressure and is hooked up to the machine. Most of the questions for him were submitted by his wife and focus on whether he's annoyed by her shopping habits and whether he finds her friends attractive. Oh, also, had he ever gotten a boner shooting a love scene? Their answers — true and false — are right there for us to hear. —Marc Hershon
Listen: Spotify | Apple | Website
Other Podcasts We're Listening To:
High and Mighty — Special 200th Episode With Tiffany Gabrus
Listen: Spotify | Apple | Website
Hollywood Handbook — Tim Heidecker, Our Close Friend
Listen: Spotify | Apple | Website
Amazon Book Club — Croc's Return
Listen: Apple | Website
The History of Standup — Judd Apatow Meets Totie Fields
Listen: Spotify | Apple | Website
Got a comedy podcast recommendation? Drop us a line at comedypodcasts@vulture.com.