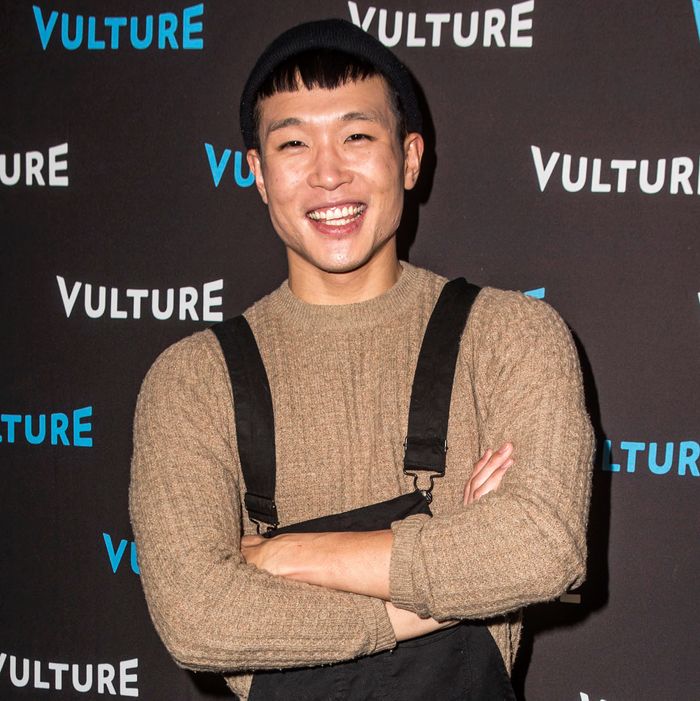 Joel Kim Booster.
Photo: Harmony Gerber/Getty Images
The comedy podcast universe is ever-expanding, not unlike the universe universe. We're here to make it a bit smaller, a bit more manageable. There are a lot of great shows and each one has a lot of great episodes, so we want to highlight the exceptional, the noteworthy. Each week, our crack team of podcast enthusiasts and specialists and especially enthusiastic people will pick their favorites. We hope to have your ears permanently plugged with the best in aural comedy.
The Need to Fail — Joel Kim Booster
When a comic tells an anecdote about cruise ships, it's usually a depressing "paying your dues" story about performing Harolds in front of bored families. But for rising stand-up, writer, and actor Joel Kim Booster, taking this low-paying gig at the height of his success was just a smart way to meet 6,000 new eligible men. When not getting paid to vacation on gay cruises, Booster was having an extremely busy last couple of years, with writing gigs on Big Mouth and The Other Two and co-starring in the NBC pilot Sunnyside from super-producer Mike Schur. But it took years to find his voice as a stand-up, he recalls, as he started with a heavily self-deprecating set list featuring punch lines about being ugly. Given that his sculpted cheekbones could make professional models, let alone open-mic performers, jealous, he eventually shaped an onstage persona that he describes as "hot idiot." Despite his recent triumphs, Booster tells host Don Fanelli about being driven by his more high-profile fails, specifically a pilot he developed for two years at two different networks. Booster still desperately wants to make that autobiographical sitcom about his 20s before it's too late — not out of a fear of aging out of the starring role, but because he's self-aware enough to know that older writers lampooning the younger generation is almost never funny. —Pablo Goldstein
Listen: Spotify | Apple | Website
Inside Conan — Andy Blitz, José Arroyo, Listener Questions
Hosted by Conan staff writers Mike Sweeney and Jessie Gaskell, Inside Conan looks behind the scenes and around the staff of funny folks that have been helping late-night host Conan O'Brien breathe life into monologues, gags, and life itself for the past 25 years. Their main guest on the podcast this week, Andy Blitz, no longer works for Conan but was on staff when the host's first late-night foray began on NBC. Blitz is often recognized by Conan fans as a member of the Slipnutz, the red-vested musical trio whose act consists entirely of singing their theme song about slipping on nuts. He's also well-known for being a bit of a prankster ("I'm like George Clooney," Blitz says, playing off the stories of the actor's history of pulling practical jokes), one legendary "Blitz" was when he had a friend and his wife pretend to be him and Blitz's girlfriend to attend the Emmy Awards with the rest of the show's writing staff. The replacement Blitz looked nothing like the real deal and had to ride in a limo with other staffers for an hour and pretend to be him. Also on this episode is current Conan writer José Arroyo, who explains how his assignment to a newer female writer — to do some online porn research for a bit — had been totally legit but he's always felt uncomfortable about it. The hosts get to answer their first listener questions, and they discover that both of their favorite assignments working for Conan involve working with Triumph the Insult Comic Dog. —Marc Hershon
Listen: Spotify | Apple | Website
You're Making It Worse — Emily Heller
Week in and week out, You're Making It Worse makes my life, well, significantly less worse. This week, hosts Eliot Glazer, Brent Sullivan, and H. Alan Scott welcome comedian and writer Emily Heller (HBO's Barry). Right out of the gate, we get the scoop I was hoping for: an inside look at how one of the year's best bits, Heller's Getty Image handbag at the Emmy Awards, came to be. Much like the colonies' decision to break away from Great Britain, Heller's idea for the Getty Image handbag was also concocted at a bar after a few cocktails. Before you write in, yes, both events are of equal importance. From there, the four get into an interesting conversation about the male gaze and how infectious the comedy scene, particularly the world of stand-up, can be when viewed through this lens. This leads Heller to share a particularly frustrating story about a late-night booker and his notes about her set. After saying good-bye to Heller, our YMIW trifecta have a spirited debate about who should be considered an "under the radar" or "deep cut" hot guy. Honorable mentions include the Honorable Associate Justice of the Supreme Court Goodwin H. Liu and James Gandolfini. —Tom Rainey
Listen: Spotify | Apple | Website
Death, Sex & Money — Lisa Ling & Awkwafina: Shut Up, Let Me Shine
With regular Death, Sex & Money host Anna Sale on leave, CNN's Lisa Ling fills in with a guest at the top of her request list: Awkwafina. Before she became the Awkwafina we know and love, Nora Lum wore AND1 sweatsuits and played with Hulk Hogan wrestling figures in the bath. But her persona was also shaped by the three titular pillars of this show. Her tomboy — now "tomman" — qualities came from being raised by her father, after her mother passed away when she was only 4. Her grandmother played the role of her mother as well as the financial backbone of the family, which gave her a strong feminist role model to aspire to. And the breakout song "My Vag" was the partial cause of her firing from a publicity firm. The firing still haunts Awkwafina to this day, and it nearly led to a myriad of alternate universe Awkwafina careers, like sonogram technician and meat inspector. One of the fastest-rising stars in Hollywood still faces anxieties about death, sex, and money, and we can all learn from her perseverance. —Mark Kramer
Listen: Spotify | Apple | Website
Planet Money — Joke Theft
If you've been following the #FuckFuckJerry campaign, you won't want to miss this week's episode of NPR's Planet Money, in which they speak to the man behind the 'gram himself. The interview is part of an in-depth look at joke theft, from the history of it and how it's evolved to who's profiting off it and who it hurts the most. To get to the bottom of it all, Planet Money spoke to a crew of experts on the issue, including Jen Lewis, creator of the Kanye kissing Kanye image that went viral after it was shared (uncredited) by FuckJerry on Instagram, and an intellectual property lawyer, who offers some insight into how complicated and expensive it is to copyright jokes, compared to how easy (and free) it is to steal them. Planet Money even spoke to Vulture's own Megh Wright about the origins of the #FuckFuckJerry campaign and her mission to unite comedians to fight back against joke thieves like FuckJerry who are profiting from their work. And, of course, they speak to FuckJerry himself, Elliot Tebele. It is absolutely wild to listen to him talk about all of this and what his role in it is. Hearing how he dances around the question of whether or not FuckJerry is going to pay people for content is … well, it's really something. On the flip side, it's nothing short of delightful to hear two NPR hosts continually dance around having to actually say the fuck part of FuckJerry. —Leigh Cesiro
Listen: Spotify | Apple | Website
Other Podcasts We're Listening To:
The Dollop — America's First Ghost
Listen: Spotify | Apple | Website
Why Won't You Date Me? — Punam Patel
Listen: Spotify | Apple | Website
Fear Initiative — Rise of the Otherium: End Game Part Two
Listen: Apple | Website
Alison Rosen Is Your New Best Friend — Gabe Liedman Will Swab a Bitch
Listen: Spotify | Apple | Website
The Hard Times Podcast — Fred Armisen
Listen: Spotify | Apple | Website
Suicide Buddies — Interview With Jackie Kashian
Listen: Spotify | Apple | Website
The Dumbbells — Rock at Running With Pat Regan
Listen: Spotify | Apple | Website
Got a comedy podcast recommendation? Drop us a line at comedypodcasts@vulture.com.