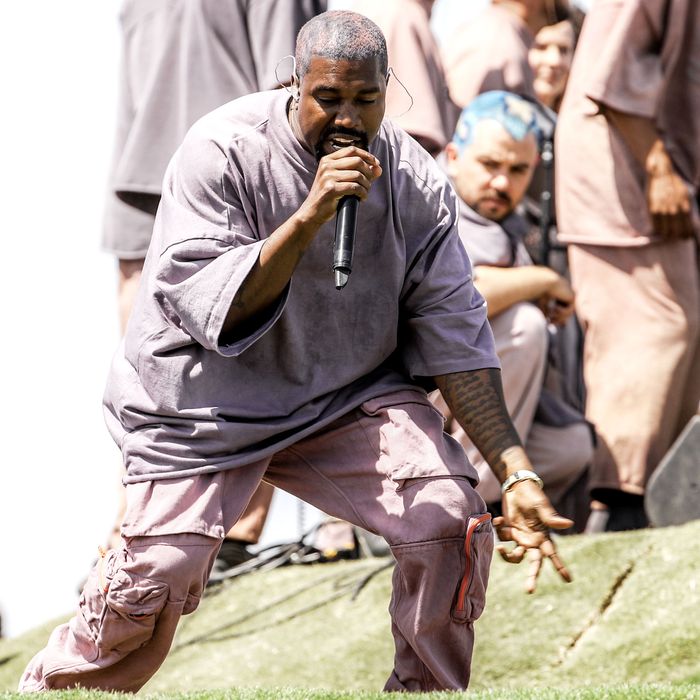 Previous iterations of Kanye's Sunday Service, which made its public debut at Coachella, have been vaguely religious and deeply Instagrammable.
Photo: Rich Fury/Getty Images for Coachella
Every week, Vulture runs through the best, most interesting, and sometimes most confusing rap releases and other news. In this installment: Kanye West takes Coachella to church, Rico Nasty's star continues to rise, YNW Melly faces the death penalty for the alleged double murder of his friends, Young Nudy bounces back after arrest with 21 Savage, why it's unwise to mess with Bun B, and more.
Young Nudy, Faded in the Booth
Back in February, Young Nudy was arrested during a traffic stop in Atlanta and charged with aggravated assault and with violating Georgia's Gang Act. The incident was overshadowed, perhaps understandably, by the news that one of the passengers in the car was 21 Savage, whom ICE claimed was a British national who had been living illegally in the United States for more than a decade. 21 — Nudy's cousin — was hauled to an immigration detention center, where he spent considerable time in solitary confinement before his eventual release. The news made national headlines. But when 21 was finally released, Nudy was still sitting in a cell of his own.
He was released a couple of weeks after the arrest on $100,000 bond; his lawyers said that he would be pleading not guilty, and that Nudy was the victim in a case of mistaken identity. Soon after his release, Nudy began teasing his next album, Sli'merre, which will once again pair him with the producer Pi'erre Bourne. But before that album could be released, Nudy went to SoundCloud and uploaded, without warning, an arresting new mixtape called Faded in the Booth. It's an insular record that finds Nudy looser and more agile than on last year's Slimeball 3.
Rico Nasty & Kenny Beats, Anger Management
Kenny Beats has been hailed as rap's next superproducer, and that's fair given how prolific he's been over the last 18 months, how many excellent new rappers he's chosen to work with, and how punishing and innovative the beats he's given them have been. But his chemistry with the Maryland rapper Rico Nasty is unique among his collaborations; Rico is an obvious star, her raw vocals like tiny perpetual motion machines. At just 19 minutes, Anger Management is an impressively dynamic collaboration, dialed up to ten on the front end and seeping into different tonal crevices on the back half. Having previously flipped N.O.R.E.'s "Superthug," Rico and Kenny once again go for an obvious remake, this time of Jay's "Dirt Off Your Shoulder," on "Hatin."
Shy Glizzy, Covered N Blood
Shy Glizzy is the sort of rapper who falls through the cracks of national media; he's a regional star from D.C. with the requisite pop instincts to cross over, but has been steadily excellent with modest commercial ambitions rather than to gesture toward some sort of meteoric rise. Covered N Blood is officially Glizzy's second album for 300 Entertainment, but the number of projects he's put out since his breakthrough with 2012's Law mixtape is comfortably into the double digits. As a record it digs deeply into somber, mid-tempo grooves: The mixes are full and Glizzy's voice lilts back and forth in the pocket. The standout: "Ridin Down Slauson," a tribute to the recently assassinated Nipsey Hussle.
Kanye West Holds Sunday Service at Coachella
Last Sunday, on the final day of Coachella's second weekend, the grounds at the Empire Polo Club in Indio, Calif. were opened early so that fans could stream into a closed field and surround an artificial grassy knoll. This setup — idyllic but manufactured — was a compromise after Kanye West had initially pulled out of a planned Sunday night headlining spot when Goldenvoice, the promoter responsible for Coachella, refused to build him a giant, custom dome in the middle of the Coachella grounds.
Instead of a conventional concert, West used the unusual venue to stage a large-scale version of the Sunday Service performances he's been throwing weekly near his home in Hidden Hills. From the fragments seen online, the invite-only editions of Sunday Services seem to be vaguely religious and deeply Instagrammable, and have led to short clips of West chopping up gospel songs in a way that has excited some of his more forgiving fans after last year's odd, vocal Trump support and for the slight and frankly terrible solo album, Ye, released amid the chaos.
West himself didn't appear for nearly an hour after the beginning of the program — which was streamed through a pinhole camera to viewers on YouTube — instead allowing for a choir and a cast of dancers to run through gospel standards and through reimagined versions of his own songs, or the source material West worked from. When West did arrive, he rapped songs as old as 2004's "All Falls Down" and so new they haven't been released yet (the mawkish "Water"). He summoned Chance the Rapper to the hill to perform "Ultralight Beam" and DMX to give an impassioned, extended prayer. In the midst of the worship and celebration, he also sold "HOLY SPIRIT" sweatshirts for $255 and socks for $50.
YNW Melly Facing Death Penalty
According to legal documents obtained by TMZ, the state of Florida plans to seek the death penalty while prosecuting Jamell Demons, better known as the rapper YNW Melly, in the double-murder case against him.
In February, Melly was arrested and charged with murdering Anthony Williams and Christopher Thomas Jr., both said to be close friends of his, in October of last year. (The charge is first-degree murder on both counts.) Police allege that Melly and his friend Cortlen Henry, who is also charged in the case, killed Thomas Jr. and Williams before shooting their own vehicle to make it appear that they had been victims in the shooting. Police further allege that Henry dropped off Thomas Jr. and Williams at a local hospital, where each was pronounced dead.
Melly, who has pled not guilty and been denied bond — he's currently sitting in Broward County Jail in Fort Lauderdale — has retained as one of his attorneys Jason Robert Williams, who previously represented Boosie Badazz during the latter's 2012 murder trial. Prosecutors in Louisiana famously used Boosie's lyrics against him in court, and Williams is convinced that Melly is going to face the same treatment in Florida. "That seems to be the plan based on what we've heard so far," he told XXL earlier this month. Melly, who issued his debut album We All Shine in January, broke through nationally last year with the unnerving "Murder on My Mind."
Bun B Shoots Home Invader
On Tuesday of this week, Bun B reportedly shot a man who broke into his Houston home. The UGK rapper's wife, Queenie, answered the doorbell — expecting an Amazon delivery — only to be greeted by a masked, armed robber. Fearing for her life, Queenie offered the man keys to a car in the garage.
But when Bun heard noise downstairs, he grabbed a gun and came to investigate, eventually confronting the man in the garage. Both fired shots at one another; the intruder fled. He later checked into a local hospital, seeking treatment for a gunshot wound to his shoulder. Neither Bun nor Queenie was hurt.