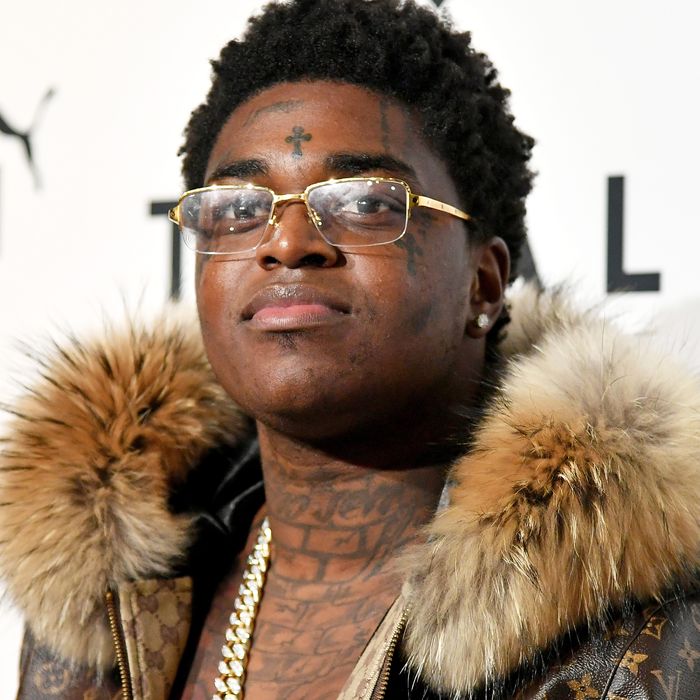 In less than two weeks, Kodak Black has more or less spit on Nipsey Hussle's grave, briefly gone missing, and then got arrested at the border.
Photo: Mike Coppola/Getty Images for TIDAL
Every week, Vulture runs through the best, most interesting, and sometimes most confusing rap releases and other news. In this installment: Kodak Black's messy last two weeks, Anderson .Paak gets back on track, Laura Ingraham hits a new low in discussing the late Nipsey Hussle, 03 Greedo reintroduces himself from behind bars, and much more.
03 Greedo & DJ Mustard, Still Summer in the Projects
Before he flew to Texas to begin serving a 20-year sentence on drug and weapons charges, 03 Greedo — comically prolific in calmer times — locked himself in a series of studios around Los Angeles in an effort to churn out enough music to keep his career afloat from behind bars. Still Summer in the Projects is the yield from a few sessions with DJ Mustard, who is past his prime as a rap kingmaker but has plenty of pull at radio and is more than capable of crafting some L.A. comfort food. The record is lean and accessible, and might work as an entryway to Greedo's music for those who have heard his name but have found his staggeringly long projects of the past to be intimidating in form and in sound.
To be clear, this is lesser Greedo: Nothing is as confounding or confessional as the work on his three Purple Summer tapes, or on Money Changes Everything, or on the manic The Wolf of Grape Street or the sprawling God Level. (It's also not the staggering Project T-Pain, the crown jewel of his yet-to-be-released material.) But it's reliable summertime music, and "Trap House," which features Rob Vicious and Ohgeesy from Shoreline Mafia, is already gaining momentum as a minor hit. Greedo is the sort of artist who has become so fluent in styles from across eras and around the country that hearing him over what should be de rigueur sounds from his hometown is a strange genre exercise in itself.
Beyond "Trap House," the record succeeds when Greedo marries the loose summery feel to something a little closer to the bone. On the closer, "Visions," he raps over an airy guitar, burrowing into the same rabbit holes he's explored so often on his more paranoid records.
SOB x RBE & Hit-Boy, Family Not a Group
In another example of a daring California rap act being slotted next to a super producer, Family Not a Group pairs SOB x RBE, the fierce, freewheeling quartet from Vallejo, with Hit-Boy, the architect of "Niggas in Paris" and other staples of early 2010s GOOD Music ("Clique," "Cold," etc.), who has since gone on to be the half-hidden hand behind a number of major artists' albums. Family is not the sprawling master class that last fall's Gangin' II was, but it makes the group's elevator pitch: three aggressive and acrobatic rappers swarming around their silky-voiced fourth member, rapping threats that are interspersed with pained memories.
Anderson .Paak, Ventura
Anderson .Paak has traced a strange career arc, one that seemed meteoric before it was halting. Before Dr. Dre's 2015 album Compton, .Paak was one of L.A. County's best-kept secrets, a fierce live performer who could rap and sing impressively. After he was brought into Dre's fold, it looked, for a couple of years, like .Paak was going to be the biggest artist in the world. There he was at the Grammys, nominated for Best New Artist; there he was soundtracking commercials for the NBA playoffs. But last year's Oxnard failed to live up to the creative or commercial potential suggested by 2016's Malibu, and (despite a Grammy win for the single "Bubblin"), he began to tread water. Ventura is something of a course correction, bringing some of .Paak's harder musical edges back to the forefront while ironing out some of the lazier and more boorish tics in Oxnard's songwriting.
Nipsey Hussle
Last Thursday, Nipsey Hussle was afforded an honor that had only gone to Michael Jackson before him: His memorial service was held at the Staples Center, in downtown Los Angeles. It was a long, beautiful service that included a performance by Stevie Wonder, moving speeches from Hussle's family members, anecdotes from the likes of Snoop Dogg, and thousands of mourners. After the memorial concluded, Hussle's body was driven on a processional through the city, ending at the intersection of Crenshaw and Slauson — the spot where he was killed, but more importantly the nexus of a local business network he had created, which is one of many tangible pieces of evidence pointing to Hussle's standing in the community. Fans and mourners waited hours to catch a glimpse of his hearse as he passed. It was a hero's send-off.
The outpouring of support for Hussle is not a surprise. Nor was the inevitable backlash from racist reactionaries on television. On the day after Hussle's memorial, during her Fox News show, the conservative radio host Laura Ingraham mocked the late rapper, laughing at his death and referring to him, sarcastically, as "the dear artist." She played a clip of the "FDT (Fuck Donald Trump)" hook, and while standard practice in radio edits has long been for curse words to simply be blanked out, Ingraham and her producers added loud, conspicuous beeps every time Hussle and YG swore. She then asked her co-host, giddily, if the song — which became a rallying cry during the protests that swept through L.A. following Trump's election — was referring to the "lowest unemployment ever" for black Americans, a dubious endorsement of Trump in itself.
Of course, there has been loud and swift kickback to Ingraham's comments; of course, the people outraged do not make up her core audience of drooling racist goons. (You might remember that it was Ingraham who last year told LeBron James to "shut up and dribble.") Celebrities from Snoop to Justin Bieber have called for Ingraham to be fired, not only on the basis of her comments about Hussle but because of how gleeful she appeared on air while discussing his murder. Of course, her job will almost certainly be safe.
Kodak Black
On Wednesday night, fans in Boston surrounded and shouted at Kodak Black's tour bus after hearing that his scheduled show at the House of Blues there had been canceled. But the Florida rapper wasn't inside — he'd been arrested near Niagara Falls while trying to reenter the U.S. from Canada. Police allegedly found weed and a Glock in the Escalade that Kodak was driving, and allegedly found more of the same in a Porsche that was being driven by a member of his entourage. Kodak's since been released on $20,000 cash bond.
This comes after Kodak — who is already awaiting trial on charges that he raped a high-school student in South Carolina — made headlines last week for his inappropriate comments about the late Nipsey Hussle's partner, Lauren London. (You can probably guess what was said.) One of the male rappers to rush to London's (and, contextually, Hussle's) defense was T.I., who recorded an Instagram video that essentially amounted to him telling the younger rapper to cut it out. Kodak responded by dropping a T.I. diss (which also had some stray shots for the Game) called "Expeditiously," which features Kodak's own frank assessment of the situation: "How the hell you calling me out when you know I don't listen?"
Ja Rule
Bossip is reporting that earlier this year, the IRS issued a $443,442 lien against Ja Rule, stemming from income Ja allegedly earned in 2016. When combined with a separate lien related to back taxes from the mid-2000s, it seems the rapper owes the agency more than $2,000,000. This comes after Ja had already served 28 months in prison in 2011 for prior tax-evasion charges, and, of course, after he infamously implicated himself in the Fyre Festival fiasco. Is Ja rap's worst businessman? The receipts don't lie!