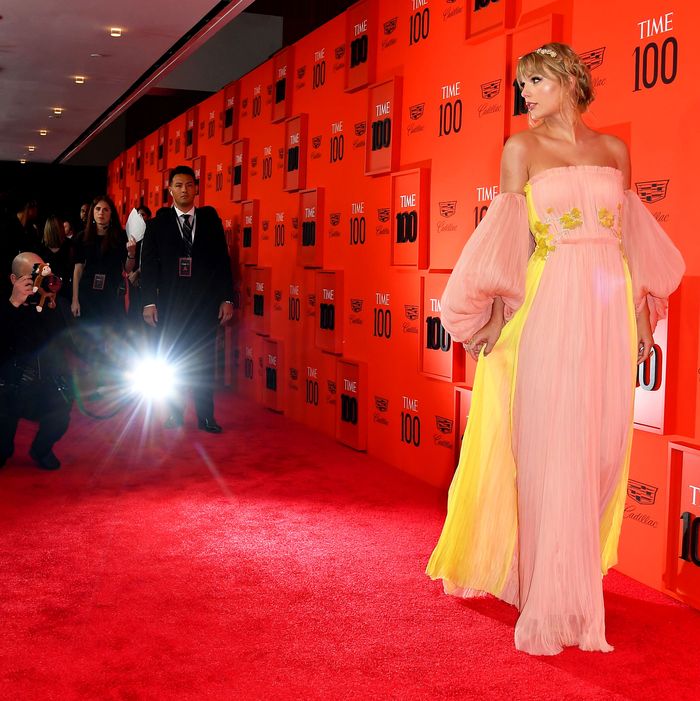 Photo: Angela Weiss/AFP/Getty Images
Last night was the 2019 Time 100 Gala, a glittering annual spectacle wherein celebrities and their publicists traipse into Manhattan in their black-tie best to compliment one another in public. Vulture wasn't invited inside, which is fine. It's totally fine. Actually, we love it. It's chic to be denied entry. However, we were given the opportunity to stand on the red carpet and hold a recorder while dozens of stars walked past us on the way to get their photo taken. So we've rounded up some important Famous People observations from the evening — things we could tell just by looking at them.
Taylor Swift is frighteningly good at this. The red carpet kicked off with an appearance from Swift herself, resplendent in a coral-pink princess dress with massive detached bell sleeves. If it wasn't yet clear, the "Old Taylor is dead" is … dead. The Old Taylor is back, actually. Please keep up. Despite being dressed like a fairy-tale queen on shrooms, Swift's red-carpet mood was "Tyra Banks just yelled at me to 'make it fashion' and I will never disappoint her again." Surrounded by photographers and reporters begging for her to utter a single word out loud, Swift stayed completely silent, refusing to even crack a smile. This woman worked her angles harder than I have worked a day in my goddamned life. Nobody has ever seemed so focused, so unbothered, and so aware of the shape of their own face. It was genuinely terrifying.
Nancy Pelosi has a hot female bodyguard. Early on in the evening, Pelosi walked down the carpet in a bright-green dress, surrounded by handlers. One of them was a female bodyguard who was so hot, she could easily star in her own Shonda Rhimes series about hot female bodyguards called Body Talk. The central tension of the series is that this bodyguard is so hot that nobody takes her seriously on a bodyguard level, which bothers her on a spiritual level, but actually makes her an even better bodyguard. If I had to describe Nancy Pelosi's hot bodyguard's vibe, I'd put it somewhere between Joanna Krupa from Real Housewives and Kevin Costner from The Bodyguard. We tried to flag the hot bodyguard down for an interview, but like Taylor Swift, she was extremely good at her job and a little bit scary.
When celebrities stop to talk to each other, their publicists have to talk to each other, too. Like everyone, Brie Larson ignored us on the red carpet. There is absolutely nothing more chic than being blown past by Brie Larson, whose arms look like the 2019 rerelease cover of Atlas Shrugged. However, she did not ignore Hasan Minhaj, whom she stopped to chat with for at least 15 minutes at the end of the carpet. We weren't eavesdropping, but she was talking about how "tomorrow is my last press day!" While Larson and Minhaj talked, their publicists were forced to have a conversation for the exact same amount of time. It's sort of like when you were a child and your parents had friends over, and because you had no way to escape, you had to become friends with your parents' friends' kids, even if you were fundamentally incompatible as people. What do publicists talk about when nobody is listening? It's a central and fresh mystery in our lives.
Adam Rippon is still friends with Reese Witherspoon. One celebrity who did stop to speak with us was Adam Rippon, Olympic skater and inventor of harnesses. We asked him if he and Witherspoon were still pals, as they'd bonded during the Olympics over their shared obsession with each other. He told us that he and Witherspoon will occasionally text, but that they keep it "mild, not wild" in terms of content. They have future plans to go ice-skating together. Now, back to harnesses: Rippon does take some credit for popularizing the trend, but gives most of it to K-Pop royalty BTS, who he says wore harnesses long before him. However, he will take full credit for inspiring Timothée Hal Chalamet (yes, his middle name is Hal, and it's important that we talk about it) to wear a harness on the red carpet — a gift to the world at large. When we thanked him for personally getting Timothée Hal Chalamet into a harness, he said, "I will accept that thank-you."
Martha Stewart cannot get Snoop Dogg to eat uni. Martha Stewart also ignored us on the red carpet, which is fine — again, chic! — but one reporter did yell out to her, asking if she and her BFF Snoop Dogg ever disagreed. Stewart pondered the question thoughtfully. "Of course," she said. "I cannot get him to eat uni."
Mia Farrow did not want to talk about Myst. Despite tweeting regularly and inexplicably about Myst — a video game from the '90s that was so difficult it nearly ruined our lives — Mia Farrow did not want to talk about it. We tried.
Glenn Close shimmied. Words won't suffice here.
The Rock was hot, temperature-wise. He wore a velvet suit in 70-degree weather, surrounded by flashbulbs. He was hot!