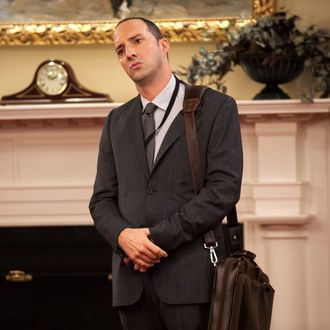 Like a balding, middle-aged Mary Poppins, Tony Hale's Veep character Gary Walsh has pulled everything out of his infamous bag for Julia Louis-Dreyfus's Selina Meyer, from a step stool to hand sanitizer. "I'm your calendar. I'm your Google. I'm your Wilson the volleyball," he once yelled. Known as " the bagman" to the show's characters, he carries a light-washed leather satchel big enough to hold a small child. He lugs it everywhere and it leaves his shoulders slumped.
The bit has even continued off set, like when Hale ran onstage as Dreyfus won an Emmy for Veep in 2013, cradling her clutch like a baby during her speech and reminding her through an audible whisper to thank her family.
At the premiere of Veep's final season, we asked Hale how he's faring without Gary's bag. Turns out it's the one thing he took from set once it wrapped. "There's just something about that leather that I'm like, Ugh!" he said, moaning a little. "It's got the smell and the weight where it just totally lopsided my shoulders. I feel that weight on my shoulder and I'm like, Okay, this feels like home." But does he still carry it around? "Maybe," he answered. "Maybe."
So what did the other cast members bring home?
Sam Richardson: "I took my glasses. My costume glasses. Right now they're on my desk. I'm gonna get a glass case, a glass glasses case, and I'm gonna put them in."
Timothy Simons: "I took a congressional pin. I took one of his sweaters that I wrapped myself in for days after we were done wrapping cause I was just very sad. I forgot to take his lanyard, that's something that I'm very upset about."
Anna Chlumsky: "I've been wearing to bed one of her T-shirts that has Penn, University of Pennsylvania, on it."
Reid Scott: "I took my clothes. The suits. Dan had amazing suits. There was a progression over the years. Our wardrobe department was amazing. The clothes are like a character onto themselves. On the last day they had an entire retrospective of all the wardrobe laid out, so I took one from each season."
Sarah Sutherland: "I had a really dramatic shouldered coat from the Camp David episode. It's not even something that reminds me specifically of Catherine, but it's really comforting. It's nice to walk around the city with it; it reminds me of everyone."