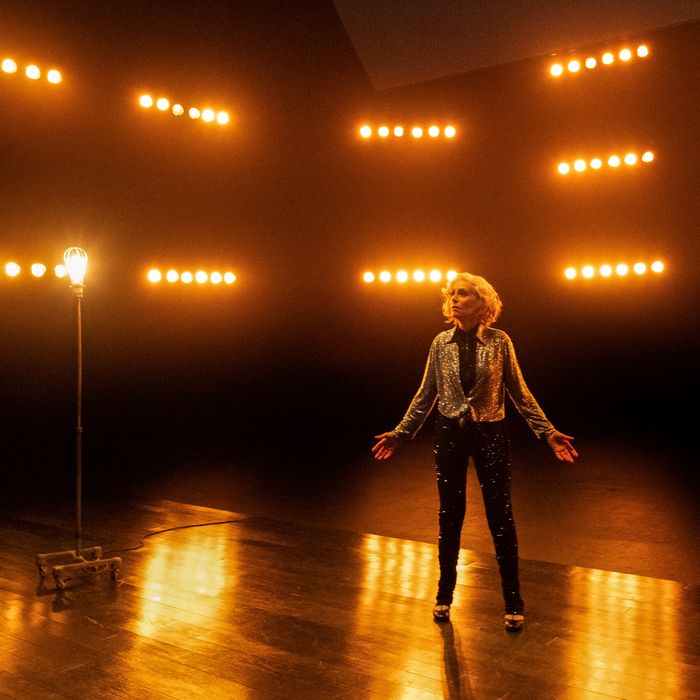 Sing out, Judith.
Photo: Amazon Studios
After cutting Jeffrey Tambor from the series due to the harassment claims against him, Transparent has revealed a little of how things will wrap up in its musical series finale. Amazon has released the first images from that finale, dubbed "The Transparent Musicale Finale," which will premiere this fall. "The episode begins with the passing of Maura," according to an Amazon release, "and will follow the Pfefferman family as they come together in their grief and celebrate her life. In addition to the members of the Pfefferman family, the returning Transparent cast will include Kathryn Hahn, Trace Lysette, Cherry Jones, Tig Notaro, Melora Hardin, and Rob Huebel. "When the time came to bring the Transparent journey to a close, it was clear that saying good-bye to Maura was our path forward," Jill and Faith Soloway said in a statement. "In this musical finale, we dramatize the death of Maura in an odyssey of comedy and melancholy told through the joyful prism of melody and dance."
Jill Soloway originally wrote a version of the Transparent musical with their sibling Faith as a live musical, performed at Joe's Pub in New York last year. That live show, which didn't mention the characters directly, focused on a version of Judith Light's character, Shelly Pfefferman (played by Jackie Hoffman), instead of Maura, who had been central to the Amazon series. Shakina Nayfack, a trans performer, played that iteration's version of Maura. "As we reflect on the process we began so many years ago to bring Maura Pfefferman to the screen, we hope this tribute to the meaning her story brought to the public consciousness also marks a moment in time where art-makers recognize the importance of trans actors playing trans characters," Jill and Faith's statement continues. "Everything changes, and we are grateful to make art that will live on as a bridge from this era to the next. As the world transforms, so does the Pfefferman family. Transparent is not ending, it is transitioning into a musical, becoming itself over and over again."
Amazon has not revealed how much of the live version of the musical will be incorporated into the TV series's finale, but has said Judith Light will perform one of the songs, "Your Boundary is My Trigger," which the Shelly character also performed in the show.