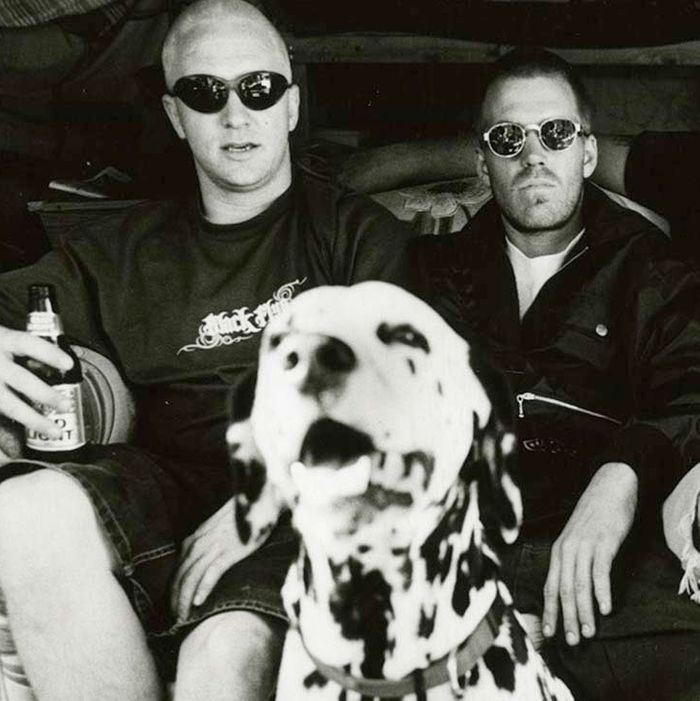 Sublime
ultimately stops short of telling us who these hard-partying, troubled musicians actually were.
Photo: Interscope Films
Minutes before the new documentary Sublime debuted at the Tribeca Film Festival on Sunday, the Long Beach alt-rock icons' strange influence on present-day pop culture was already being felt by the audience at Manhattan's Village East Cinema. Well, sort of: The premiere of Bill Guttentag's chronicle of the band's quick rise and even quicker fall (following front man Bradley Nowell's fatal heroin overdose in 1996) was preceded by an ad for festival sponsor AT&T's Untold Stories initiative, in which a host of actors — Katie Holmes, fest linchpin Robert De Niro, Michael Rapaport (of course) — straight-facedly attempted to bust their own rhymes while extolling the virtues of storytelling in a cadence approaching what most associate with hip-hop.
Ridiculous as the spectacle of Bobby D. rapping about the magic of the movies might've been, it was all too tempting to trace it back to the precedent set by Sublime's audacious genre-blending tendencies. "What is this guy? Is he black, is he white, is he Hispanic?" Gwen Stefani — whose own Cali ska-leaning pop act No Doubt frequently toured and palled around with Sublime during the trio's brief existence— exclaims early on in Sublime, recalling the first time she heard Nowell's voice.
Further testimonials (from members of nü-metal gods Incubus and Los Angeles fusion-punks Fishbone), plus cursory surveys of hip-hop, two-tone, and the West Coast punk scenes, elaborate on what Stefani was getting at: Along with drummer Bud Gaugh and bassist Eric Wilson, Nowell crafted a melodically pitch-perfect blend of said sounds that, beyond its commercial success, essentially predicted the genre-fluid structure of current pop music.
It's impossible not to take in the lush (and often embarrassing) pop-rap of Post Malone and not connect it to Nowell's no-shirt-no-problem reggae-rap-rock cadence; the same goes for Twenty One Pilots' strung-out, robotic brand — and then there's post-genre goddess Lana Del Rey, who was recently seen vibing out to Sublime's "Garden Grove." Sublime have long been reviled in certain critical circles, but witnessing massive youth-oriented artists like Post and late emo-rap scion Lil Peep belting out their lyrics with gusto is proof that the band's slippery influence persists.
Arguably, 2019 might be the perfect year for a deep-dive revisit of the life and legacy of Sublime, and in that sense Sublime is arriving more punctually than the band ever did to most of the shows they booked. It's first and foremost a doc geared toward the fans, which was apparent during the premiere when an audience member hooted in approval at the first appearance of tattoo artist Opie Ortiz, who designed the stoned-sun logo adorning the cover of their 1992 debut, 40 oz. to Freedom. There's some lighthearted myth-debunking when Wilson reveals that the band's name was picked at random from the dictionary by a woman who was dating Nowell at the time, as well as Ortiz's revelation that the "flames" lapping the logo's sun face are actually sperm.
Otherwise, there's a hurried slickness to Sublime that hampers any attempt to offer the definitive account of the band's history. The doc was produced by Interscope Films, the major label's recently relaunched film company; accordingly, the two-time Academy Award–winning Guttentag's directorial approach feels slightly sterile, and self-serving toward the industry itself. Through myriad testimonials by industry talking heads — a mind-boggling and exclusively male array of producers, engineers, A&R guys, and big-biz riffraff — a narrative emerges not of a popular band undone by personal tragedy but of a music business managing the group's bad behavior so as to squeeze just enough musical juice to power one of the biggest posthumous albums of the 1990s.
Granted, Sublime doesn't have to do much to make the case that the trio were a handful to work with. Tales abound of scuttled recording sessions and Nowell shooting up heroin in the public-facing lobby of a recording studio; in terms of their live presence, No Doubt's Tony Kanal readily concedes that "sometimes it was like watching a car accident." One of the film's most fascinating moments comes when Epitaph head and Bad Religion front man Brett Gurewitz discusses his decision not to sign the band after they allegedly smoked crack in a studio he owned; after Gaugh figures out that Gurewitz regretted his decision later, there's a cut to Gurewitz (who struggled with drug addiction himself) admitting that signing Sublime would have caused him to relapse.
As the doc's central tragic figure, Nowell's family and friends recount his periods of sobriety and what caused him to relapse time and time again leading up to his death. Watching Gaugh and Wilson choke back tears while recounting when they found their friend and bandmate's dead body the morning before a show in San Francisco is as brutal as it sounds — and it's equally jarring when, with roughly 10 minutes in the film to spare, Sublime hard-pivots back to industry folk marveling at the success of the band's self-titled final album, released two months after Nowell's death. There's no attempt to reckon with the band's legacy beyond that — no mention of the side projects, attempted reunions, and legal battles that have taken place since — and the end product feels incomplete, as Sublime ultimately stops short of actually telling us more about who these hard-partying, troubled musicians actually were.